Florida Alligator Attacked 5-Year-Old Girl Swimming in Lake, Grandfather 'Pounded the Water' to Rescue Her
A young girl who was attacked by an alligator while swimming in a Florida lake last weekend is now recovering at home following a lucky escape.
The child, age 5, was at Lost Lake Recreation Area in Leon County last Saturday afternoon with her grandfather Clifford Gregg when the alligator approached her, WCTV reported. Gregg said they had decided to leave the water to eat a snack when they spotted the lurking gator in the area.
The grandfather told the news outlet that he waited about 30 minutes before deciding to resume swimming, saying the animal was no longer in sight. But shortly after re-entering the water, the alligator attacked the child from behind, snagging her left leg as she called for help.
Gregg told WCTV: "I waded out a little bit further looking around, keeping my eyes open for the alligator. I had stepped 10 or 15 feet away from her when she screamed.
"He [the alligator] came in between us and I pounded the water with my hands over where he was at. He was out of the way and then I scooped her up," the grandfather added, noting that a flotation aid the child was wearing at the time may have helped to save her from the jaws of the animal.
The girl was transported to hospital and received 11 stitches.
"It was so shocking that it came around behind us the way that it did," Gregg told WCTV. "Since it happened, I've been replaying all the scenes in my head and how else it may have gone." The Florida Fish and Wildlife Conservation Commission (FWC) said a trapper had been contracted to safely remove the alligator from the lake. It was reportedly measured at 6 feet and 8 inches.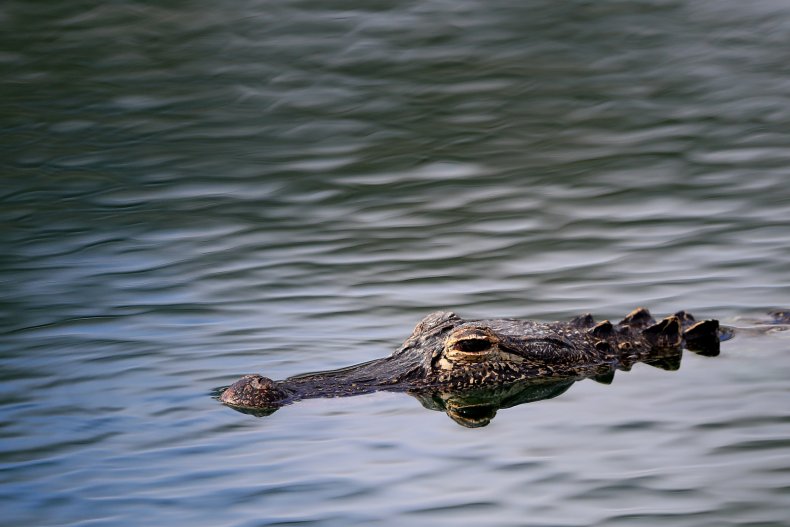 The organization warned online that gators remain dangerous. It said: "Although many Floridians have learned to coexist with alligators, the potential for conflict always exists."
It continued: "Serious injuries caused by alligators are rare in Florida, but if you are concerned about an alligator, call FWC's toll-free Nuisance Alligator Hotline at 866-392-4286. The FWC will dispatch one of its contracted nuisance alligator trappers to resolve the situation.
"Remember, never feed an alligator and keep your distance if you see one. Swim only in designated swimming areas during daylight hours. And keep pets on a leash and away from the water."
The same day as the lake attack, Florida lifeguards were called to Jacksonville Beach after a member of the public spotted a three-foot alligator swimming close to the coast. Video footage later emerged showing the animal being captured and grabbed on the snout.
One eyewitness at the scene, Adrielle Plasenci, told media outlet WJAX-TV: "I heard this girl come up and say, 'Oh my God, there's an alligator,' and I was like, 'What's going on?' Crazy, but very Florida."