Things Are Looking Up for the Florida Alligator With Its Snout Taped Shut
When Florida resident Amber Lock came across a 3-foot-long alligator with its snout taped shut in a pond in Brandon, in western Florida, she decided to take matters into her own hands.
"I walk by the retention pond regularly when walking my dog," Lock told Newsweek. "Many of us were excited to have a little gator in the pond—if it had been larger we might have been nervous but it hadn't done anything to present itself as a 'nuisance.'"
In mid-December, Lock discovered that the gator's snout had been taped shut. "I was disgusted and horrified," Lock said. "Neighbors and I took photos and determined it was in fact taped shut. I know enough to recognize a trapper likely caught it and it got away."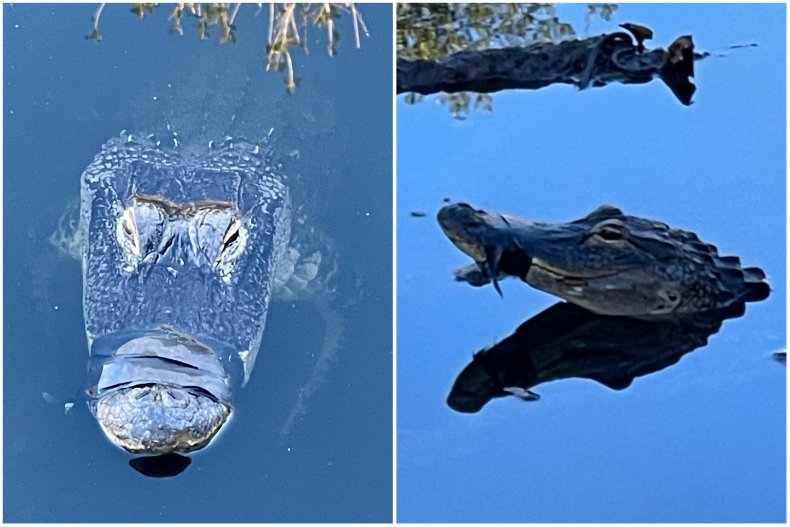 On January 13, Lock alerted local wildlife centers and news agencies to the taped up gator in a Facebook post: "Hoping we find somebody who can rescue and protect this guy NOW!!"
One month later, Gatorland Orlando has agreed to house the reptile at its facility.
In an update on Facebook, Lock said that the Florida Fish and Wildlife Conservation Commission (FWC) had received approval from the Home Owner's Association (HOA) to issue a permit to a trapper to remove the animal, as the pond is on private property. Gatorland will now need to work in coordination with the trapper to transport the taped-up gator to its new home.
Alligators are found across the southeastern United States. Males can grow to up to 15 feet long, from snout to tail, while females may reach up to 10 feet, as estimated by National Geographic. Lock said that this particular alligator was only about 3 feet long.
Martha Rivera, of the Everglades Outpost Sanctuary, told FOX13 that tape is usually used to keep an alligator's mouth shut for safety during transport, but that it is not good for the alligator to be taped up for an extended period of time. Not only do they struggle to eat and drink, but the tape can also mess up their skin, she said.
Lock's update has been met by an outpouring of support on social media.
"Thank you so much Amber for caring about this animal and working so hard to help save him/her," Savannah Boan, an international animal education ambassador and Crocodilian Enrichment Coordinator at Gatorland, Orlando, commented on the post.
Another user pointed to a similar case in Texas in January, where a 4-foot-long female was rescued after being found with a taped up snout. She is now recovering at the South Padre Island Birding, Nature and Alligator Sanctuary.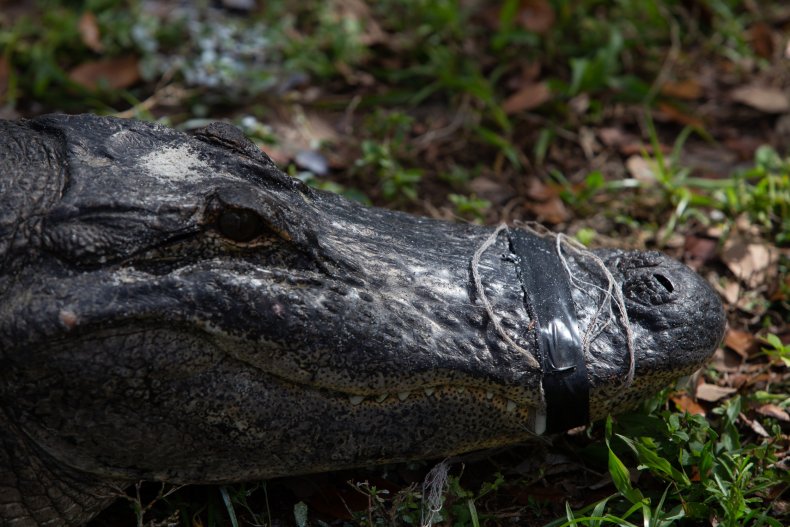 Lock said that the response to her post has been "overwhelming." "I am relieved to know that it's recognized to be animal cruelty and that people care," she said.
However, the story is not over yet for the little gator. "My greatest hope is that I will be visiting the gator at Gatorland," Lock said. "THAT is the goal right now. [But for that to happen,] the trapper, who thus far has not been in touch with me or any news stations, needs to show up."
The FWC contracts trappers to remove specific "nuisance alligators." The FWC states that trappers are usually compensated by the sale of alligator products, but in some cases they may also receive a small reimbursement. However, Lock said that this was not a nuisance alligator situation.
"Once the gator is caught, it becomes the trapper's property. That's why I need the trapper to willingly communicate with myself, the news and especially Gatorland. Gatorland will financially compensate the trapper. There's no reason, besides ego and spite for the trapper to refuse to turn over the gator to Gatorland. But first, the trapper needs to show up and do the job they didn't do for over 45 days."
Newsweek has contacted Gatorland and the HOA for comment.
Do you have an animal or nature story to share with Newsweek? Do you have a question about alligators? Let us know via science@newsweek.com.