Watch: 250lb Florida Bear Had Plastic Container Stuck on Her Head for 28 Days
A 250 pound bear has been rescued after getting a plastic container stuck on her head for almost a month. The female bear was reported to be wandering around Collier County in Florida with the container but after just two sightings, she disappeared for over three weeks.
The Florida Fish and Wildlife Conservation Commission (FWC) worked with its bear biologists, law enforcement officials and bear contractors, who set traps and monitored the area in the hope of finding the animal.
"Finally, the bear was spotted on a resident's security camera, still wearing the container on its head," a statement from the FWC said. "Staff set new traps and started night patrols of the neighborhood. They finally spotted the 250lb female bear just before midnight."
The bear was darted and a biologist removed the plastic container from her face. It is thought the container was part of an automatic pet feeder. The FWC said that luckily the feeder had a hole near the end that had allowed the bear to drink during the 28 days it was stuck with the container on her head.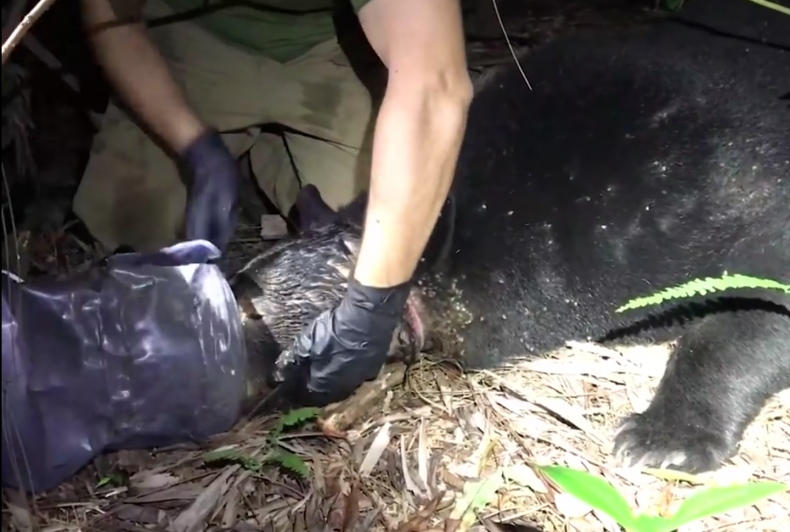 "Even after 28 days of wearing it, the bear was still in great physical shape," the FWC statement said. "She did have a wound encircling her neck and face where the feeder was stuck, but staff cleaned the injury and treated her with antibiotics. After a day and a half of monitoring to make sure she was healthy and able to eat and drink normally, the bear was released by staff in a secure area of Picayune Strand State Forest."
The Florida black bear is a subspecies of the American black bear. They are the only species of bear in Florida and tend to live in forested wetlands and uplands, shrub lands and natural pinelands. However, they have also been found in swamps. There were an estimated 4,050 black bears in Florida in 2014/2015—a 53 percent increase compared with the population recorded in 2002.
They tend to be solitary animals but will congregate in areas where there is a lot of food. These bears start preparing for winter in the fall and need to consume around 20,000 calories per day. At this time, garbage provides bears with more calorific food quickly than foraging in the woods does. Residents living in areas where bears are found are advised to lock their bins to avoid conflicts.
In 2020, 332 bears were killed in Florida. The vast majority (270) were killed in road accidents. Twenty were killed for management purposes, while 15 were illegally slaughtered. A further 27 died from unknown causes.