Florida Boy, 11, Stabs Mother's Attacker in the Back With Scissors: 'I Thought He Was Going to Kill You'
An 11-year-old boy stabbed a man twice in the back with a pair of scissors in order to stop him beating his mother, police have said.
According to the Pinellas County Sheriff's Office, the child attacked 44-year-old Panagiotis Karamanlis at an address in Florida at around 8:30 p.m. on August 17.
Karamanlis is accused of physically attacking his sister, who is the child's mother, in front of her children during an argument about text messages she sent to her boyfriend, according to the Tampa Bay Times.
Police said the woman begged Karamanlis to not "do this in front of the kids," which the suspect ignored. During the attack, Karamanlis allegedly punched the woman several times in the face.
According to the affidavit, the 11-year-old boy had a "well-founded fear" that his mother was going to be murdered. He then ran over to Karamanlis and stabbed him twice in the back.
"Mommy, I stabbed him because I thought he was going to kill you," the boy said whilst shaking and in an emotional tone of voice, the affidavit states.
The boy suffered psychological harm as a result of the incident. The other child, a 10-year-old boy, also required treatment at the scene after suffering an anxiety attack.
The Pinellas County Sheriff's Office said Karamanlis admitted to pulling the victim's hair and pulling her to the ground, but denied punching her in the face. When asked if he was aware children were present at the time, Karamanlis replied: "Of course, I know the kids were there."
After being told he was under arrest, Karamanlis said he intended to leave the country and return to Greece. Online records confirm that he has been placed on an Immigration and Customs Enforcement hold after he told police about his intentions to leave the U.S. Karamanlis was also charged with child abuse and domestic battery.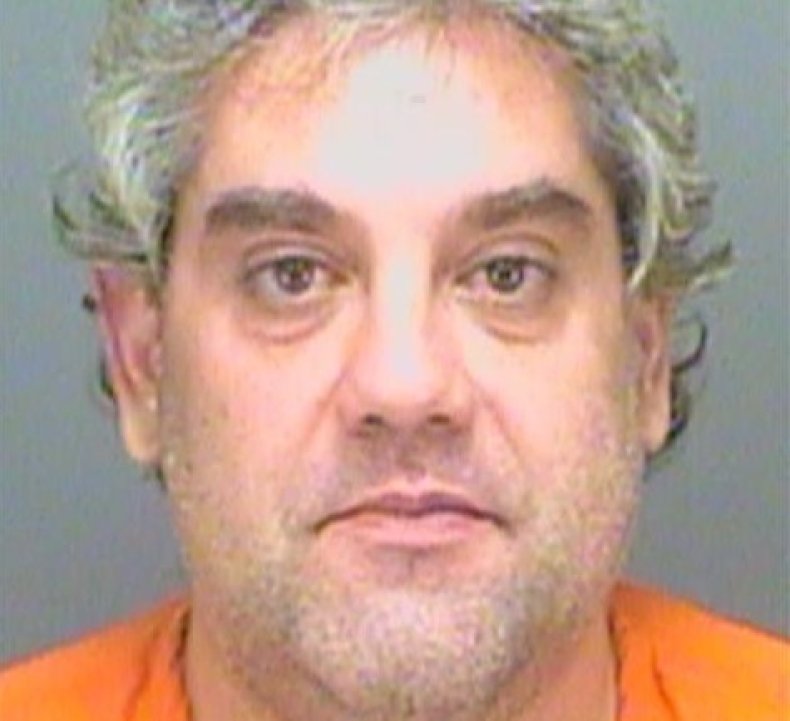 Earlier this month, a Florida man was arrested after allegedly setting fire to a woman's home following a dispute at a bar.
Richard Caldwell, 30, was charged with arson and burglary following the blaze which occurred at house on 400 Block of SW Crawfish Drive, in Port St. Lucie on 17 August.
Caldwell allegedly had an argument with the woman in the early hours of the morning while at a local bar. The woman then found the suspect in her home after she returned with friends.
After she asked him to leave, Caldwell allegedly told her "you're going to regret this" while holding a large bottle of lighter fluid. He then allegedly set the house on fire after the woman left the residence with her friends.