Florida Breaks Daily Coronavirus Case Record For Second Time In a Week
Cases of the novel coronavirus in Florida have climbed to 109,014, with 5,508 new cases reported Wednesday, the Florida Department of Health confirmed.
Wednesday's figure was the state's highest daily case count since the outbreak began, surpassing the state's previous record set nearly a week ago, with 4,600 new cases reported Saturday.
Florida also reported 44 new deaths on Wednesday, bringing its total death count to 3,281, the department confirmed.
There have been 29,508 total new infections recorded in the last week from June 18 to 24, nearly double the 15,600 new cases confirmed in the previous week from June 11 to 17. This week's tally marked a nearly 90 percent increase in total new infections from the previous week, according to data compiled by the state's health department.
Florida's daily case count has been on a mostly increasing trend since around May 26.
The state's percentage of positive tests has been increasing over roughly the past five weeks. The percentage increased from 2.27 percent reported in the week starting May 17 to 8.48 percent in the week starting June 14, according to the state's health department.
This week county officials in Florida's Palm Beach County passed a unanimous vote for a mask mandate requiring face coverings in all public spaces in a bid to help slow the spread of the virus.
A group of residents in Palm Beach County, who were angry about the mask mandate, threatened Palm Beach County Commissioner Melissa McKinlay with citizen's arrest on Tuesday.
McKinlay told Newsweek on Wednesday: "This isn't a constitutional crisis. It's a public health emergency.
"Asking people to temporarily wear masks to slow the spread of this virus is good public health policy. And it's the least we can do to respect the 121,225 and counting families who lost loved ones to this viral enemy," McKinlay added, referring to the number of COVID-19-related deaths in the country.
Florida Gov. Ron DeSantis previously confirmed he will not issue a statewide mask mandate. He has said the state's recent spike in cases is due to both increased testing and community spread as the state reopens.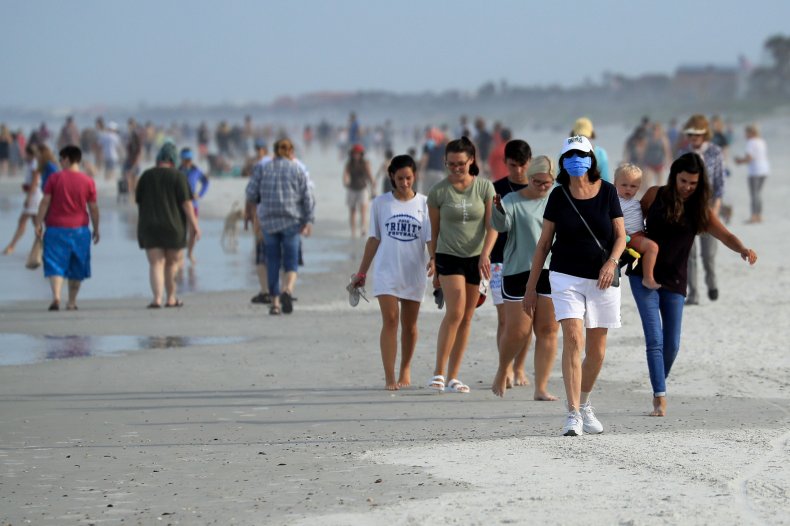 DeSantis said at a press conference this week: "I think part of that is just natural, you kind of go and want to be doing things, you want to be more out and about.
"I think the folks who are a little older and would be more vulnerable have been a little bit more careful," he added.
All Florida counties entered phase one of reopening on May 18. Florida's second phase of reopening began on June 5, which saw bars, pubs, personal service businesses, and entertainment businesses resume operations with social distancing guidelines and capacity limits in place.
The novel coronavirus, which was first reported in Wuhan, China, has spread to over 9.4 million people across the globe, including over 2.3 million in the U.S. More than 4.7 million globally have reportedly recovered from infection, while nearly 483,200 have died, as of Thursday, according to the latest figures from Johns Hopkins University.
The graphic below, provided by Statista, illustrations the daily number of newly confirmed COVID-19 cases in the U.S.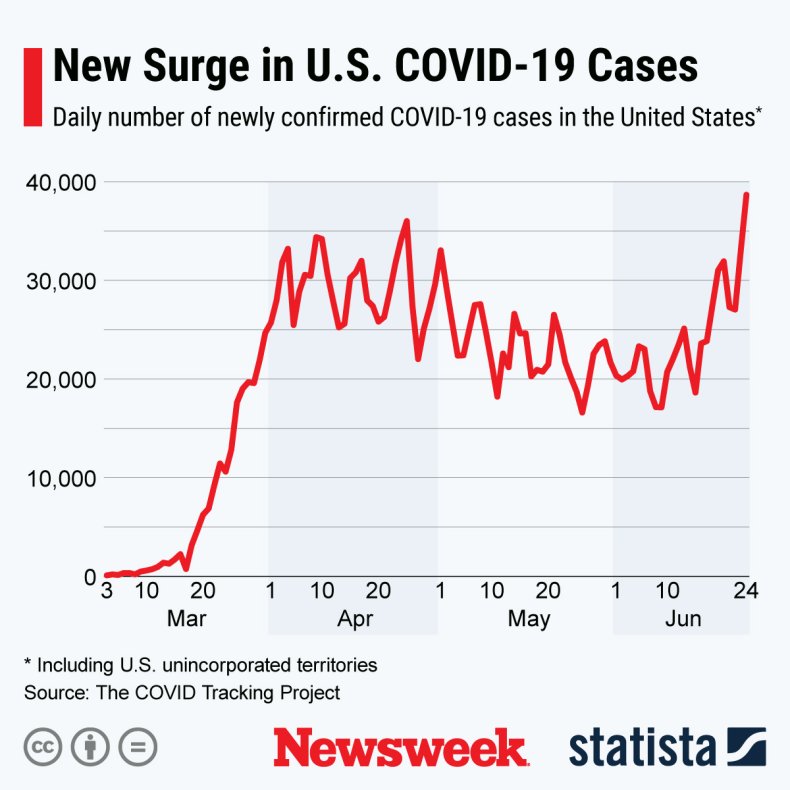 The graphic below, provided by Statista, illustrates the seven-day rolling average of new COVID-19 cases in the U.S. and European Union.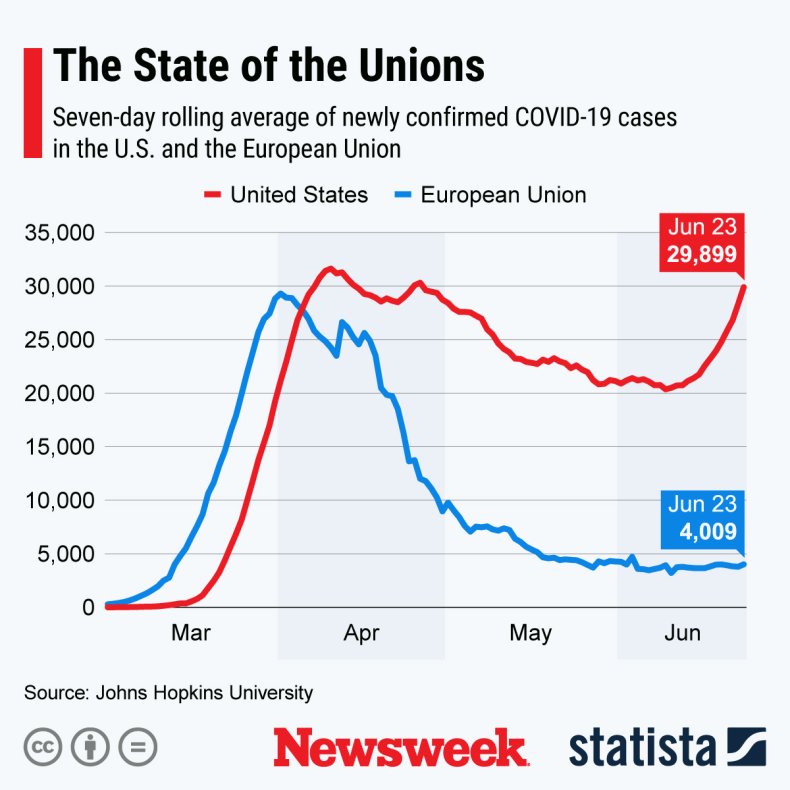 The graphic below, provided by Statista, illustrates the percentage of COVID-19-related hospitalizations, intensive care unit (ICU) admissions and deaths in the U.S.