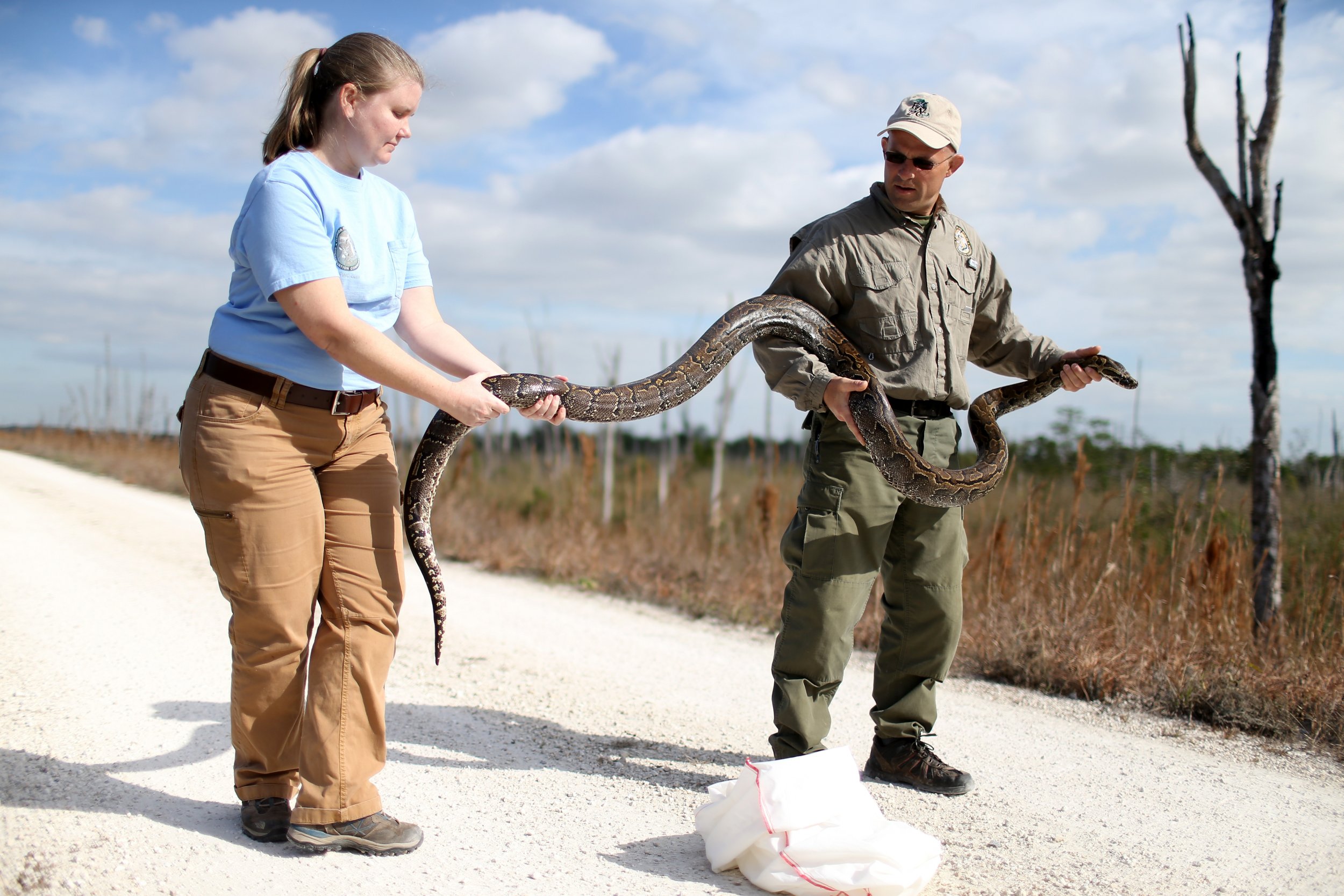 Here's a rare thing scarier than the current news cycle: A man recently found and killed a 17-foot, roughly 130-pound Burmese python in Florida.
Hunter Jason Leon caught the massive reptile at about 2:45 a.m. Friday in Everglades National Park as part of the South Florida Water Management District's Python Elimination Program, which pays people to curb the population of the invasive species. Leon explained in a video shared by the district that he saw the python submerged in some water, grabbed the center of its body and shot it in the head.
Related: Man hailed as hero for killing snake on a train with bare hands
"That snake could pretty much kill any full-grown man," Leon told NBC 6. "If that snake was alive right now, it would probably take like three of us to be able to control that snake."
Leon's catch was the biggest creature eliminated so far in the district's python program, which as of September had taken out nearly 600 pythons. In 2013, he set the record for longest python ever hunted in the state when he killed a snake that was more than 18 feet. It was wrapped around his leg and he killed it using only a knife (seriously).
The district is indebted to Leon in terms of both monetary compensation—he'll get a $375 reward for bringing the snake in—and his efforts to remove the non-native pythons. Experts disagree on just how many of the reptiles are in Florida, with estimates ranging from 10,000 to 100,000, but the threat they pose is obvious.
"Burmese pythons possess an insatiable appetite," the district writes on its website. "They can not only kill Florida native prey species and pose a threat to humans, but also rob panthers, birds of prey, alligators and bobcats of a primary food source."
Burmese pythons are originally from Asia, but they've been spreading across Florida in recent years after being accidentally or purposefully released into the wild by humans. Once concentrated in South Florida, they've begun creeping northward to places like Palm Beach County. Python challenges raise the public's awareness of the issue and help keep numbers down, according to the Miami Herald.
Leon was also recognized by the district in August, after he caught the 500th snake of the hunting season. It was a mere 7-feet long—much smaller than Friday's kill.
"I cannot say enough about the tremendous work of these dedicated professionals to rid the Everglades of this destructive python threat," Dan O'Keefe, chairman of the governing board, said in a news release earlier this year. "Eliminating one snake from the Everglades is much more than a single kill. It's the prevention of 40 to 50 more snakes by destroying a large female carrying 40 to 50 eggs, and it's the countless number of native Florida animals spared from the jaws of these killing machines."