Florida Church Pays Off $7.2M in Medical Debt For 6,500 Low-Income Central Floridians: 'God Loves You'
A Florida church has raised enough money from its congregation to pay off $7.2 million worth of medical-debt for roughly 6,500 low-income central Floridians in need.
The Orlando Sentinel reported on Wednesday that around 6,5000 low-income Florida residents from five counties — Volusia, Lake, Putnam, Marion and Flagler — will have their medical debts paid off in the coming weeks by the Stetson Baptist Church in DeLand.
"It's one thing for us to say, 'God loves you,'" Dan Glenn, a senior pastor from the church, told the newspaper. "It's another for us to show that."
On June 30, the church launched a fundraising effort to gather money to be donated directly to the community. Prior to this, Stetson Baptist had already raised enough funding to cover its annual operating costs through weekly Sunday collections.
Initially, the goal was to raise $48,000, which would be split between One More Child, a nonprofit provider of foster homes, and RIP Medical Debt, a nonprofit which uses donations to pay off medical debts to health-care providers and debt collectors.
The donations ended up totaling $153,867.19.
"It was awesome," Glenn said. "I can't wait for some of those families to receive a letter that says, 'Your debt has been forgiven.'"
RIP Medical Debt typically purchases uncollected debts, often at one penny on the dollar, from healthcare providers using donations. Providers also sell the debt for less to debt collectors in hopes of recouping some amount from what is owed to them. The debt collectors would then contact patients for the full bill, sometimes including interest.
With roughly half the money that Stetson Baptist raised, RIP Medical Debt was able to pay off $7.2 million in debt. The nonprofit did not take any portion of the money to cover their own expenses.
"For the most part, hospitals don't have the infrastructure to pursue the debt they have on the books," Daniel Lempert, director of communications for RIP Medical Debt, told the newspaper. "More and more they're outsourcing it. Sometimes it gets sold several times before it comes to us. We only buy debt for those who are the least likely to be able to pay."
"The concept is deceptively simple," he added, referring to the medical debt-purchasing process. "But sometimes people think it's not real. They think it's too good to be true."
Glenn told the newspaper their church originally were inspired to pursue this avenue of helping the community after hearing that a Michigan church had purchased $1.8 million-worth of medical debt on behalf of nearly 2,000 families earlier this month.
Similar to Stetson Baptist, Grand Rapids First Church in Wyoming, Michigan purchased the medical debt for "less than a penny on the dollar."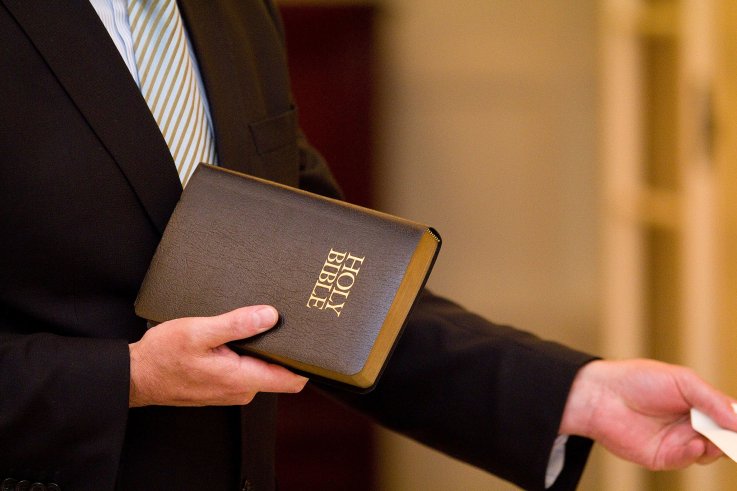 Florida Church Pays Off $7.2M in Medical Debt For 6,500 Low-Income Central Floridians: 'God Loves You' | News