As novel coronavirus cases in Florida surge to at least 141,075, beaches will be closed in
Broward County (whose county seat is Fort Lauderdale) and Palm Beach County over the July 4 weekend, joining previously announced beach closures in Miami-Dade County for the same period.
The latest closings follow a record of nearly 9,600 new infections reported Saturday, the state's highest daily case count since the outbreak began. Florida reported a daily case count of over 8,000 new cases for the third consecutive day on June 28, according to the latest report Monday by Johns Hopkins University.
Florida Gov. Ron DeSantis noted at a press conference Sunday that there has been "widespread noncompliance" among reopened businesses, with safety guidelines "tossed aside."
Several restaurants were closed in Broward County over the weekend for violating restrictions.
"It has invariably been because they packed so many people in and created a type of environment that we are trying to avoid," DeSantis said Sunday.
"Caution was thrown to the wind and so we are where we are," he added.
At a press conference Sunday, Fort Lauderdale Mayor Dean Trantalis, together with Hallandale Beach Mayor Joy F. Cooper and Lauderdale-by-the-Sea Mayor Christopher Vincent, announced beaches in their respective areas would be closed from July 3 to 5.
"We feel we will not be able to provide the necessary safe environment everyone is entitled to enjoy when they come to our beaches," Trantalis said at the news briefing.
The decision was reported to have been helped by the beach closures announced for Miami-Dade County, whose county seat is Miami.
"We were not quite sure what we were going to do for our Fourth of July weekend. So, when Miami-Dade made the decision, it was incumbent upon us to realize that the influx of visitors that would otherwise go to Miami-Dade would ultimately come north," Trantalis said.
On Friday, Miami-Dade County Mayor Carlos Gimenez issued an executive order closing all beaches in the county from July 3 to 7.
"The closure may be extended if conditions do not improve and people do not follow New Normal rules requiring masks to be worn always inside commercial establishments and outdoors when social distancing of at least 6 feet is not possible," the governor warned in a statement.
Parks and beaches across the county are closed to public viewings of fireworks, which "must be viewed from one's home or parked vehicle," the order confirms.
The order also bans any gatherings of more than 50 people. Masks and social distancing are required for permitted gatherings, with five groups of no more than 10 people to be allowed, the statement notes.
Any violators of the latest restrictions will face a "second-degree criminal penalty" of up to $500 in fines and 180 days in jail, the statement notes.
Gimenez noted: "As we continue to see more COVID-19 positive test results among young adults and rising hospitalizations, I have decided that the only prudent thing to do to tamp down this recent uptick is to crack down on recreational activities that put our overall community at higher risk."
Palm Beach County Mayor Dave Kerner is also expected to issue an order to close beaches across the county over the Fourth of July weekend, he told CNN Sunday.
"In consultation with our county administrator, we will be issuing an order tomorrow [June 29], tomorrow morning, that will close the Palm Beach County beaches throughout the entirety of the county for the holiday weekend.
"It is an unfortunate result, but public health remains the focus of the elected leaders of Palm Beach County. Unfortunately, this Fourth of July will not be spent at the beach," he added.
Further details about the closure are expected to be announced Monday, CNN reports.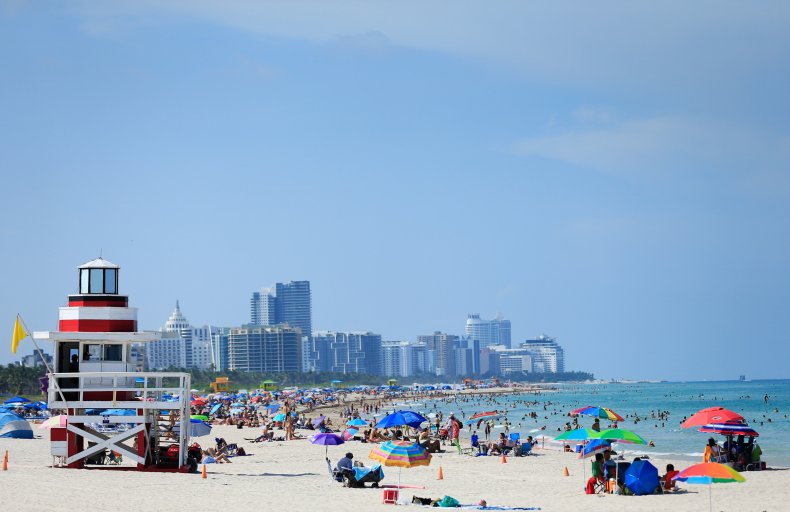 Most Florida counties entered phase one of the state's reopening on May 4, while phase two of the reopening began on June 5. Daily new infections have been on a mostly increasing trend from around June 8, according to figures from Johns Hopkins University.
The percentage of positive tests in the state has also been mostly increasing in the past six weeks, having spiked from 2.28 percent in the week starting May 17 to 9.31 percent in the week starting June 21, according to data compiled by the Florida Department of Health.
The novel coronavirus, which was first reported in Wuhan, China, has infected more than 10.1 million people across the globe, including over 2.5 million in the U.S. Over 5.1 million globally have reportedly recovered from infection, while over 502,300 have died, as of Monday, according to the latest figures from Johns Hopkins University.
The graphics below, provided by Statista, illustrate the spread of COVID-19 in the U.S. and the worst-affected countries.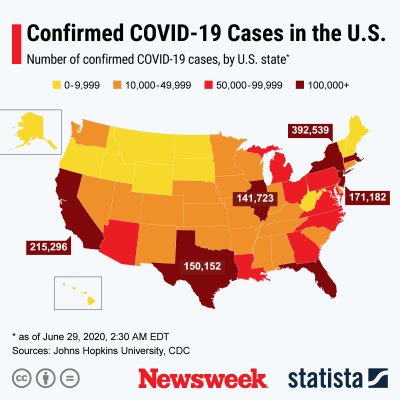 The graphic below, provided by Statista, illustrates the seven-day rolling average of new COVID-19 cases in the U.S. and European Union.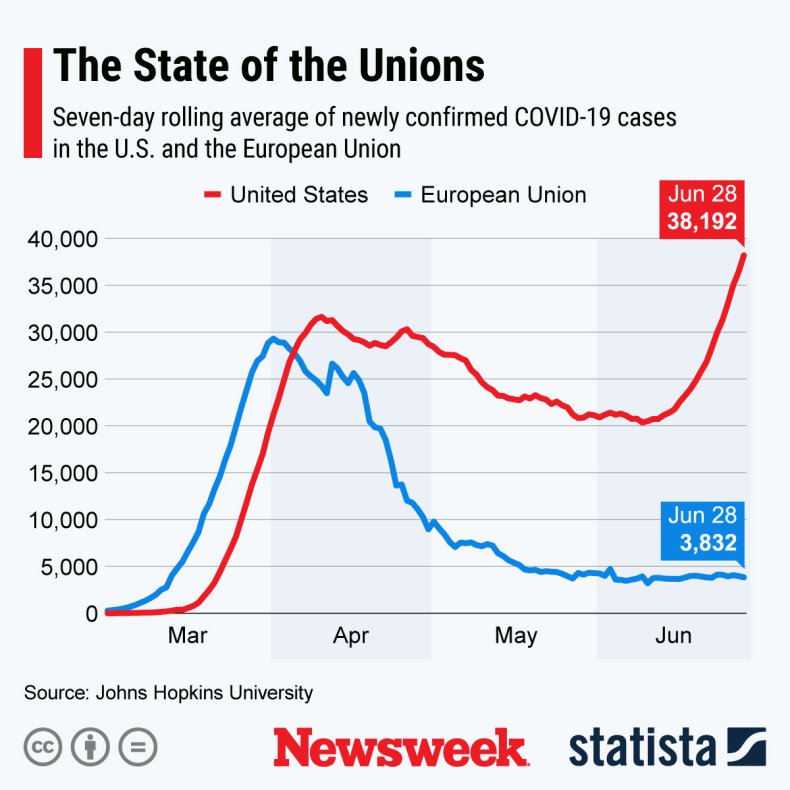 The graphic below, provided by Statista, illustrations the daily number of newly confirmed COVID-19 cases in the U.S.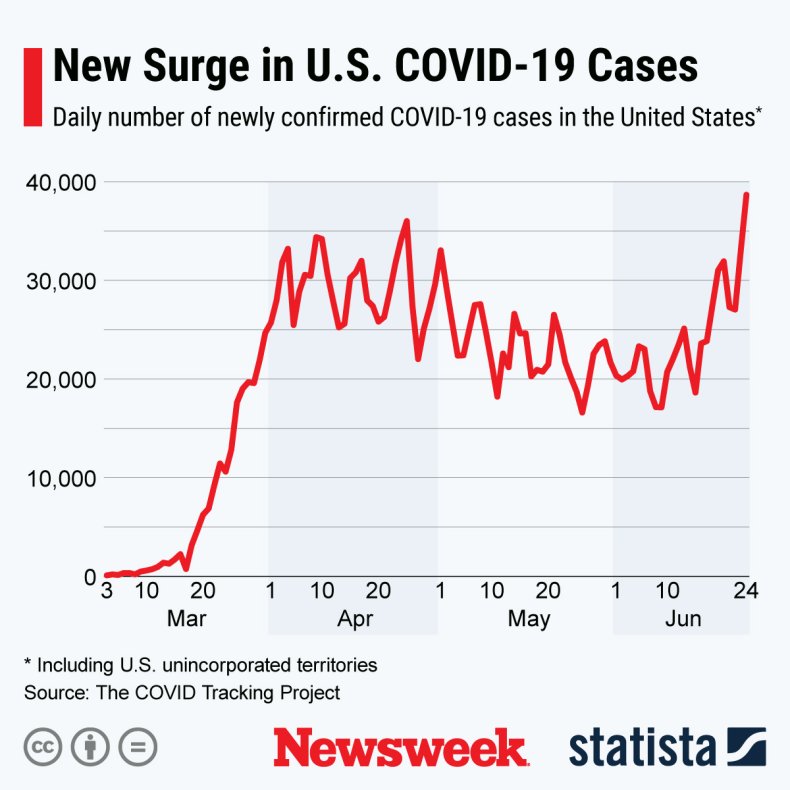 The graphic below, provided by Statista, illustrates the percentage of COVID-19-related hospitalizations, ICU (intensive care unit) admissions and deaths in the U.S.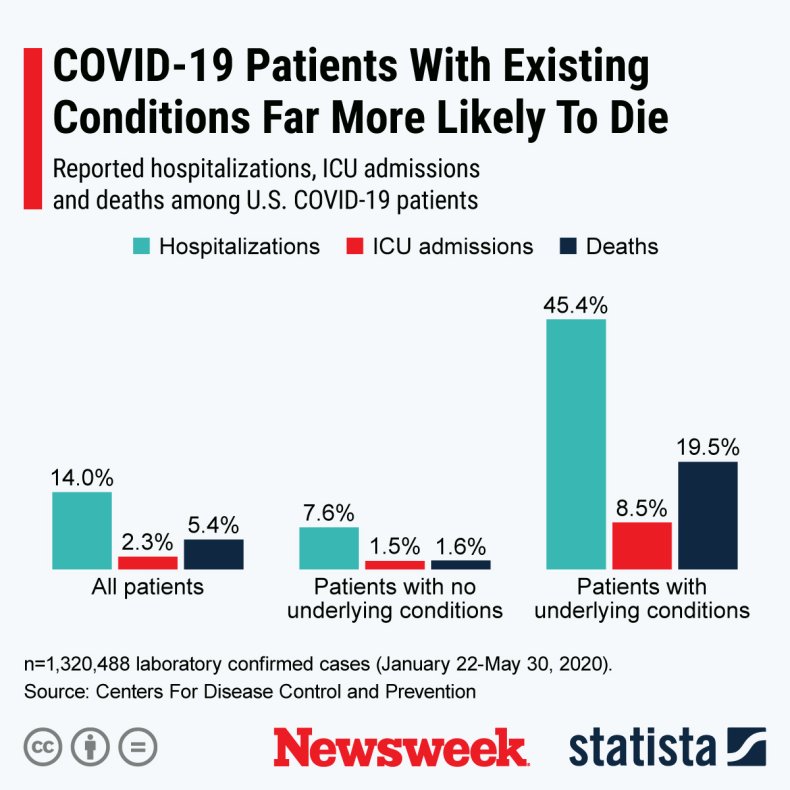 About the writer
Soo Kim is a Newsweek SEO Reporter is based in London, UK. She reports on various trends and lifestyle stories, from health, fitness and travel to psychology, relationships and family issues. She is also a South Korea expert who regularly covers Korean culture/entertainment for Newsweek, including the latest K-dramas, films and K-pop news, and is the author of the book How to Live Korean, which is available in eight languages. Soo also covered the COVID-19 pandemic extensively from 2020 through 2021 after joining the general news desk of Newsweek in 2019 from the Daily Telegraph (a U.K. national newspaper) where she was a travel reporter/editor from 2010. She is a graduate of Binghamton University in New York and the journalism school of City University in London, where she earned a Masters in international journalism. Languages spoken: English and Korean.
Follow her on Twitter at @MissSooKim or Instagram at @miss.soo.kim
You can get in touch with Soo by emailing s.kim@newsweek.com