Florida Couple Stumbles Into a Private Backyard For Public Drunken Sex
A man and woman in the Florida Keys stumbled into the private backyard of a Key West resident and began having an argument and some sex.
A 52-year-old woman told police she heard an argument coming from her backyard Monday evening, and that's when she called law enforcement. When the woman looked outside her window, she said she saw a man and woman having sex.
The couple, 36-year-old Stephen James Dean and 49-year-old Teresa Ann Behan, are both listed as homeless and each with a criminal background, according to the Miami Herald.
The Key West woman who reported the excursion in her backyard said she saw the couple having sex up against a barrier wall, the police report stated.
When police showed up to the house, they reported that Dean and Behan both reeked of alcohol, and that Dean had passed out over the side of a wall, and that Behan "was just trying to comfort him."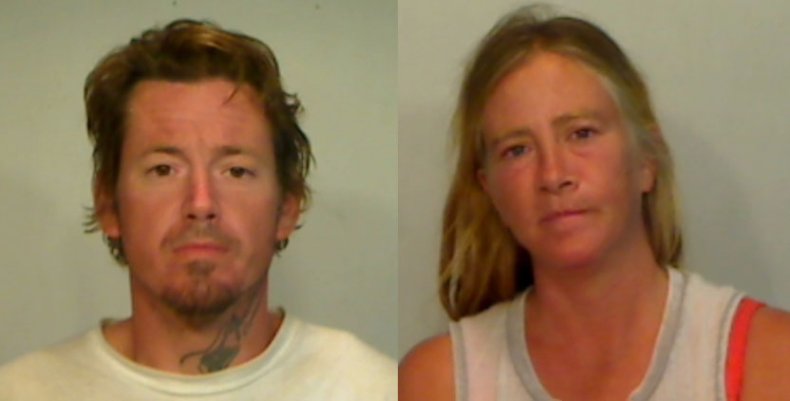 They found the couple lying in a yard behind a stone wall around 5:10 p.m.
"The two could not put together a complete sentence and were slurring words," the report said. Police said the couple told them that they had walked around town together when they "stumbled" upon the yard where they consummated their walkabout.
Behan reportedly told police that "James" claimed he was her music producer, and that he told her their rendezvous backyard was his own place. That's when Dean told police that he and Behan were, indeed, having sex in the backyard.
Dean and Behan were both arrested and taken to the Monroe County Jail with charges of indecent exposure and trespassing, both of which are misdemeanors.
The Miami Herald reported that Dean was also arrested after twice telling an officer he was "going to kill him," the police report stated. Behan also reportedly kicked an officer in the groin and punched him while resisting arrest, which resulted in felony charges in another arrest.
This is just one of many freaky and frisky Florida sex stories to surface, including a couple in the most northeastern part of the state north of Jacksonville who were caught having sex in the backseat of a police car after both were arrested for suspicion of a DUI.
"While I was outside of my patrol vehicle, Megan and Aaron took their clothes off and started to have sex," the deputy stated in that report.. "When I opened up the door to stop them, Aaron was naked and Megan had her pants down."
Just two months ago, a woman in a Tampa suburb could not get sex from her boyfriend who was too tired, and she commenced to stabbing him.