Florida COVID-19 Spikes Approach New York April Peak With Less Than One-Tenth of Deaths
With close to 27,000 additional cases of the novel coronavirus diagnosed since Thursday, Florida saw two record increases in new infections confirmed daily over the past 72 hours.
Its single-day totals, which exceeded 8,500 on Friday, Saturday and Sunday, were higher than those reported by almost every other U.S. state since the start of the virus pandemic. Only New York, once the epicenter of the nation's outbreak, has confirmed more than 8,500 cases on a single day. During the peak of New York's virus curve, the state reported more than 8,500 positive tests on at least 12 separate days. Health officials confirmed New York's highest single-day jump in cases on April 4, with more than 12,200 diagnoses.
For weeks, the Florida Department of Health has reported a steadily increasing incidence of new infections identified daily. The state saw its highest single-day spike to date on Saturday, with upwards of 9,500 additional cases. While Florida's latest case numbers approached those reported in New York at the height of its outbreak, daily fatality tolls differed greatly.
When New York saw a surge in new virus cases throughout April, it recorded a comparably high number of daily deaths. Between April 2 and April 25, state health officials confirmed between 500 and 1,000 fatalities per day related to the novel respiratory syndrome.
Amid its recent uptick in virus cases, Florida's average death toll was roughly 10 percent of New York's April figures. Data published by the state health department confirmed 36 total fatalities over the past three days, with a weekly average of 21 deaths per day between June 21 and June 28.
The disparity could be related to differences in the ages of those who contracted the virus in New York compared to Florida. The New York Department of Health does not provide a statewide breakdown of positive cases based on age, but its fatality data shows less than 6 percent of deaths related to the virus occurred in people younger than 50.
Data published by the the New York City Department of Health and Mental Hygiene offers more insight. Its reports show the vast majority of cases, hospitalizations and deaths due to the virus in New York City occurred in people older then 65, with people older than 75 accounting for the largest portion confirmed in each category. Most virus cases, subsequent hospitalizations and fatalities throughout New York State were reported in New York City alone.
New York also saw a disproportionate number of deaths connected to outbreaks in statewide nursing homes, after Governor Andrew Cuomo passed an executive order in March that allowed adult care facilities to re-admit individuals recovering from virus infections. A New York Times report estimated that 43 percent of the nation's total deaths from COVID-19 were connected to long-term care facilities, with almost 6,500 fatalities reported among residents and staff at facilities in New York.
Cuomo faced backlash for the order, which allowed roughly 4,500 recovering virus patients to return to nursing homes across the state, according to an Associated Press report. The governor reversed his decision on May 10 and has maintained that it was not the leading cause of COVID-19 deaths in New York nursing homes. During a Sunday appearance on NBC's Meet the Press, Cuomo referenced the facilities' staff members in a discussion about higher transmission and fatality rates among residents.
Meanwhile, younger people seem to make up a significant portion of virus cases recently diagnosed in Florida. The state's COVID-19 dashboard places the median age of individuals who have tested positive statewide at 41 years old, with multiple counties reporting median ages of about 10 years younger.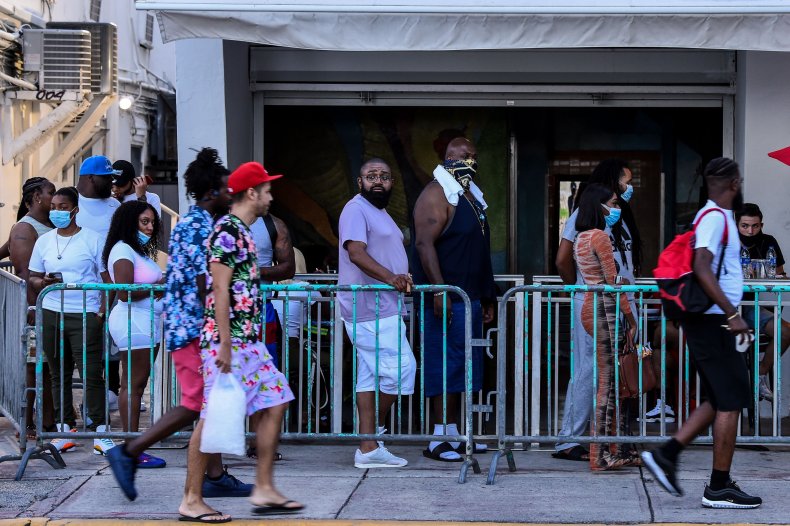 The health department's age distribution of total cases shows more than half of all those who tested positive were younger than 45. More infections were diagnosed in individuals between 25 and 34 years old than they were in individuals who fall within any other age bracket. Florida does not share the ages of individuals who passed away after contracting the virus.
On Friday, Florida Governor Ron DeSantis discussed the latest uptick in statewide virus cases and how age impacts mortality.
"The reason why is I think we know now, after having dealt with coronavirus for all these months, that the mortality and morbidity is very closely linked to age," DeSantis said during a news conference, according to Jacksonville-based outlet News4Jax. "When we started this, the median age, I think, was in the 60s in the state of Florida for the past when there wasn't a lot of tests being done. Then it slowly went down to get into the 50s. And then, what we've seen over the last couple of weeks, is really a dramatic decline in that median age."
Newsweek reached out to Florida and New York's state health departments for additional comments, but did not receive replies in time for publication.