The state of Florida is experiencing a significant decrease in the number of COVID-19 cases since the surge began at the end of June with the new Delta variant.
The Florida Health Department tracks all COVID-19 cases, vaccine and death statistics on a weekly basis. For the week of August 27, there are 129,240 new cases—22,612 fewer than the previous week. This is the first significant drop in new cases in the last 10 weeks. A smaller decrease of 1,222 cases occurred during the week beginning August 13 when compared to the previous week.

Along with the reported cases, the number of positive COVID-19 cases has dropped to 15.2 percent, compared to 17.1 percent during the week beginning August 20. The number of COVID-related deaths has dropped to fewer than 500 people, compared to the week of August 20 where there were nearly 1,500 deaths.
The above-mentioned data was provided by Morning Consult, which is a data collection company.
Currently, over 13 million Florida residents have received a COVID-19 vaccination shot.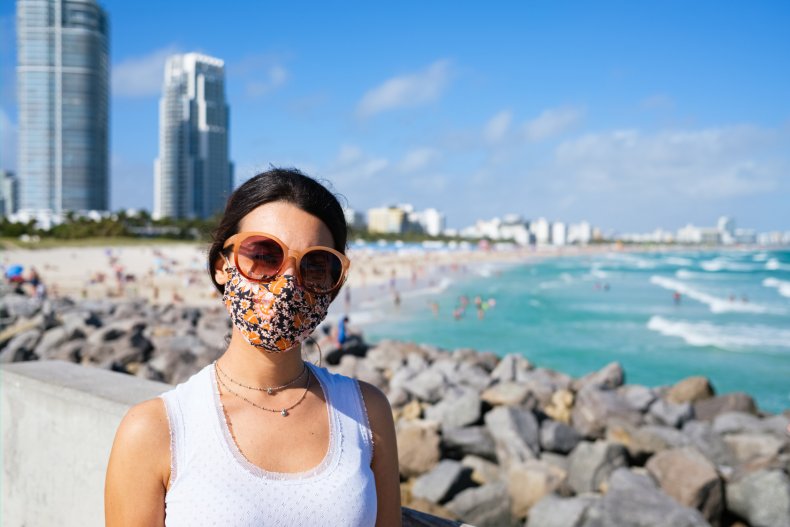 The news of new COVID cases slowing down in Florida comes as Governor Ron DeSantis fights to appeal a judge's ruling regarding his authority to ban mask mandates in Florida school districts.
On Monday, DeSantis spoke to the media regarding Leon County Circuit Judge John C. Cooper's decision. DeSantis stated that forcing students to wear a mask violates Florida's Parents' Bill of Rights.
DeSantis stated that in order for a school to mandate mask-wearing, officials must allow parents to be able to opt-out if they feel wearing a mask isn't the best decision for their child.
"Ultimately, we are just trying to stand with the parents," DeSantis said. "We think it's important that they are given the ability to opt-out."
On August 27, said that DeSantis planned to appeal and fight Cooper's ruling shortly after it was issued.
"This decision conflicts with basic and established rights of parents to make private health care and education decisions for children," Jared Ochs, director of communications for Florida's Education Department, said in a statement. "We will continue to fight to make sure every child has access to education."
Due to DeSantis handling of the COVID-19 pandemic, specifically pertaining to mask mandates, the Republican's approval rate has dropped in the state of Florida amongst residents.
Of all voters, 48 percent approve of DeSantis' current job performance while 48 percent disapprove, according to a recent poll from the market research company Morning Consult. His approval rating dropped to 6 percent while his disapproval rating rose to 8 percent among all voters since July 1.
Newsweek has reached out to the Florida Department of Health for further comments.
The graphic below, provided by Statista, illustrates the U.S. States with the newest COVID-19 deaths as of September 3, 2021.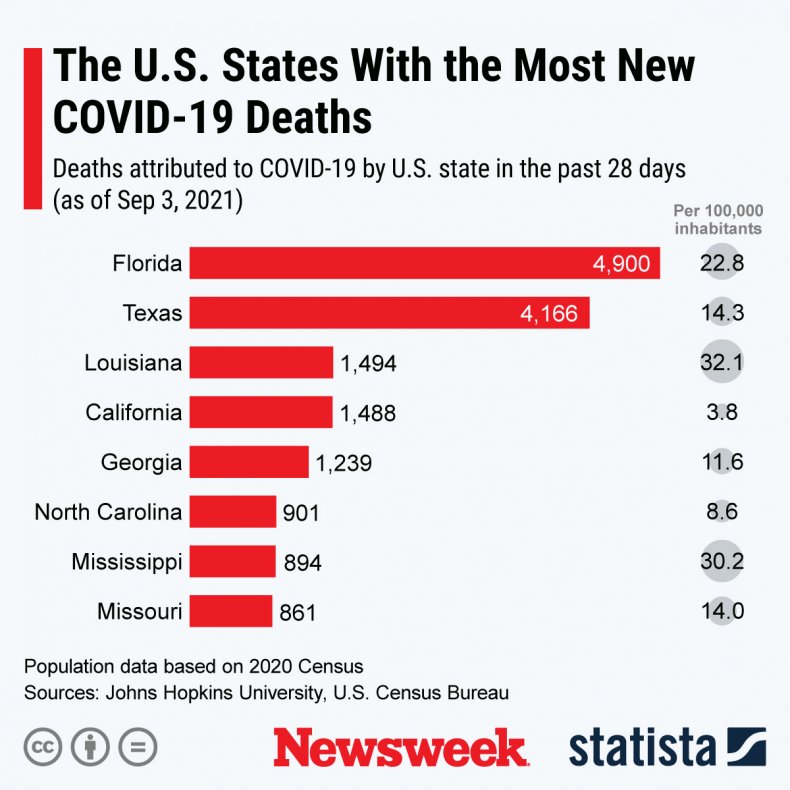 Update (9/7/2021, 8:08 p.m.): This article has been updated to include a link to Morning Consult data.
Uncommon Knowledge
Newsweek is committed to challenging conventional wisdom and finding connections in the search for common ground.
Newsweek is committed to challenging conventional wisdom and finding connections in the search for common ground.