Florida's COVID Death Rate Is More Than 32 States Combined
Florida's death rate from COVID is now more than 32 states combined, as it continues to be badly affected by the highly contagious Delta variant spreading across the U.S.
According to a COVID tracker created by The New York Times, Florida is currently recording a seven-day average of 122.1 deaths in the state from the virus, a figure larger than 32 other states combined.
Florida's figure is also more than double that of the second most affected state, Texas, which is currently recording a seven-day average of 57.6, closely followed by California with around 42 people dying every day.
Louisiana and Missouri have also been badly affected, with average death rates of 33.4 and 25.1 each, while Maine and Vermont are faring the best, reporting figures of 0.1 and 0.3 respectively.
Maine and Vermont have the highest percentage of their residents vaccinated, with 60 and 64 percent respectively, while the figures for Florida are much lower on 50 percent, according to the tracker.
Studies have shown that being vaccinated offers the greatest protection against COVID compared to having been infected by the virus previously, as breakthrough cases in the U.S. are very rare.
Although the graphic below provided by Statista last week shows that around 6,000 people had contracted COVID after getting vaccinated by July 26, the number is still very small compared to the 166 million people who are fully vaccinated in the country.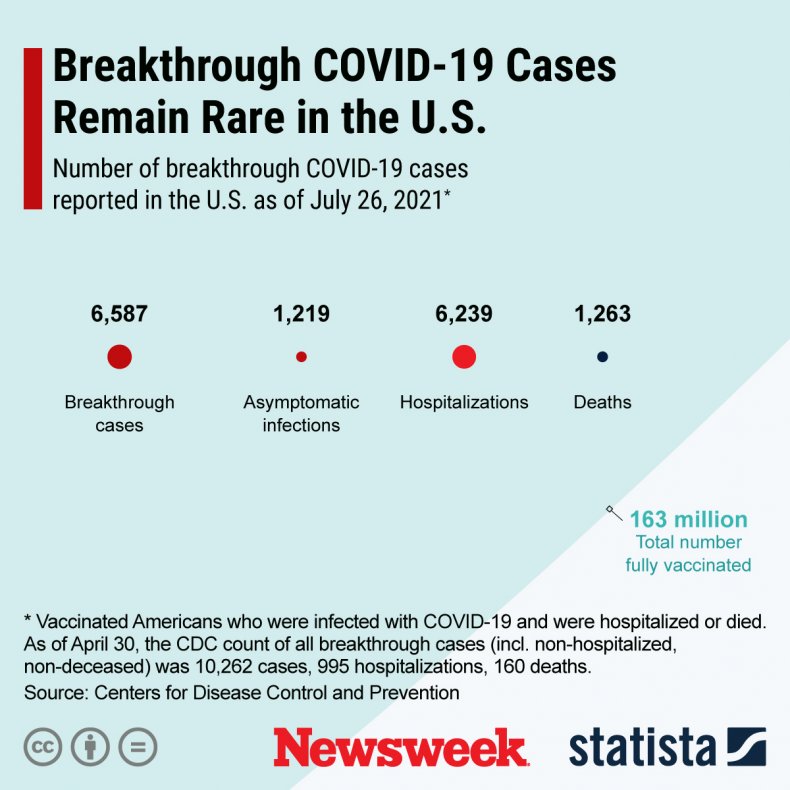 The latest figures from Florida have been released as the state battles record-breaking figures due to the spread of the highly contagious Delta variant, which has badly affected states across the U.S.
Florida saw 15,319 new COVID cases as of Sunday, according to data released on Monday by the Florida Department of Health, giving it a three-day average from Friday to Sunday of 18,795.
Although still a high figure, the cases had decreased from Thursday, where the state set a new record of 22,783 new positive tests.
Florida then broke its record for the number of hospitalizations from COVID on Friday, with 13,747 in medical facilities and 2,750 patients in intensive care.
Florida is also reporting the highest number of children currently hospitalized from COVID of any state in the country, with 172 currently being treated in medical facilities, according to data shared by the U.S. Department of Health and Human Services.
Despite the dramatic numbers of cases and hospitalizations currently being recorded in Florida, Governor Ron DeSantis is continuing with his plans to keep the state open and to limit COVID restrictions on its residents.
However, DeSantis has faced several blows to his plans to limit COVID restrictions over the past week, as multiple school districts in the state have announced they will enforce the use of face masks in schools, and Norwegian Cruise Line successfully challenged his ban on cruise ships requiring written proof of vaccination before boarding a vessel.
The governor issued an executive order last week threatening funding to facilities that defied the ban on mandates, but several school districts have announced that they will not comply with the rule in line with advice from the Centers for Disease Control and Prevention.
Meanwhile, Norwegian Cruise Line was granted a preliminary injunction against the enforcement of the state's vaccine passport ban on Monday, despite DeSantis signing the bill into law citing that it is important that Florida's citizens have "personal choice" surrounding the vaccine.