Florida Democrats Ask for 'Clarity' on 'Anti-Riot' Law After Cuba Protesters Not Arrested
Florida Democrats are calling out Republican Governor Ron DeSantis while asking the state's attorney general for "clarity" about a law that the governor signed earlier this year criminalizing protesters blocking road traffic.
Prompted by Black Lives Matter protests that swept the nation following the death of George Floyd last year, DeSantis signed the so-called "anti-riot" bill HB 1 in April, imposing potential criminal penalties for protesters who block roads while holding demonstrations.
However, when large groups of Cuban Americans—a key Republican voter block in Florida—took to the streets and sometimes blocked them while holding demonstrations in solidarity with pro-democracy protests in Cuba this week, law enforcement did not intervene.
Democrats quickly noted that no arrests were made on Tuesday when protesters blocked Florida State Road 826, also known as the Palmetto Expressway. While the law was not enforced, Colonel Gene Spaulding, director of the Florida Highway Patrol, issued a statement acknowledging that the protesters were "breaking the law" and urging them to "be respectful of our communities."
A group of Democratic leaders in Florida's state Senate wrote a letter to Republican state Attorney General Ashley Moody on Wednesday, expressing gratitude that the "draconian" law was not being enforced while asking for her formal opinion on what scenarios would qualify for enforcement.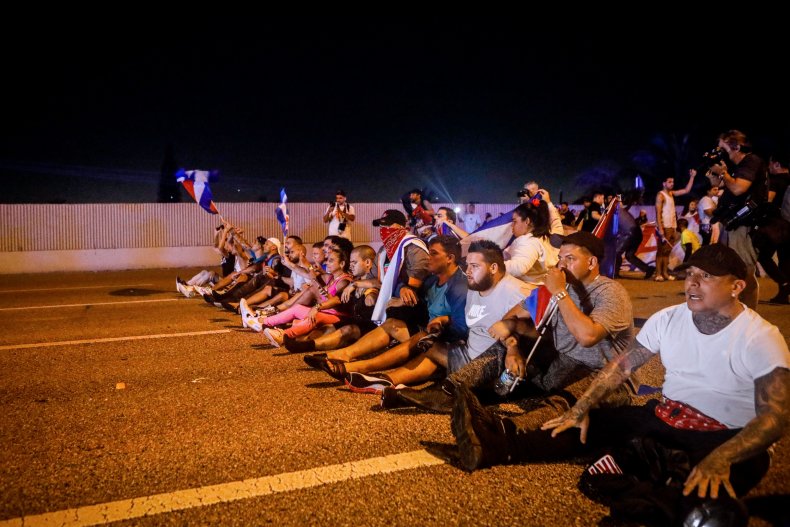 "Some who are rightfully passionate to see freedom ring on the island of Cuba have and continue to shut down major thoroughfares from coast to coast," the lawmakers wrote. "We are pleased and frankly thankful that the draconian and anti-democratic measures contained within HB 1 have not been weaponized against those who are peacefully protesting."
"As diverse members of our community exercise their Constitutional right to freedom of speech, we are... seeking your formal legal opinion as to whether such expressions and actions are in fact lawful," they continued. "It's imperative that Floridians and duly elected officials across this state know this information from your legal perspective."
Newsweek reached out to the office of Moody for comment.
In a statement to Newsweek, DeSantis Press Secretary Christina Pushaw shared a report of two men who allegedly attempted to block an interstate highway exit ramp during Cuba protests in Tampa before being arrested and charged under the new law. She also insisted that the recent protests had been peaceful, while Black Lives Matter protests included riots.
"There is a clear difference between a riot and a peaceful protest," Pushaw said. "From all reports, the Florida protests in support of the Cuban people have not been violent, unlike many of the riots in cities around the country last summer... The Governor does not tell law enforcement how to do their day to day jobs."
Democratic state Rep. Anna Eskamani replied to a Sunday tweet from DeSantis expressing support for protests in Cuba by accusing him of signing the law 'as a means to silence racial justice protests." On Wednesday, Democratic state Sen. Shevrin Jones issued a statement accusing DeSantis and other Republicans of "blatant hypocrisy" over enforcement of the law.
Lawyer David Winker, who has represented clients involved in Black Lives Matter protests, said in an interview with The Miami Herald that the lack of enforcement for those protesting communism in Cuba could present a legal defense for other protesters that the state later attempts to prosecute under the law.
"Honestly, as a lawyer, the next time my clients get arrested, I'm going to be throwing this in the court's face. I mean, this would be the definition of selective enforcement," Winker told the paper. "The next time there is a police brutality incident and this happens and they arrest everyone ... defense counsel is going to be in court arguing: why is this different?"
Update 7/15, 4:14 p.m.: This article has been updated to include a statement from Christina Pushaw, press secretary to Florida Governor Ron DeSantis.