Florida, Georgia, South Carolina and Other States Part of Early Wave of Reopenings See Uptick in Coronavirus Cases
Several states that were among the first to reopen their economies have seen noticeable upticks in new coronavirus cases in recent days as President Donald Trump continues to urge the country to rapidly return to normalcy.
Alabama, Florida, Georgia, South Carolina and Tennessee, all of which are led by Republican governors, were among the earliest in the country to begin reopening amid the ongoing pandemic. Several of these governors were also slow to issue stay-at-home or shelter-in-place orders urged by public health experts, even as the novel virus was spreading in their states.
Now, as all 50 states have taken steps to reopen, those five states and several others have seen an increase in new confirmed cases of the virus.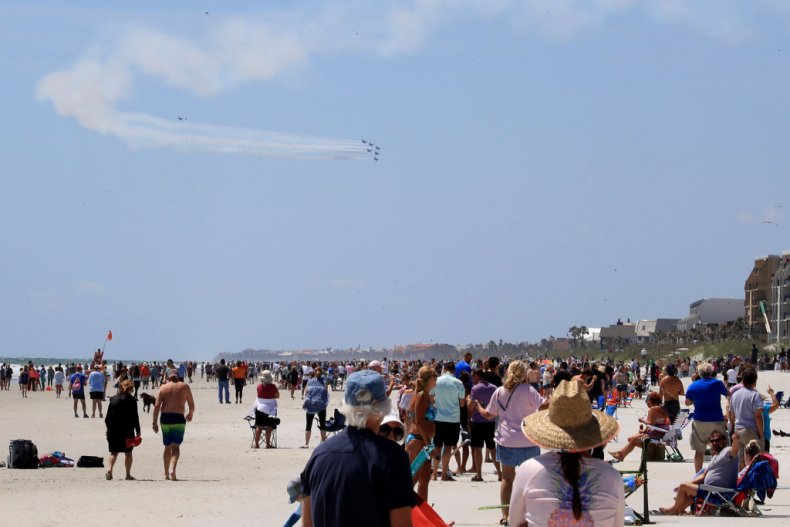 In Alabama, newly reported cases have appeared to be on the rise over the past week, although the daily numbers have gone up and down. On May 19, the state reported 290 new cases. A day later, that number jumped to 676. This week, the state saw 508 new cases on Monday and then 664 on Tuesday.
However, Alabama's daily deaths from COVID-19, the disease caused by the virus, have declined from a peak of 32 on May 12. They dropped into the single digits last week before rising slightly to 15 deaths on Monday and 14 on Tuesday. Overall, the state has seen 15,718 confirmed infections and 580 deaths.
The daily number of new infections in Florida has remained steadier, with several higher levels of daily new cases reported in the past week. On May 21, the state reported 1,204 new cases of the virus. But the daily totals dropped significantly over the following days, ranging from 676 to 776 new cases. On Monday, they increased again to 879 and then dropped to 509 on Tuesday.
Meanwhile, new daily deaths from COVID-19 have dropped from 43 to 55 per day last week in Florida, then to just four deaths on Sunday, followed by 15 deaths and seven deaths on Monday and Tuesday, respectively. The state has seen 52,247 confirmed infections overall, with 2,258 reported deaths.
The situation is similar in Georgia, where new cases rose in the state last week before beginning to decline and then rising again on that Tuesday. On Wednesday and Thursday of that week, new daily confirmed cases rose to 948 and 807, respectively. The numbers then appeared to be on a steady decline this week until Tuesday, when they jumped from 425 on Monday to 652.
New deaths in Georgia have also risen after dropping for several days. On Tuesday, the state reported 47 new deaths, compared with 21 the day before. In total, Georgia has confirmed 42,331 cases of the virus, with 1,871 deaths.
South Carolina has reported new daily infection numbers close to the state's peak of 275, which was recorded on April 16, over the past week. Last Friday, the state reported 259 new cases, followed by 257 on Saturday. The numbers then dropped again before rising to 238 on Tuesday.
But new daily deaths have remained in the single digits, down from a peak of 40 in one day, as reported on April 29. Overall, South Carolina has confirmed 10,416 infections and 446 deaths.
In Tennessee, the number of new cases appears to be on a steady rise. A week ago, the state reported 233 new infections on May 20. As of Tuesday, that daily number had risen to 427. But new deaths from COVID-19 have remained largely in the single digits, with the highest number in the past week being the 10 deaths reported on Saturday.
While Trump and some Republican lawmakers have urged states to reopen rapidly, public health experts have continued to caution against moving too quickly. They have warned that a second wave of new infections will become increasingly likely as more people leave their homes and possibly disregard social distancing guidelines.
At the same time, it's unclear whether the increases in new daily cases will result in significantly more deaths. In the early days of the pandemic in the U.S., generally only those who were seriously ill or had been directly exposed to someone infected were able to get tested. Now, as the country has increased testing capacity, many more people, even those with mild or asymptomatic cases, have been able to access tests in larger numbers. Whether rises in known infections will result in an increase in hospitalizations and deaths will become apparent in the coming weeks.
Regardless, public health experts have urged the country to continue to follow social distancing guidelines.
"We've learned a lot about this virus, but we now need to translate that learning into real change behavior that stays with us so we can continue to drive down the number of cases," Dr. Deborah Birx, the coordinator of the White House's coronavirus task force, said in a Sunday morning interview with ABC's This Week.
"This only works if we all follow the guidelines and protect one another," Birx noted.
Newsweek reached out to the White House for comment but did not hear back before publication.