A bill that would ban abortions after 15 weeks passed through a Florida Senate committee along party lines Wednesday after an amendment from Democratic Sen. Lauren Book that would create exemptions for cases of rape, incest and human trafficking was rejected.
Dozens of Republican politicians across the country in states like Nebraska, South Carolina and Georgia have taken up new legislation in recent weeks that would restrict or outright ban abortion as federal judges and the Supreme Court set to issue rulings later this year on influential cases from Texas and Mississippi that could severely alter or overturn the landmark 1973 Supreme Court decision in Roe v. Wade guaranteeing the right for women in the U.S. to choose to legally have an abortion.
Book, a sexual assault survivor, said survivors deserve "a little grace" and should not be forced to carry a pregnancy they did not consent to. Republican Sen. Kelli Stargel, the bill's sponsor, said allowing the amendment would allow the people who commit those crimes to "hide" their acts by forcing victims into abortions, according to The Associated Press.
"If a girl or a woman does not want to carry a pregnancy to term because she did not consent to being raped, none of the members of this committee should be able to deny her a safe a legal abortion because she needed more time," Book said in the meeting of the Senate Health Policy Committee, according to the AP.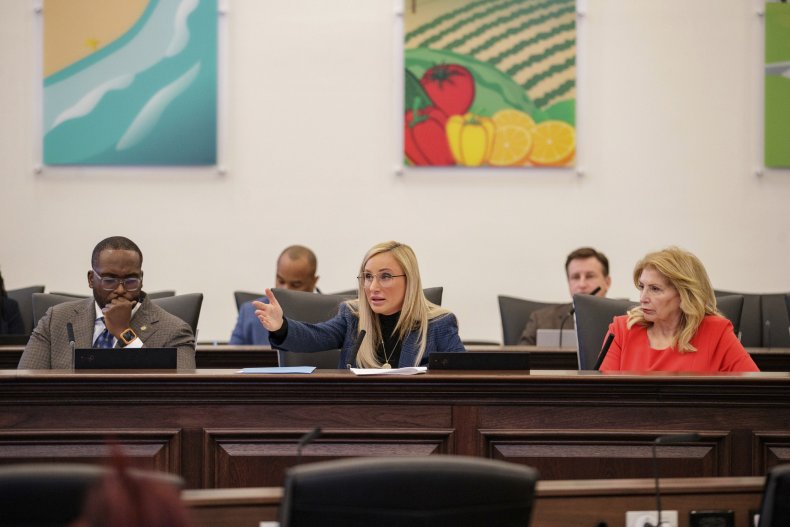 The Florida bill, along with a similar version that has passed through multiple House committees, according to The Tallahassee Democrat, received support from Gov. Ron DeSantis when they were introduced last month.
The Senate bill was passed by a 6-4 vote through the health policy committee after Book's amendment was blocked and will have to pass the Senate Appropriations Committee before it could be heard by the full Senate, according to WJXT-TV.
Stargel said in defense of her bill that it was not an outright ban of abortion, and Book's amendment could allow criminals to force their victims into abortions, potentially hiding evidence of their crimes, the AP reported.
"I think this amendment does nothing to solve the problems that we all agree are awful — rape, human trafficking, incest — and I will partner with you to fight these crimes and I will partner with you to take the people who are doing that to these children to the furthest extent of the law," she said according to the AP. "But I don't think allowing those individuals to continue to hide their crimes by forcing the abortions or allowing those abortions are going to solve that problem."
The AP also reported that the bill has exemptions beyond the 15-week mark if the pregnancy would put the mother's life in danger or could seriously injure her, or if a "fetal abnormality" is detected that would cause the baby to die upon or shortly after its birth.