Florida GOP Debuts 'Keep Florida Free' Legislation Taking Aim at COVID Mandates
Florida Republicans have announced a new set of proposals against mandates for COVID-19 vaccines and precautions.
The "Keep Florida Free" agenda was presented by Florida Governor Ron DeSantis and GOP House and Senate leaders. This plan comes as a special session of the legislature is about to convene.
"At the end of the day we want people to make informed decisions for themselves," said DeSantis during the introduction of the agenda, "but we've got to stop bossing people around. We've got to stop the coercion, we've got to stop trying to browbeat people."
DeSantis has become prominent within the Republican Party for defying proposals set by local governments and the White House regarding vaccine mandates and COVID precautions. Newsweek has previously reported that such defiance has made him a possible candidate for the 2024 Presidential Election.
One of the most prominent aspects of the "Keep Florida Free" agenda is the proposed banning of vaccine mandates enacted by private businesses. These employers could also face fines up to $5,000 if they fire a worker without offering vaccine exemptions, which include medical reasons and proof of immunity.
The agenda would also allow parents to sue school districts if they enact mask mandates. The DeSantis administration previously came under fire for wanting to slash funding to school districts that are requiring masks in the classroom.
Florida lawmakers are set to reconvene on November 15, where "Keep Florida Free" will be discussed further.
For more reporting from the Associated Press, see below: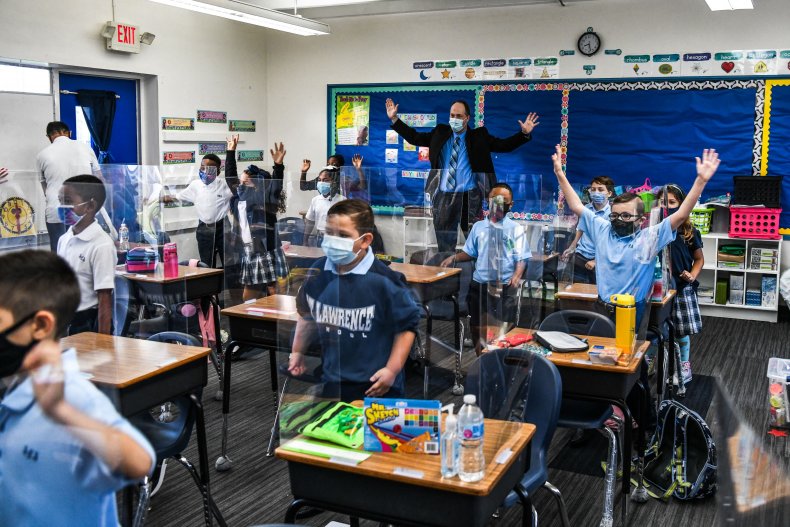 The agenda's proposal of allowing parents to sue school districts for mask mandates is intensifying a spat between counties and DeSantis over such rules. The governor's administration has previously docked the salaries of school board members who defied a state ban on mask requirements in classrooms.
Republicans are also pushing to withdraw Florida from the federal Occupational Safety and Health Administration, which last week issued a new COVID-19 vaccine requirement for employees at businesses with 100 workers or more. The rule is set to go into effect on January 4 and has already sparked legal challenges from more than two-dozen Republican-led states, including Florida.
These recent moves from the DeSantis administration recently caught the ire of the Orlando Sentinel editorial team among others. In an October op-ed, they condemned the governor for taking what they said was "a victory lap" as cases across the state dropped.
"Now, the do-nothing governor is trying to claim credit for this surge coming to an end. It is DeSantis' final and most essential command—to reject the evidence of your eyes and ears," the piece concluded, "how Orwellian."