Ron DeSantis' 2024 Chances Increase as GOP Learns to Sell Trumpism Without Trump
Although former President Donald Trump remains the firm favorite for the Republican party nomination in the 2024 presidential election, support for conservative Florida Governor Ron DeSantis is growing and his chances of getting into the White House in three years' time are improving.
The latest odds for the next president from BetOnline as of November 4 were 8-1 for DeSantis, who went from 11-1 prior to the Democrats' loss this week in the Virginia House of Delegates elections and the upset in the Virginia gubernatorial election. DeSantis also went to 9-2 from 5-1 for the GOP nomination since those results.
"RDS the biggest beneficiary of last night. The results strongly imply that Republicans will fare better without Trump on the ballot. Shorn of that lightning rod, white women switched back for the first time since 2016," political oddsmaker Paul Krishnamurty told Newsweek on Thursday.
"Both RDS and Trump have been popular with bettors. We've shortened De Santis from +1100 (11-1) to +800 (8-1); and +500 (5-1) to +450 (9-2) for the nomination. Trump stays at +250 (5-2) and -110 (10-11) respectively, although his odds have already shortened considerably in recent weeks, along with Republicans to be the winning party," Krishnamurty added.
"The evidence from Virginia and elsewhere strongly signaled a change from the Trump era, which would favor a candidate with similar policies, but without his toxicity.
"Trump was a lightning rod, who particularly alienated women. GOP results in Virginia during his era as leader were abysmal. On Tuesday, we saw a big shift back towards the GOP from white women – a critical demographic. The message was clear – without Trump on the ballot or in office, the Democrat coalition withers and Republican chances across the country improve."
He added that many white women switched back to voting Republican for the first time since 2016.
BetOnline also saw Glenn Youngkin, who won the governorship in Virginia from Democrat Terry McAuliffe in an upset, enter the White House odds race at 50-1 for the Presidency and 30-1 to get nominated.
Joe Biden went to 4-1 from 7-2 and Kamala Harris went to 6-1 from 11-2. Since the Virginia defeats, the two are now tied at 8-5 for the Democrat nomination for 2024.
Betfair told Newsweek said that DeSantis's odds of becoming the next U.S. president have also improved in recent weeks.
"With Biden's popularity sinking, he is second-favorite at 4/1 to be the next President behind Donald Trump who is the 3/1 favorite, while rising star Ron DeSantis is 9/1, having been 12/1 last month," Betfair spokesperson Sam Rosbottom told Newsweek.
Arieh Kovler, a U.S. political analyst, told Newsweek that this week's Virginia results show that the Democrats can't make voters scared of Trump without Trump's involvement. He pointed out that it's not even the mid-terms yet, so the recent results won't provide a clear indicator of what voters are thinking, but he still thinks Trump is most likely to run on the Republican ticket for president in 2024.
"Does it give Republicans a path to win nationally? Sure. But it doesn't "hurt Trump's chances" because DeSantis probably won't challenge Trump if he runs in the primary anyway. If Trump wants the nomination, it's his and nobody can stop him," Kovler said.
"So no, it doesn't boost DeSantis because DeSantis (or anyone who isn't Trump) always looked better than Trump in a general. But I don't think VA makes it more likely that Trump sits out 2024, and that's the only relevant question."
Neither Trump nor DeSantis have formally announced a run in 2024, but the former has repeatedly hinted he will, and Florida Representative Matt Gaetz has hinted DeSantis will throw his hat in the ring.
Joe Macaron, a U.S. policy analyst, told Newsweek: "The election results in Virginia suggest negative signals for Democrats and it shows that the "cultural war" DeSantis and others in the GOP are waging is mobilizing conservative voters."
But he agrees with Koyler that DeSantis doesn't have the name, recognition or the same appeal as Trump and does not command the same influence over the GOP.
"DeSantis' presidential ambitions largely depend on what Trump decides to do in 2024," he added.
"DeSantis' biggest challenge in 2024 is to go through the GOP primaries, he might announce policies and views to prove his credentials among Trump supporters and his legal battles with the Biden administration will definitely help him.
"However, DeSantis might not gain enough traction to beat Trump but he has better chances in the national elections if he passes the Trump's test in the GOP primaries."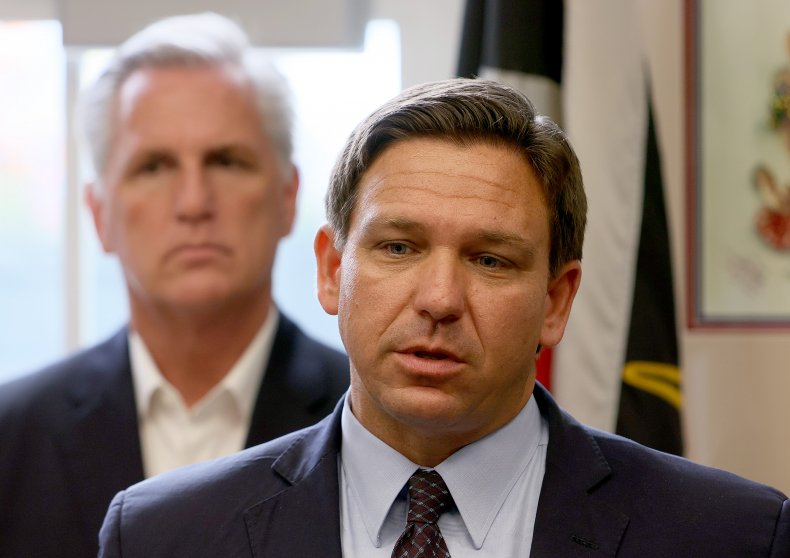 It is important to note that betting on elections in the United States is illegal.