The Lessons of Youngkin's Win in Virginia | Opinion
Virginia governor-elect Glenn Youngkin had not even reached the stage at his campaign headquarters for a victory speech before the TV analyst class began trying to assess what had just happened. Liberal commentators tried to soothe their wounded expectations while conservatives processed how to channel their joy.
That is the question for Republicans now, isn't it? The Youngkin victory, viewed widely as a masterful triangulation, seems to instruct GOP voters to seek candidates who carve out some space between a traditional conservative approach and the former president's. But that would be an incomplete take. Youngkin did not parade around Virginia in a MAGA hat, but he managed to attract virtually every Trump voter from 2016 and 2020, while appealing to a wide cross-section of voters less taken with Trumpism.
How did that happen? For his part, Trump poured enthusiasm into the race from afar. Though unable to anoint from his Twitter account, he urged a "flood" of Youngkin votes that could outweigh whatever fraud he anticipated might arise. He did this without a single joint rally or demanding any ring-kissing on Youngkin's part as a condition of endorsement.
This says two things about Trump, both of which are cause for Republican optimism. First, it shows that he recognizes that some states may have a taste for candidates whose style differs from his own. Second, it signals a departure from the hazardous message he floated last month, when he warned that Republicans will stay home unless elected officials devote singular attention to fighting voter fraud. Election security is vitally important, but the wisest approach is to fight hard for improvements while encouraging turnout high enough to outweigh any irregularities.
Having achieved success with his not-quite-Trumpian approach, Youngkin opens a party-wide debate over how best to navigate the midterms and the White House race in the post-Trump era. Does his win direct candidates to distance from Trump in order to broaden their appeal? There could be danger in that; there is a thin line between defining differences and seeming critical.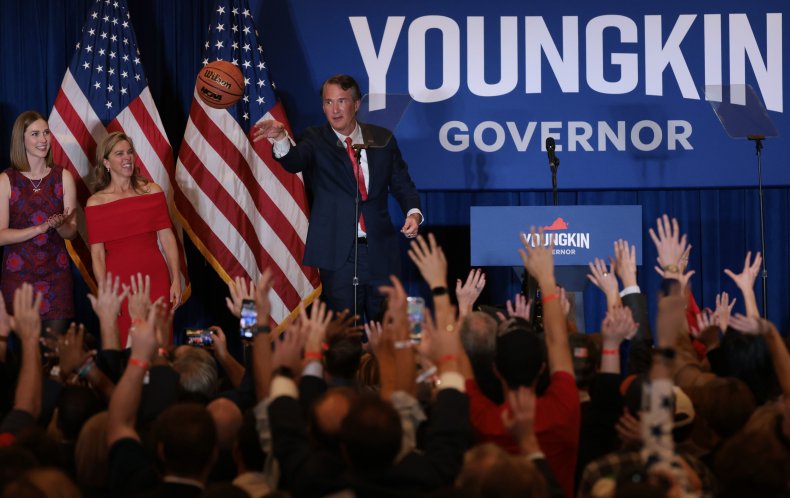 Virginia was an odd electoral duck. The challenge for Youngkin was to flip a state that had favored Biden by 10 points just a year earlier. That wasn't going to happen with a campaign filled with red-meat conservative talking points. And yet, in the rural counties where Trump had dominated in two elections, Youngkin performed as well, if not better. He did it by crafting a message that resonated with conservative voters while appealing to a broader spectrum as well, focusing on issues like schools and jobs, which are not exclusively right-wing passions.
This example could be of value for any Republican nominee looking to win back states narrowly won by Biden, like Michigan, Pennsylvania, Arizona, Georgia, Wisconsin and Nevada. But it would be too glib to suggest that Trump himself has lost his appeal. On CNN, commentator Scott Jennings, a veteran of the George W. Bush administration, announced that "Donald Trump is the least likely person to give the Republicans a chance to win back the White House." There may be wisdom in giving Trumpism some edits and even a new face and voice. But it is wishful thinking to conclude that the 45th president is no longer a guiding force in the party.
Among Democratic ranks, some refreshing self-awareness could be found as the loss sunk in. Also on CNN, Van Jones, who had earlier spread typical venom by calling Youngkin "the Delta variant of Trumpism," had a wake-up call for Democrats. He asserted that they are "coming across in ways that we don't recognize, that are annoying an offensive and seem out of touch."
This leads to the last bit of good fortune that Youngkin enjoyed: he was running against Terry McAuliffe. That infamous debate line about parents not telling schools what to teach was Christmas come early for the Youngkin campaign. It solidified the image of the former governor as an arrogant scold, in the tank for teachers' unions. That, more than any other single factor, seems to have scored for Youngkin large batches of votes from women and suburbanites, both frequently identified as a dwindling marketplace for Republicans in the Trump era.
As compelling as the questions for Republicans are following the Virginia result, the more immediate dilemma may be the one faced by Democrats. Is McAuliffe's loss a signal that voters are revolting against a Democratic Party they view as too extreme? Are voters of various stripes displeased with being attacked as racist for asking questions at school board meetings?
Youngkin won Virginia by doing virtually everything right while his opponent stumbled colossally in the home stretch. Not every Democrat will be as inept, and not every state will be an identical laboratory for Youngkin's approach. The 2022 midterms are still a year away, with presidential campaigns forming during the year afterward. Many factors could change. But the most valuable lesson of Virginia may be that, no matter how anyone gauges the legacy of Donald Trump, the best Republican answer to a Democratic Party obsessed with ideological conformity on issues from race to climate change is a focus on real-world problems that touch the vast majority of households: education and the economy.
Mark Davis is a talk show host for the Salem Media Group on 660AM The Answer in Dallas-Ft. Worth, and a columnist for the Dallas Morning News and Townhall.
The views expressed in this article are the writer's own.