Is Critical Race Theory McAuliffe's Kryptonite? Democrats' Missteps Make It Hard to Tell
The Virginia governor's race has been widely viewed as a testing ground for Republicans seeking to regain power after losing it in 2020, and Democrats seeking to hold onto control.
It also has seemed that the race will serve as a test of whether the GOP's recent efforts to stoke concerns about critical race theory in schools could be used as a strategy to drive victories in the 2022 midterms. On the campaign trail, Republican Glenn Youngkin has attempted to channel anxieties over the issue—and other concerns among suburban school parents—to bolster support.
It will be difficult, however, to tell how much his focus on the subject influenced voters, even if he wins the race on Tuesday. That's because in recent weeks, Democratic candidate Terry McAuliffe and Democrats have made missteps that arguably provided more ammunition for Youngkin and his allies.
Conservatives have claimed that critical race theory, an academic framework that examines history through the lens of racism, is an effort to rewrite U.S. history and treats white people as inherently racist.
While stumping, Youngkin has repeatedly said he would ban CRT from schools in Virginia.
"We've watched what this liberal-left-progressive agenda in Richmond has done to our children, and guess what?" Youngkin said at a rally in Virginia's Loudoun County in September. "We've had enough."
During the state's first gubernatorial debate on September 16, McAuliffe criticized Youngkin's focus on the subject, noting that he's "talking about critical race theory that's not taught in our schools...But what I hate is this is a big dog whistle. I really hate it. It divides people."
At the time, it appeared that McAuliffe, who served as Virginia's governor from 2014 to 2018, would cruise to victory in a state where former President Donald Trump lost by 10 points last year.
But in recent weeks, the race has narrowed, and Youngkin's focus on CRT and parental concerns over school policies has only continued.
Republican strategists have said that they expect that CRT will play a large part in GOP campaigns in the 2022 midterm elections, when the party attempts to win back congressional districts in the suburbs.
"In suburban areas, the number one cultural issue is critical race theory. The suburbs are on fire with anger," Republican strategist Corry Bliss told McClatchy in July. "We are at the beginning of this issue, not the end."
Stephen Farnsworth, a University of Mary Washington political science professor, recently told the Washington Post that focusing on CRT is a way for Republicans to galvanize voter turnout in a non-presidential election year.
"The threat that there's some evil outside force pushing a radical agenda into your elementary school is a vehicle for getting people energized," he said.
Youngkin has been talking about critical race theory for months, but it wasn't until recently that he started closing in on McAuliffe.
McAuliffe began falling in the polls after he stated in a September 28 debate that he doesn't think "parents should be telling schools what they should teach."
The comment came as he was speaking about legislation he previously vetoed that would have let parents know when there is sexually explicit material being taught to students, and require teachers to provide alternative instruction materials, if requested by parents.
"I'm not going to let parents come into schools and actually take books out and make their own decision," McAuliffe said. "I don't think parents should be telling schools what they should teach."
The next day, the Youngkin campaign seized on the comment, turning it into an ad. The ad juxtaposed McAuliffe's words with footage of parents complaining about sexually explicit material at a school board meeting.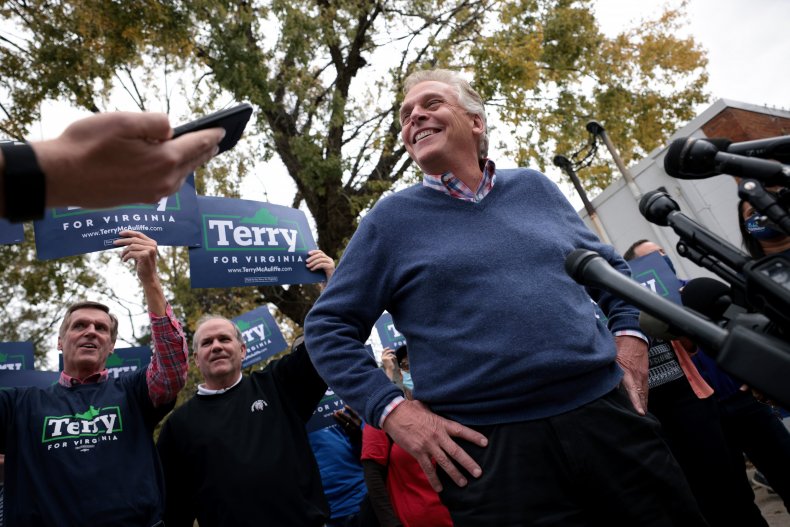 In an ad released a few weeks later, McAuliffe attempted to clarify his stance, and said Youngkin had taken his words "out of context."
"I've always valued the concerns of parents," he said. "It's why as governor we scaled back standardized testing, expanded pre-K, and invested a billion dollars in public schools."
But by then, Youngkin had already started catching up to McAuliffe in the polls. A survey from Monmouth University released on October 20 found the candidates tied, each with 46 percent of support from potential voters. Additional polls in the coming days found McAuliffe ahead by only one point, or tied with his Republican opponent. A Fox News poll from Friday found Youngkin with an 8 point lead over McAuliffe.
Just last month, McAuliffe had appeared far ahead of Youngkin in the race. A survey published by Roanoke College on September 29 showed him with a seven point lead over Youngkin, and other polls in September found him up by nine points and five points.
In addition to McAuliffe's debate comment, a decision by Democrats in Washington also inadvertently gave Youngkin and Republicans more fuel to criticize McAuliffe on education issues.
On October 4, Attorney General Merrick Garland announced he had directed the FBI and U.S. attorneys to discuss strategies to address an "increase in harassment, intimidation and threats of violence against" school officials and teachers.
Republicans criticized the move as an attack on conservative parents speaking out against school policies.
Youngkin quickly attempted to link McAuliffe to the decision. In an interview on Fox News, he falsely suggested that McAuliffe urged the Biden administration to issue the order.
"Terry calls in his friend Joe Biden to actually put the DOJ on Virginia parents," he said in the October 6 interview.
The fact-checking news outlet PolitiFact rated Youngkin's claim as "Pants on Fire"—its highest rating for false.
McAuliffe's campaign also faced a setback Friday when the Lincoln Project, an organization founded by anti-Trump Republicans, sent people mimicking white nationalists and holding tiki torches to stand outside a Youngkin campaign bus. The group claimed responsibility for the incident on Friday, and in a statement said it conducted the demonstration to remind Virginians of the deadly 2017 rally in Charlottesville, "the Republican Party's embrace of those values, and Glenn Youngkin's failure to condemn it."
McAuliffe's campaign denied involvement in the incident, but the Lincoln Project was condemned following the stunt, with some suggesting its actions could hurt the Democratic candidate.
"What a massive, massive screw up. The last thing that the McAuliffe campaign needed this weekend. A total disservice to the hundreds of hard-working staffers on the ground," tweeted Lis Smith, a former senior advisor to Democratic primary candidate Pete Buttigieg.
"The overreach backfires because it is so ridiculous in its execution it hurts the point they're trying to make," Mark Rozell, dean of the Schar School of Policy and Government at George Mason University, told the Washington Post.
The McAuliffe campaign did not respond to a request for comment for this story.
In recent days, major figures in the Democratic Party including former President Barack Obama, Vice President Kamala Harris and President Joe Biden have stumped for McAuliffe in an attempt to shore up support ahead of election day. While in Virginia on Tuesday, Biden sought to tie Youngkin to Trump, as McAuliffe has done on the campaign trail.
"Terry's opponent not only embraces someone with such a lack of character; he endorses Donald Trump's bad ideas and bad record," Biden said.
If McAuliffe loses the race on Tuesday, it won't be clear how much of the outcome could be attributed Democratic fumbling, or Youngkin's focus on cultural issues like critical race theory.
But it's clear that Youngkin's stance on education is drawing many of his supporters.
Chris Hillman, the pastor of a Baptist church in Blackstone, Virginia, told the News and Advance that he's backing the Republican because of his support for parents having more control over school curriculums.
"That'll be the rallying cry. The whole issue with education. That's going to bring people out," Hillman said.
"This has been a Democrat state for so long. It shouldn't be this close."