Trump Says He's Going to Virginia 'Soon' After Biden Stumped for Terry McAuliffe
Former President Donald Trump announced plans to campaign for Glenn Youngkin for governor of Virginia less than 24 hours after President Joe Biden suggested the candidate was too embarrassed to be seen with his fellow Republican.
"Chanting, 'We love Trump' in Arlington, VA. Thank you, Arlington, see you soon!" Trump said in a statement, referencing a moment when Biden was interrupted by the former president's supporters on stage.
His director of communication, Taylor Budowich, tweeted that the state of Virginia loves Trump and that his "MAGA movement will be delivering a major victory to Trump-endorsed businessman @GlennYoungkin."
Virginia's governor race was deadlocked one week ahead of Election Day, according to a Tuesday Suffolk University poll. Democrat Terry McAuliffe narrowly leads with 46 percent over Youngkin by less than one point, or within the poll's statistical margin of error.
Biden hoped to boost his party member's campaign on Tuesday evening despite his own declining approval rating. The Suffolk poll also showed that 52 percent of respondents disapprove of the president and more than 66 percent said they felt the nation was headed in the wrong direction.
While campaigning for McAuliffe, Biden didn't shy away from attacking Trump and told voters a Republican victory could undermine democracy.
"Terry's opponent not only embraces someone with such a lack of character; he endorses Donald Trump's bad ideas and bad record," Biden said.
"But what's really interesting to me, he won't stand next to Donald Trump," he continued. "Think about it. He won't allow Donald Trump to campaign for him in this state. He's willing to pledge his loyalty to Trump in private. Why not in public? What's he trying to hide? Is there a problem with Trump being here? Is he embarrassed?"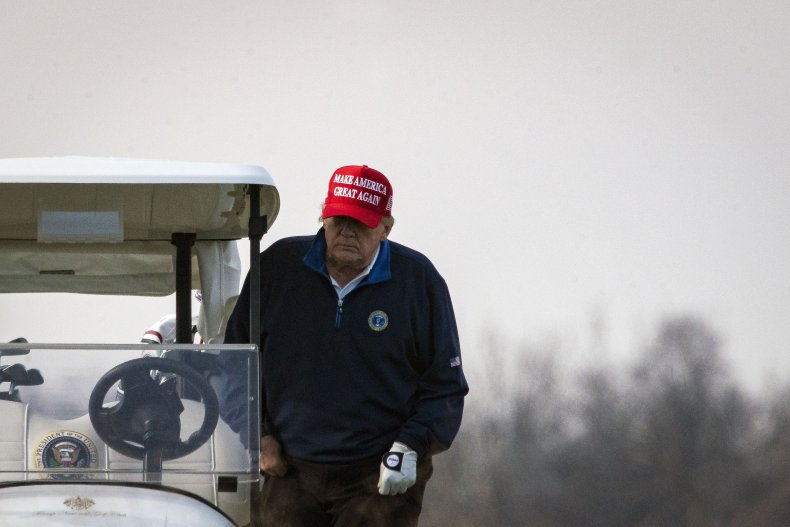 Youngkin was endorsed by Trump three times but hasn't publicly campaigned with the former president during his run for governor.
Virginia's gubernatorial election, which is taking place in an off-year, may provide insight into how next year's midterms will shape up. The state is currently led by Democrat Governor Ralph Northam and party members hope to keep the state blue despite Biden's falling approval ratings.
McAuliffe himself acknowledged Virginians' feelings about the president during a video conference call earlier this month.
'The president is unpopular today, unfortunately, here in Virginia, so we have got to plow through," the gubernatorial candidate said
A spokesperson for McAuliffe clarified that his point was that "Democrats can't take anything for granted and must turn out to vote this year. Glenn Youngkin is running on a divisive, Trumpian agenda that puts election conspiracy theories and banning abortion first."
It's not clear when Trump plans to visit Virginia but his team said the details will be released when appropriate.
Newsweek reached out to Trump, Youngkin and the White House for comment.