Youngkin Surges Ahead of McAuliffe in Latest Poll, What It Means for Virginia
Virginia's Republican gubernatorial contender Glenn Youngkin has surged ahead of Democratic candidate Terry McAuliffe in a new poll, in a race that both parties are watching closely as a harbinger of how the 2022 midterms could potentially play out.
The GOP hasn't won a statewide race in Virginia in over a decade and President Joe Biden carried the state in the 2020 election by a margin of more than 10 points. But Fox News' latest poll, conducted from October 24 to 27, suggested that Democrats should be concerned their control of the state is under threat.
Among likely voters, Youngkin leads McAuliffe by 8 points. The GOP contender is backed by 53 percent while the Democratic hopeful is supported by just 45 percent. The race is closer when looking specifically at registered voters, but Youngkin still has an edge on McAuliffe—48 percent to 47 percent.
That marks a major shift from Fox News' polling carried out two weeks ago. In the previous survey, McAuliffe led Youngkin by 5 points among likely voters. The Democrat was supported by 51 percent compared to only 46 percent who backed the Republican candidate.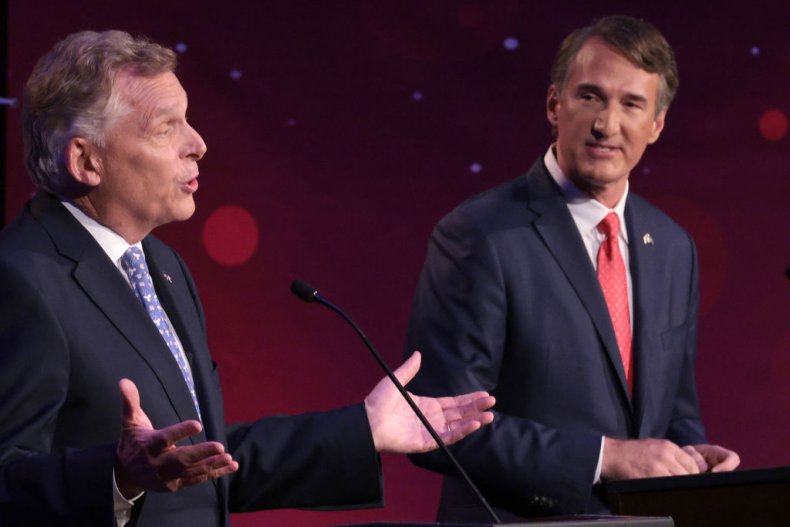 Although Fox News is generally viewed as favorable to conservative candidates, its polling has an A rating by polling analysis website FiveThirtyEight. Other recent internal polling for GOP lieutenant governor candidate Winsome Sears carried out by co/efficient shows Youngkin ahead by 4 points, The Washington Examiner first reported on Thursday.
FiveThirtyEight's polling average for the state currently shows a deadlocked race in Virginia. Both Youngkin and McAuliffe are backed by about 47.1 percent of Virginia's voters when combining recent survey data.
Democrats and Republicans are closely watching the Virginia race. As the parties prepare for the 2022 midterms, they see the race as a sign of how voters are responding to Democratic leadership after the party took control of the White House and Congress in the 2020 election. Already, concerns are mounting among Democratic leaders that they could lose control of Congress in the midterms as Republicans view that as a likely scenario.
"I think we can [win in the midterms]. I'm not sure we will," Congressman Jim Clyburn, the third-highest ranking Democrat in the House of Representatives, said during a virtual event this week.
"My dad used to say to me all the time, 'Wherever there is a will, there is a way.' I'm not too sure that Democrats have yet developed the will to win in 2022," the South Carolina Democrat added.
Recent historical precedent shows that the party of the president generally loses a sizable number of congressional seats during the midterms of their first term. Democrats currently maintain control of the House and Senate by the narrowest of margins. If Republicans manage to pick up just a few seats in 2022, that could be enough to propel them back into the majority.
House Speaker Pelosi, a California Democrat, dismissed this precedent in remarks to reporters last month, however, asserting that the political reality has shifted in recent years.
"We live in a whole new world of communication and the rest. And I think that all of our members who survived Trump being on the ballot with them will survive next year because Trump's not on the ballot," Pelosi said.
McAuliffe, who previously served as Virginia's governor from 2014 to 2018, has been strongly backed by top Democratic leaders as the party aims to maintain its control of the state's Executive Mansion. Biden, first lady Jill Biden, former President Barack Obama and prominent Democratic activist Stacey Abrams have all traveled to Virginia to campaign with McAuliffe.
Meanwhile, Youngkin has distanced himself from former President Donald Trump during his campaign, although Trump has publicly endorsed the Republican candidate. The GOP contender is a political newcomer and hails from a business background. He has hedged his campaign largely around education and opposing the teaching of critical race theory in public schools—an issue that has animated conservative parents over the past year.
Whether Democrats will manage to thwart off the threat to their control of the state remains to be seen. But with just four days until the election on November 2, Youngkin looks well-positioned for a possible upset victory while McAuliffe looks unlikely to come close to Biden's previous 10 point win over Trump.