Ron DeSantis 'Odds-on Favorite' to Be Next President if Trump Doesn't Run: GOP Lawmaker
Although President Joe Biden's White House term began just two months ago, discussions about the 2024 presidential contest and its possible contenders are already underway. While questions remain regarding Donald Trump's intentions to launch another campaign ahead of the next election season, Florida Governor Ron DeSantis has emerged as a prospective Republican presidential candidate.
"I think he's the odds-on favorite to be the next president, if Trump doesn't run again," said Joe Gruters, who holds a seat on Florida's state Senate and chairs its Republican Party, referencing DeSantis in recent comments to NBC News.
Gruters, a known Trump supporter, is not the first Republican figure to suggest that DeSantis might lead a successful presidential bid. Florida Congressman Matt Gaetz, also a Republican, described DeSantis as "a strong potential presidential candidate in 2024" during a February appearance on Fox News.
Josh Holmes, an adviser to Republican Senate Minority Leader Mitch McConnell, told Politico that the Florida governor "is having a moment with conservatives" in the aftermath of Trump's presidency. Some have also floated the idea of a Trump-DeSantis ticket ahead of the next election, with DeSantis as a vice presidential nominee.
The governor positioned himself as a strong ally of Biden's predecessor throughout his years in office, and gained popularity among the former president's supporters in the process. As Politico reported, recent results of a survey conducted by GOP pollster Tony Fabrizio, which asked upwards Republican voters to forecast their choices for next election season's presidential primaries, showed DeSantis tied with former vice president Mike Pence as participants' second choice after Trump.
DeSantis trailed Pence by only 2 percentage points when survey respondents re-cast their theoretical votes in a subsequent question that inquired about primary preferences if Trump decided not to enter the race.
Around the same time Fabrizio distributed last month's survey, results of a straw poll conducted during this year's annual Conservative Political Action Conference (CPAC) likewise placed DeSantis as Republican voters' second choice for their party's 2024 presidential nominee.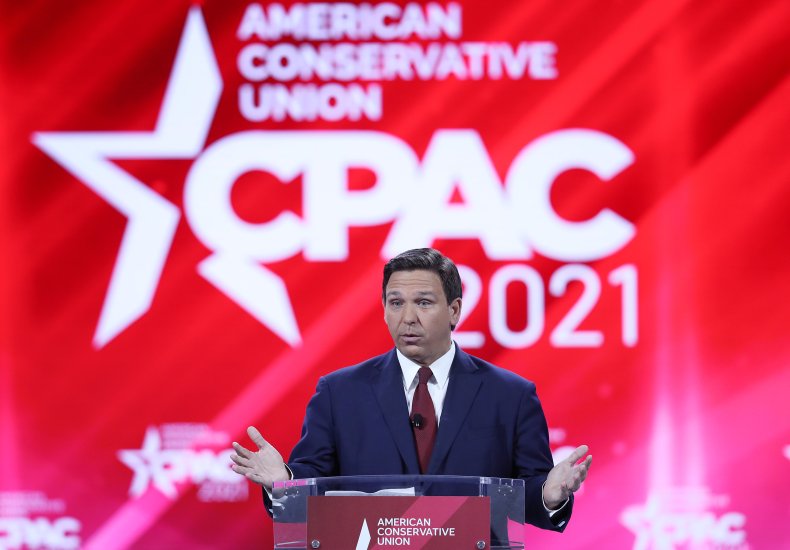 Trump earned the most votes from CPAC straw poll participants with 55 percent of their collective support, while DeSantis followed with 21 percent. The Florida governor's share of votes exceeded those respectively given to all other Republican figures whose names appeared on the straw poll ballot by significant margins. South Dakota Governor Kristi Noem earned the third-highest share with 4 percent of votes. DeSantis received the most votes from CPAC attendees in a subsequent straw poll that excluded Trump as an option.
Newsweek reached out to Gruters for further comment, but did not receive a reply in time for publication.