Florida Gov. Calls For People Flying From NYC to Go Under Two Week Quarantine
Florida Governor Ron DeSantis announced Monday that anyone arriving into the state on flights from New York and surrounding areas must undergo a mandatory 14-day quarantine.
New York has been hit particularly hard by the COVID-19 coronavirus pandemic, with the more than 20,000 infections reported in the state as of Monday representing almost half of the U.S. total. Florida's total reported cases were just over 1,200. The Republican governor said he had spoken with President Donald Trump before deciding to issue an executive order intended to stop New Yorkers from bringing the virus to Florida.
"Anybody traveling from those regions in New York or New Jersey to the state of Florida is going to have to do a mandatory 14-day self-isolation," DeSantis said during a press briefing. "That's the only way we can be sure that that virus is not going to be re-introduced in the state of Florida and then spread."
Travelers from New York, New Jersey and Connecticut will be subject to the mandatory quarantine beginning Tuesday, according to the governor's order obtained by Newsweek. Anyone who violates the order could be subject to 60 days in jail and a $500 fine. Airline employees and those performing emergency health or military duties are exempt.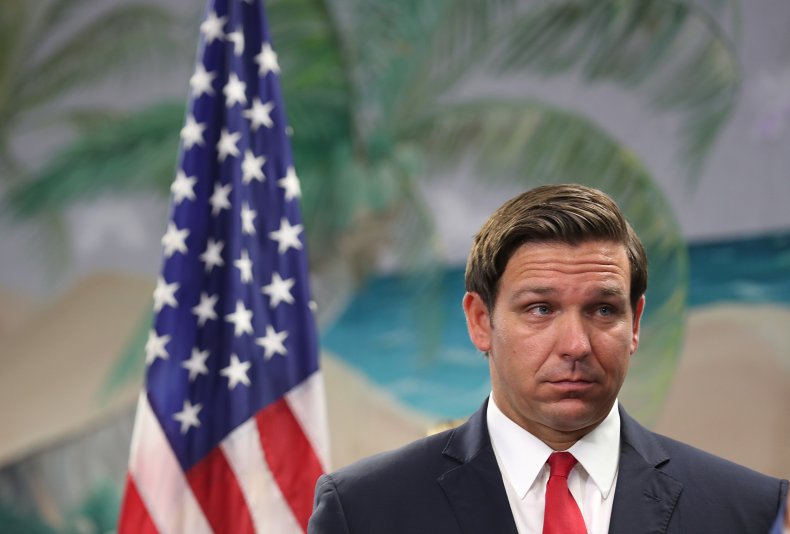 DeSantis had recently been criticized for failing to take actions that many public health experts say could help contain the virus. Last week, he refused to shut down crowded beaches as college students on spring break flooded the state. He later reversed course and closed some of the beaches along with state parks. A number of the students have since tested positive for COVID-19.
The governor insisted that he would not be following the example of other states by ordering non-essential businesses to shut down and directing people to stay at home, claiming the move was not necessary because the virus is not yet "impacting every corner of the state."
"I think given our circumstance, that would not be advisable," said DeSantis. "When you're ordering people to shelter in place, you are consigning probably hundreds of thousands of Floridians to lose their jobs, you're throwing their lives into potential disarray. If that were something that were necessary statewide because the health comes first, that would be one thing."
DeSantis believes that such actions have backfired in other places and led to the virus being spread around the country by people fleeing heavily infected areas for places like Florida.
"If you look at what happened in New York, when they did the stay at home order, what did people do?" DeSantis told reporters earlier on Monday. "Well, a lot of people fled the city... we're getting huge amounts of people flying in."