Florida Senator Says 'Get Off the Beach' After the State's Governor Refuses to Shut Them Down Amid Coronavirus
Republican Senator Rick Scott of Florida, who previously served as the state's governor, urged people to "get off the beach" after the state's current GOP governor refused to shut down the beaches this week.
Images of crowded Florida beaches have circulated widely in news reports and online, with many criticizing young "spring breakers" and other beachgoers for disregarding social distancing recommendations issued by the White House and health experts due to the growing coronavirus (COVID-19) pandemic. But Florida's Governor Ron DeSantis, who took office last year, refused to close down the beaches to the public.
"Individuals need to take responsibility and every level of government has got to be very clear: Don't be on the beach unless you can somehow be completely by yourself," Scott, who preceded DeSantis as Florida's governor, said in a Thursday morning interview with CNN. "I mean, we've got to figure out the social distancing," he warned.
"Every part of government has to start telling people: 'Take some personal responsibility here. Don't infect other people. Don't take a chance that you're going to be the one who is gonna cause your grandparent, or your parents, or another friend from school to get sick,'" the GOP senator said.
Asked whether the beaches should be closed, Scott said the Florida government should do "whatever they have to do." He said "they have to stop all these individuals from going to the beach."
"What are you thinking? Stop doing it," Scott added as a message to beachgoers. "Get off the beach," he said.
DeSantis said on Tuesday that Florida would enforce guidelines from the Centers for Disease Control and Prevention (CDC) to keep groups of more than 10 people from gathering on the beach. He insisted that videos and images of large crowds and young partiers were "not uniform throughout the state."
One young spring breaker in Miami voiced disregard for the possibility of getting infected with coronavirus in an interview with CBS News earlier this week.
"If I get corona[virus], I get corona. At the end of the day, I'm not gonna let it stop me from partying," Brady Sluder told the news station. "You know I've been waiting, we've been waiting for Miami spring break for a while, about two months we've had this trip planned, two, three months," he explained.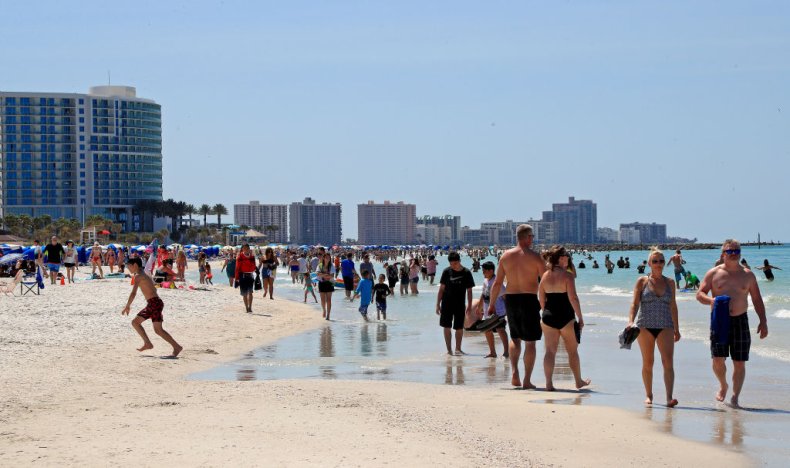 As of Wednesday evening, eight people had died in Florida due to coronavirus and the number of confirmed cases had risen to 328, according to Orlando's local WKMG News 6. The state is currently collaborating with private laboratories to expand testing, the station reported. Florida's Miami and Broward counties reportedly have double-digit numbers of cases.