Cases of the novel coronavirus in the U.S. have now been confirmed in 40 states, as reported infections have surpassed 1,000. Meanwhile, the government has thus far failed to curb the outbreak, while also struggling to keep up with testing for possible infections.
But a simple strategy might be one of the most effective ways to combat the rapid spread of COVID-19, the illness caused by the new strand of coronavirus, according to public health experts. Social distancing – which means isolating people, canceling events and preventing gatherings – may be the best solution at present to block those with the virus, who are often unaware they have it, from interacting with and infecting healthy individuals. While this won't completely stop the virus, it could slow down the spread.
Dr. Ralph Morris of the Water Quality & Health Council explained to Newsweek that social distancing "is a variety of activities that are designed to put space between people and limit crowding."
"This can include school closures, working from home, and limiting large gatherings, among others measures," Morris said. "Testing for the disease helps public health officials to determine what the best social distancing measures are and when to implement them in a community. Early implementation can help reduce the spread of disease as well as a surge in the number of cases."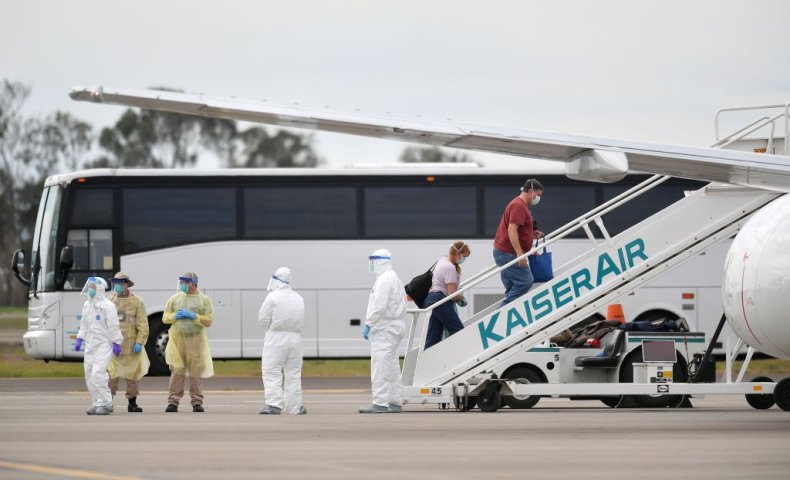 Washington state, which has become the epicenter of the virus in the U.S., has already encouraged its residents to implement social distancing practices. The state's governor Jay Inslee suggested on Tuesday that such practices could become mandatory moving forward.
"If we're going to stop this epidemic, or seriously slow it down, we need to look at what's coming in Washington state, not just what is here today," Inslee said during a news conference.
The state already is estimated to have 1,000 infections, although many are not confirmed. Within a matter of two months, that number could grow to 64,000.
"If you do the math, it gets very disturbing," the governor said.
Countries around the world, as well as many private organizations and companies within the U.S., have already moved forward with social distancing plans. Many businesses have told their employees to work from home, if at all possible, and large scale conferences and events have been canceled.
Italy, which now has the second-largest number of confirmed cases of COVID-19 outside of China, has restricted travel nationwide and banned all events. China, where the virus first arose, took similar measures in Wuhan, the city where the outbreak began.
The World Health Organization (WHO) officially declared the coronavirus outbreak to be a pandemic on Wednesday. More than 120,000 confirmed cases have been reported in more than 110 countries. WHO has said the death toll from confirmed cases has been about 3.4 percent.
But health experts have estimated the overall death rate might be 2 percent or less, as there are believed to be many mild cases that have gone unreported. Of the more than 120,000 confirmed cases, more than 70,000 people have already recovered. China, where the outbreak began, has also been seen to curb the spread of the virus, with far more cases reported around the world than the few new cases occurring daily in the Asian nation.
According to the available data, elderly people are more at risk of facing serious complications and death from COVID-19. People under the age of 30 appear to have a significantly lower death rate, while pre-existing health conditions – such as respiratory problems, heart disease and diabetes – appear to correlate with more severe reactions.
Morris told Newsweek that people should "disinfect commonly touched surfaces, particularly in public areas" to avoid spreading or contracting coronavirus. "In some cases, the wearing of gloves may be useful," he said. "Individuals should avoid touching their mouth, nose and eyes-although this is very hard to do."
As there is currently no vaccine for coronavirus, Morris said "the best strategy is through a variety of social distancing activities that ideally maintains a 6-foot distance between people where COVID-19 is present."
Uncommon Knowledge
Newsweek is committed to challenging conventional wisdom and finding connections in the search for common ground.
Newsweek is committed to challenging conventional wisdom and finding connections in the search for common ground.
About the writer
Jason Lemon is a Weekend Editor at Newsweek based in Brooklyn, New York. Prior to taking on the editor role, Jason's reporting focused on U.S. politics and international affairs. He joined Newsweek in 2018, and had previously worked as a founding editor at a Middle Eastern media startup called StepFeed. He also worked a year as a contributor to The Atlanta Journal-Constitution and has bylines in The Christian Science Monitor, The Palm Beach Post, Al Fanar Media and A Magazine. He is a graduate of the American University of Beirut in Lebanon and Andrews University in Michigan. You can get in touch with Jason by emailing j.lemon@newsweek.com. Languages: English, Spanish, French and Levantine Arabic