Florida Gov. Ron DeSantis Vows State Will Not Lock Down Despite Biden's Warning in Address
Florida Governor Ron DeSantis has rejected President Joe Biden's warning that a new round of COVID-19 restrictions could be on the horizon if efforts to contain the virus fail, calling the prospect "insane."
The Republican governor made the remarks while speaking about vaccine distribution at a press conference in Sebastian, Florida on Friday. Biden suggested that new public health restrictions may be needed during his prime-time address on Thursday night, although he did not mention Florida nor any other specifics of the restrictions and the prospect was presented as a possibility only "if we don't stay vigilant and the conditions change."
"Biden last night said that they may have to impose more lockdown-type policies in the future," DeSantis said during the press conference. "I can tell ya, that ain't happening in Florida. We are not going to let him lock down Florida. I know they talked about restricting travel of Floridians. That's totally unacceptable, we've said that from the beginning."
"To even contemplate doing any kind of lockdown, honestly it's insane, so that's not going to happen in the state of Florida," he continued. "We like the fact that people have been able to work here... so we're going to continue doing what works, but under no circumstances would we entertain doing anything of the sort."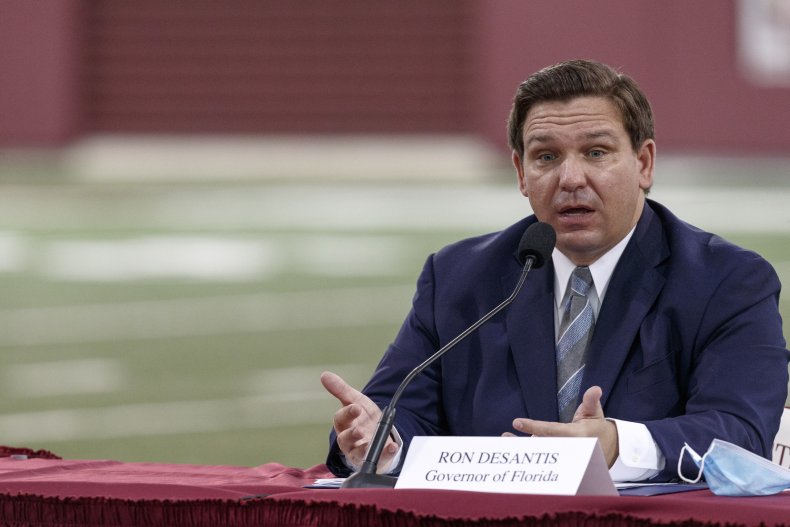 DeSantis touted Florida's vaccination distribution efforts but mocked Biden for suggesting that families may be able to safely gather for July 4th celebrations if national vaccination distribution continues to be successful, boasting that Floridians had already been taking part in the gatherings "for over a year."
DeSantis also claimed that Biden's $1.9 trillion American Rescue Plan was "fundamentally unfair" and had taken "billions of dollars from Florida" and given it to other states that imposed lockdown measures he insisted were not effective during the pandemic.
It is not clear that Biden has any intention of locking down Florida or any other state. Legal limitations make it unlikely that he could order a national lockdown or force states to impose their own stay-at-home orders even if cases do surge despite rapidly increasing vaccinations. Biden has already explicitly rejected the idea that he would order a national lockdown.
"There will be no national shutdown," Biden told Bloomberg News within weeks of his November 2020 presidential election victory. "There's no circumstance I can see that would require a total national shutdown."
Over 4 million people in Florida had received at least one dose of a COVID-19 vaccine as of Thursday, with about 2.2 million fully vaccinated, according to the Florida Department of Health. The state reported over 5,000 new COVID-19 cases on Thursday. New COVID deaths have dropped significantly in recent weeks, with 5 recorded Thursday.
Newsweek reached out to the White House for comment.