In comments made Thursday, President-elect Joe Biden declared, "There will be no national shutdown" during his administration's response to the ongoing COVID-19 pandemic.
"I'm not going to shut down the economy, I'm going to shut down the virus,' Biden said, according to Bloomberg News political reporter Emma Kinery. "There will be no national shutdown.... There's no circumstance I can see that would require a total national shutdown."
His statement reiterated comments he made last Friday contradicting a suggestion from a member of his coronavirus advisory board of a four- to six-week national shutdown.
Though Biden said in August that he would do "everything possible to get COVID-19 under control" including shutting the country down, in September, he began opposing the idea.
In an October town hall, Biden said, "I don't think there's a need to lock down... You can open businesses and schools if, in fact, you provide them the guidance they need, as well as the money to be able to do it."
Biden's comment against a national shutdown comes as numerous states have begun issuing new restrictions and shutdowns on restaurants, businesses and public venues amid rising COVID-19 numbers.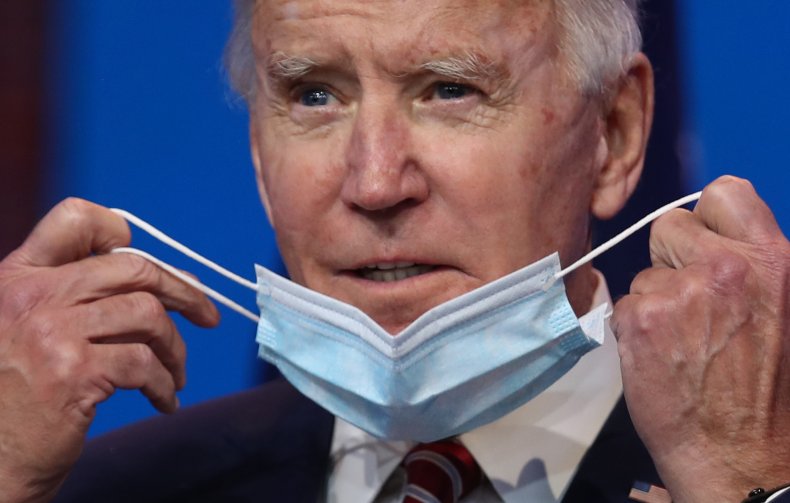 The U.S. continues to have the highest number of infections and deaths due to COVID-19 of any country in the world. On November 13, the U.S. reported its highest ever daily toll of newly confirmed COVID-19 cases with a total of 181,571. On November 17, the U.S. saw its highest COVID-19 daily death toll in six months with at least 1,707 deaths, according to data from Johns Hopkins University.
Last Friday, Biden called on all Americans to "step up and do their part on social distancing, hand washing, and mask-wearing to protect themselves and to protect others.
Additionally, he called on Congress to expedite a coronavirus stimulus bill to help the estimated 11 million unemployed Americans as well as businesses struggling during the ongoing pandemic.
Biden's plans for a national coronavirus response strategy include mask mandates, increased testing, free distribution of a vaccine for 350 million people and ramped-up production of personalized protective equipment for frontline medical workers and others.
Biden has also criticized the Trump Administration's obstruction of his presidential transition team's ability to receive departmental briefings, saying it could lead to delays in the national rollout of a vaccine.
"More people may die if we don't coordinate," Biden warned. "I'm hopeful that the president will be more enlightened before we get to January 20."