Florida Governor Says Spend July 4th Outside After COVID-19 Cases Jump 46 Percent in a Week
Florida Governor Ron DeSantis has urged residents to go outside to enjoy the state's hot and humid weather because the coronavirus "does not like" the summer, despite COVID-19 cases rising 46 percent over the past week.
DeSantis made the comments during a press conference on Wednesday, in response to a reporter's question about whether he would recommend closing beaches during the upcoming Fourth of July holiday weekend, in light of the ongoing surge of cases.
"By and large, the virus does not like sunshine, heat and humidity," DeSantis said. "I think every study has shown that. I think if you look at the contact tracing and try to identify outbreaks, very few outbreaks from something like a park or a beach."
"For the Fourth of July, I'm more concerned about people crowding into the A/C and having private parties and things like that," he added. "Virus likes that kind of environment better."
As the summer arrived and temperatures increased, The Sunshine State saw COVID-19 cases skyrocket, with an average of over 7,000 new cases per day being reported over the last week.
Hospitalizations have also been on the rise, with one-third of the acute-care hospitals in Southwest Florida reportedly now having no further ICU beds available, according to the Fort Myers News-Press.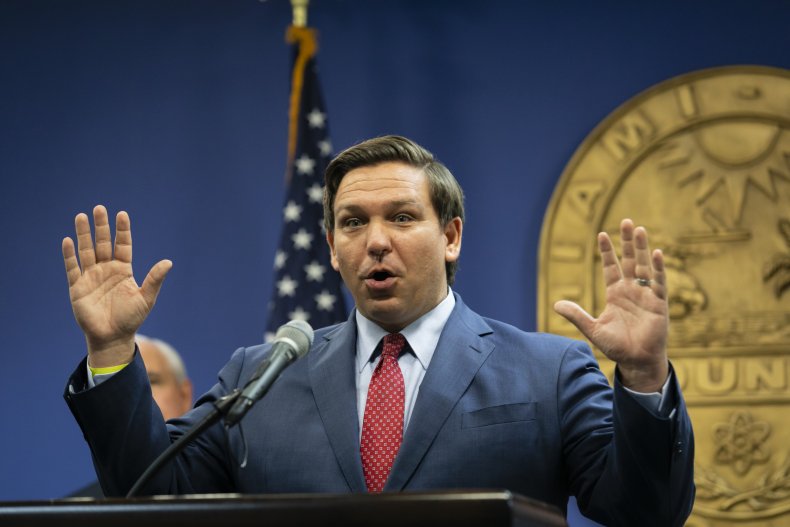 Despite the surge, DeSantis has refused to consider reversing course on the state's reopening plans, telling reporters that Florida is "not going back" on Tuesday, while insisting that young people engaging in "natural" social interactions were likely to blame.
Multiple studies have suggested that hot, humid weather can lessen transmission of the virus somewhat, although the evidence is not conclusive, and researchers have warned the effect is not nearly large enough to change the course of the pandemic.
Harvard University researchers have projected that hot and humid weather is likely to have a "modest" effect on dampening transmission of the virus.
However, medical experts have also warned that the notion that warm weather could be protective may offer a false sense of security, while stressing that failing to adhere to preventative measures like wearing masks or maintaining social distancing can cause infections to rise significantly.
"The best way to think about weather is as a secondary factor here," Mohammad Jalali, a Harvard professor and researcher, told The Washington Post.
Experts agree that the outdoor environment is less likely to spread infection than indoors, regardless of weather. An April study by Japanese researchers found that the virus is almost 19 times more like to be transmitted indoors than outdoors.
Before the pandemic took hold in the U.S., President Donald Trump suggested on several occasions that the virus would "go away" in the spring due to the weather.
"Now, the virus that we're talking about having to do—you know, a lot of people think that goes away in April with the heat—as the heat comes in," Trump said during a meeting with governors on February 10. "Typically, that will go away in April. We're in great shape though. We have 12 cases—11 cases, and many of them are in good shape now."
Regardless of the president's optimistic spring forecast and despite rising temperatures, transmission of the virus in the U.S. has accelerated, with the record for the most new cases per day being repeatedly broken.
There were 2,682,270 confirmed COVID-19 cases in the country as of Wednesday, including 128,028 deaths, according to Johns Hopkins University.
Newsweek reached out to the office of DeSantis for comment. This article will be updated with any response.