Florida Man Arrested After Allegedly Forcing Alligator to Drink Beer
Two Florida men were arrested after allegedly catching an alligator and encouraging it to bite one of the men's arms while forcing it to drink beer, according to a report from TCPalm.
Authorities say Timothy Kepke, 27, and Noah Osborne, 22, were both arrested Thursday after enacting the scheme in Palm City, Florida. The men were charged with one count each of unlawfully taking an alligator, a felony.
According to the report, Kepke says Osborne had caught the alligator at 10 p.m. on August 26 in Palm City. He apparently took the animal from the side of a road with his bare hands.
The same month, a complaint was received by the Florida Fish and Wildlife Conservation Commission about the incident, which was said to be recorded on video. It's alleged that the video shows Kepke holding the alligator captive, while tempting the animal to bite his right forearm, before pouring beer into the animal's mouth. The reptile was said to display aggressive behavior when the beer was poured into its mouth.
It's not clear what Kepke and Osborne were hoping to achieve by doing this. When police visited Kepke on September 17, he confirmed that he appeared in the video.
Kepke told police that he was not drunk but did have a "couple beers" during the incident. After apparently sharing beer with the alligator, the pair released the animal back into the wild.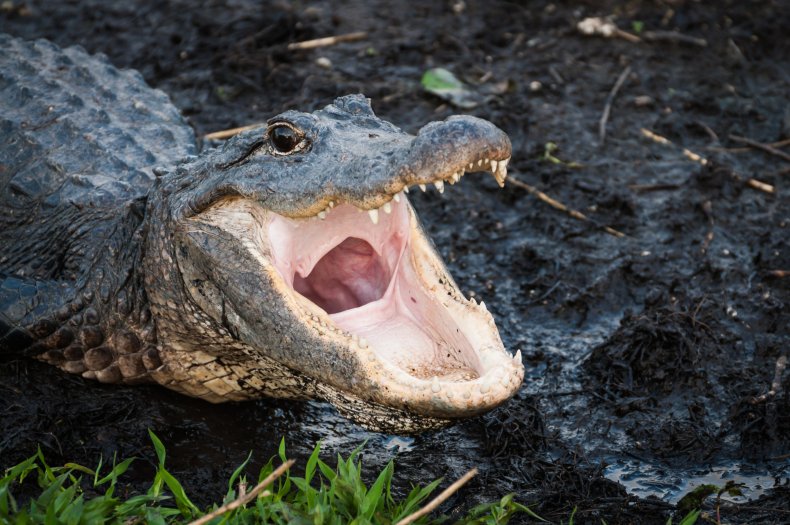 On September 21, authorities visited a woman who Kepke had said was also present during the incident. She seemingly confirmed that the incident happened.
On Thursday, police arrested Kepke and Osborne, holding them on $5,000 and $2,500 bonds, respectively. They were booked into Martin County Jail, and released later the same day.
Florida is home to around 1.3 million alligators, and their relationship with humans is complicated. Although reports of alligators attacking humans in the state appear to be on the rise in recent years, the animals largely do not interact with people, and attacks remain rare.
Humans are significantly more likely to harm alligators than be harmed by them. Last week, the decapitated body of an alligator was found by the side of a Florida road. The animal's head was apparently cut off with a chainsaw.
The state does provide hunting licenses to cull thousands of so-called "nuisance gators" each year, but under normal circumstances the reptiles are strictly off limits. Florida law states that "a person may not intentionally kill, injure, possess, or capture, or attempt to kill, injure, possess, or capture, an alligator or other crocodilian, or the eggs of an alligator or other crocodilian."