Florida Man Arrested for Attacking Daughter With Pizza After She Didn't Want to Eat With Him
A Florida man has been arrested for allegedly attacking his daughter with pizza after she said that she wanted to be alone.
On the afternoon of Sunday, May 23, Tyler Worden, 41, visited the Vero Beach home of his 20-year-old daughter, Kristin Worden. He brought a pizza for them to eat together, but she told him that she wasn't feeling well and asked him to leave, according to an arrest affidavit.
The daughter told police that her father became angry and refused to leave. He allegedly argued with her in the doorway of her home. She said he then allegedly began to throw slices of pizza at her, hitting her in the face.
The daughter began to yell at her father and called 911 police after he allegedly refused to leave, police said.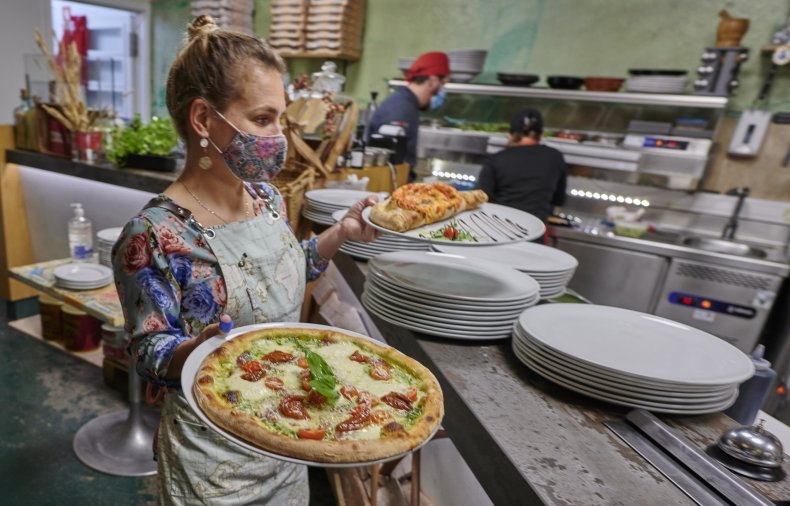 When Officer Jonathan Lozada from the Vero Beach Police Department responded to the woman's call, he discovered tomato sauce on her face. Lozada also found pizza toppings covering the entryway of the woman's house.
The police officer interviewed the woman's father, who claimed that he only threw the pizza after he thought she had closed her front door. But Lozada did not believe his claim.
The father's physical location during the argument and the woman's outward swinging front door led Lozada to conclude "there is no way that Tyler could not have seen that the door was open when he threw the pizza."
Lozada also noted the "strong odor of an alcoholic beverage" on the father's breath.
He arrested Tyler Worden on a misdemeanor charge and booked him into the Indian River County Jail.
Earlier this month, another Floridian allegedly used an unusual weapon to attack someone close to them.
On May 20, Ann Walsh, a 60-year-old Florida woman, allegedly attacked her 64-year-old boyfriend with "soiled dog pads" and Windex glass cleaner, according to the Clearwater Police Department.
Police said that Walsh attacked her boyfriend, 64-year-old Wayne Drost, who lived in an apartment with her. Drost reportedly suffered no injuries from the attack. Walsh has since been arrested and charged with domestic battery.
Such domestic violence cases are common nationwide. In 2019, Florida law enforcement officials received 105,298 reports of domestic violence resulting in 66,069 arrests.
While women are more often the victims of domestic abuse, approximately one in nine men experience domestic abuse, according to the National Coalition Against Domestic Violence.
Many men don't report their abuse due to denial, fear, embarrassment and stigmatization, according to a 2010 study of male domestic abuse survivors.
Newsweek contacted the Vero Beach Police Department for comment. This story will be updated with any response.