Florida Man Arrested for Indecent Exposure After Driving Naked Through 7 Toll Booths
A Florida man has been arrested in connection with exposing himself multiple times while crossing through seven toll booths across the Sunshine State.
On Monday, 41-year-old Mark Fillyaw of St. Cloud, Florida, was booked on seven charges of exposure of sexual organs. According to Florida Highway troopers, Fillyaw exposed himself seven times between August 29 and September 5 as he entered the cash lanes of toll plazas.
Toll workers told law enforcement that Fillyaw was unclothed and "showing his privates," according to the arrest report. Fillyaw was identified through photo comparison and security footage.
Captain Peter A. Bergstresser of Florida Highway Patrol told Newsweek that the "video that was obtained in this investigation is not yet available and has been sent to the State Attorney's Office for review."
Over the past few months, a number of incidents have taken place where Florida residents have exposed themselves in public places.
On August 16, a Florida woman was arrested after allegedly appearing nude during a video visit with her jailed boyfriend.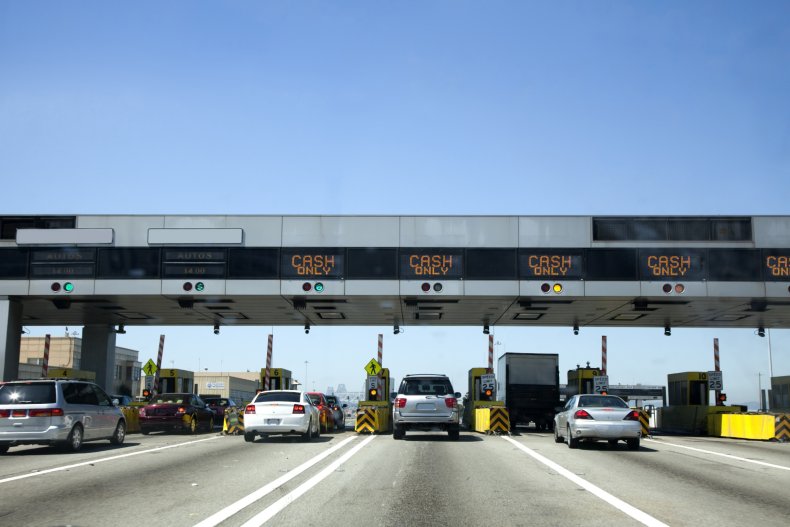 38-year-old Danielle Ferrero traveled to the Charlotte County jail from Florida for a virtual video visit with her boyfriend, 25-year-old Cody Thomas.
While visiting Thomas, Ferrero allegedly exposed her breasts and forced herself to climax. Before ending the video call, Ferrero exposed her breast once more before jail officials ended the video call.
"During their visit, they frequently talked in a lewd manner speaking of sex, sexual organs, and sexual activities," the police's arrest report alleged. "[She] frequently flaunted and rubbed her breasts, covered, showing the revealing outfit that she was wearing, calling her outfit naughty."
Ferrero was charged with the exposure of sexual organs in a public place.
On August 2, a Florida woman was arrested for exposing herself to various passengers on her flight and kicking a police officer while flying out of South Dakota.
According to a press release that was sent to Newsweek by the Rapid City Police Department, officers warned 41-year-old Mistie Justice Watkins, of Daytona, Florida to stop being "loud and disruptive" or she would be escorted off the plane.
"At one point while exiting the aircraft, she indecently exposed herself to other passengers on the plane," the release said.
"She was taken off the plane and advised she was under arrest," the release continued. "The officer noted the strong smell of an alcoholic beverage coming from her person as she was escorted through the airport.
"At one point, she attempted to pull away from the officer and kicked him. A short time later, additional officers arrived to transport her from the airport," the release concluded.
Watkins was charged with disorderly conduct, indecent exposure, simple assault on law enforcement, and unlawful occupancy. She also had an active warrant out of Meade County, Kentucky.
Update (9/15/2021, 6:37 p.m.): This article has been updated to include a statement from Florida Highway Patrol.