Florida Man Attacks Black Mom at Ferris Wheel, Gets Beaten by Onlookers in Video
A man who operates a Ferris wheel at a South Florida flea market was beaten up by a group of people who witnessed him physically attack a Black mother and one of her children.
The incident was caught on video, believed to be Saturday night at the Opa Locka Hialeah Flea Market Carnival.
This video shows the ride operator holding a Ferris wheel car while the woman and her two children exit the car. The man, who was wearing a mask, can't be seen saying anything, and then the woman started shouting towards the man as she steps out of the car.
The man then apparently pushes her and a brawl ensues. A toddler fell to the ride's platform in the process.
Two onlookers—a man and a woman—burst through the gates of the area to defend the mom. More bystanders also rushed in, all of them wildly punching and kicking the ride operator in a melee that lasted about 30 seconds.
This carnival, the first of the year at the flea market in Miami-Dade County, began April 8 and will conclude April 25. The carnival is operated by Hildebrand Amusement Rides, which provides rides, food, games and other attractions to everything from church outings and charity events to large-scale festivals.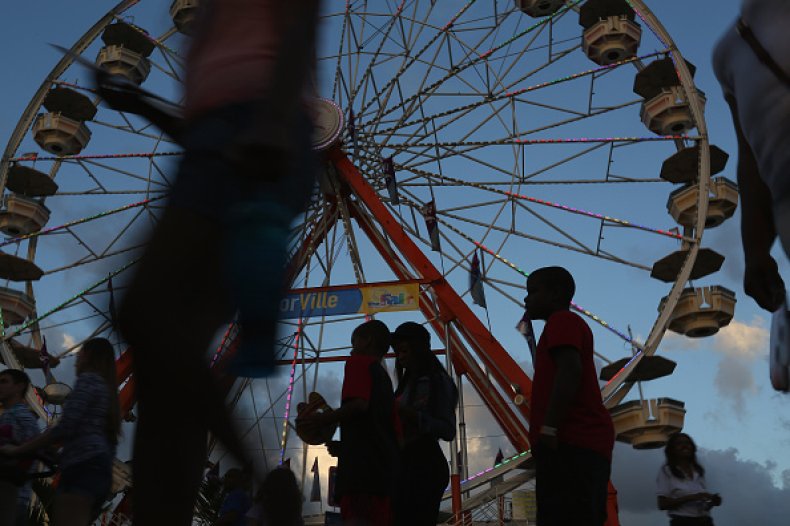 Newsweek reached out to Hildebrand Amusement Rides for comment.
Hialeah is a suburb located just north of Miami and west of Fort Lauderdale. This festival offers wristbands for $25 that allows festival goers to have unlimited rides.
Saturday's incident comes as the country is seeing another uptick in racial unrest, following the May 2020 death of George Floyd, who died while in custody of the Minneapolis police.
Former Minneapolis police officer Derek Chauvin, who's currently on trial for Floyd's death, could hear the verdict this week. Final arguments will start Monday. In anticipation of the trial's outcome, Minneapolis Public Schools have canceled in-person learning this week from Wednesday to Friday.
The school district sent a letter home with students on Friday, saying their decision was made after chats with Hennepin County sources.
"These plans are made based on what we know today," Superintendent Ed Graff wrote. "Should trial activities change, we will re-evaluate, adjust plans and let families and students know as soon as possible."
Last weekend, a Brooklyn Center (Minn.) police officer shot and killed Daunte Wright, an unarmed Black man. Brooklyn Center is a suburb of Minneapolis.
A few days ago, Chicago police released body camera footage of an officer shooting and killing 13-year-old Adam Toledo.