Florida Man Says Dennis Rodman 'Unprovokedly Turned Around and Smacked Him' at the ex-NBA Star's Birthday Party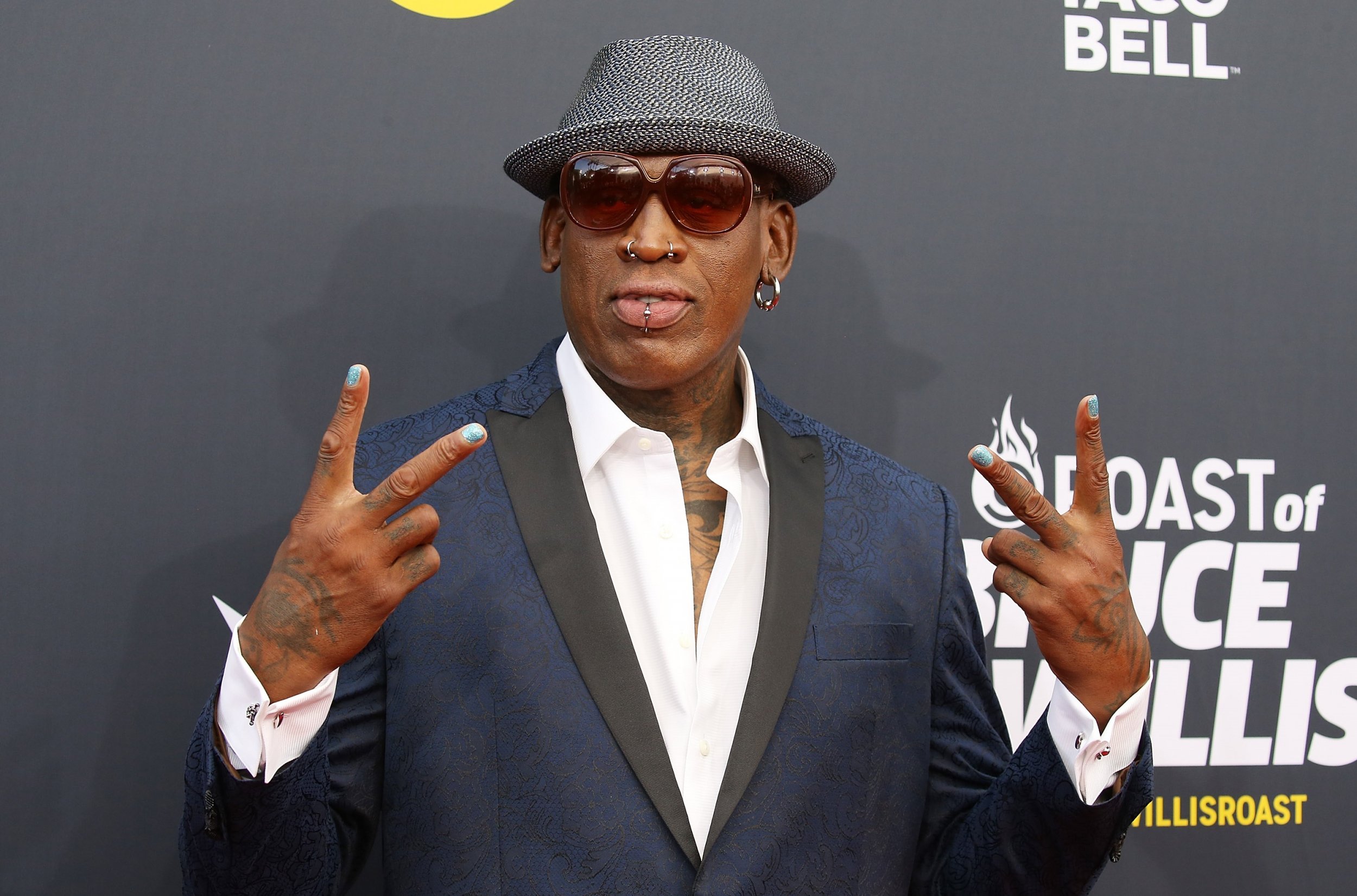 A Florida man alleges that Dennis Rodman smacked him in the face during an unprovoked assault at the former NBA star's 58th birthday party. But Rodman denies that any such attack took place.
Jeff Soulouque, 30, told Delray Beach Police that Rodman assaulted him in a report filed the following day when his face had swelled, WPTV reported. The incident allegedly took place at the Buddah Sky Bar on May 17.
Soulouque was a guest at Rodman's party when the basketball Hall of Famer "unprovokedly turned around and smacked him," the police report stated, before he "immediately began apologizing for the incident and was very sentimental about it."
He told TMZ that the hospital diagnosed him with a left corneal abrasion, which is a scratched eye. TMZ also reported that a witness named David Roth corroborated Soulouque's account of the incident with police.
"Roth stated he was about twenty feet away and he saw Rodman turn around and open hand smack Soulouque two times," the police report said.
However, Victor Korobka, general manager of Buddha Sky Bar, told WPTV that he had no knowledge of the alleged incident until police informed him.
Korobka also said that he thought it very unlikely the assault took place and that his bar's security team was with Rodman all that evening. There is no surveillance footage from the bar for police to investigate.
Rodman's Attorney's Lorne Berkeley told Newsweek in a statement that he had spoken with individuals who attended the party and were with his client for the entire night of the alleged incident.
"No one saw any such incident occur and Dennis was sober the entire night," Berkeley said. "Currently the matter is in its preliminary stages but we fully expect after a thorough investigation that no such incident will be substantiated. Dennis denies any such incident occurred."
The six foot seven former power forward played during his 30 year career in basketball for the Detroit Pistons, San Antonio Spurs, Chicago Bulls, and L.A. Lakers, among others, winning five NBA championships and twice securing spots with the NBA All Stars.
Since retirement, Rodman has formed an unlikely friendship with North Korea's Supreme Leader Kim Jong Un, who is a keen basketball fan, making several trips to Pyongyang to watch games alongside the despot.
Last year, Rodman said he wanted to bring his friend Kanye West, the rapper, music producer and fashion designer, on a trip to North Korea to meet Kim. West had said Rodman is one of his biggest inspirations.
Rodman replied that he and West should "do a track together man, about world peace, about leaders of love, baby, about leaders of love," and extended the offer of a North Korea trip.