Florida Man Helps Friend Store Trash Can With 'Personal Items,' Finds Dead Body Inside
An unidentified man in Bradenton, Florida has discovered a badly decomposing body inside of a 55-gallon trashcan that his friend had asked him to keep for the last two months. Police have since identified the victim and made an arrest in connection with the incident.
The person who discovered the body, a resident of Windmill Manor Mobile Home Park, said that his friend had asked him to store the trash can in his carport. He believed the can to be filled with his friend's "personal items."
However, when the can began to emit a foul smell, the man opened it and found "a wrapped human body in the advance stage of decomposition," according to the Herald-Tribune. The man then contacted the Manatee County Sheriff's Office (MCSO) who immediately came over and began an investigation.
The man told officers that the friend had never returned after asking him to store the can.
In a statement to Newsweek, MCSO spokesperson Randy Warren said that the body was identified as 40-year-old Jon Christopher Leonard. Detectives have also arrested 42-year-old Michelle Haney in the case and charged her with abuse of a dead human body.
Haney told detectives that she was living with Leonard in July when she discovered him deceased inside of their home.
"Instead of calling the Sheriff's Office," Warren said, "she stored his body in a closet, and then 3 weeks later put his body inside a trash can, sealed it up, and took it to a neighbor's residence.... She admitted to doing this so she could use his social security benefits after he died. Additional charges are expected."
Though an autopsy was scheduled for Wednesday, the cause of Leonard's death is still undetermined and the autopsy results have yet to be publicly released.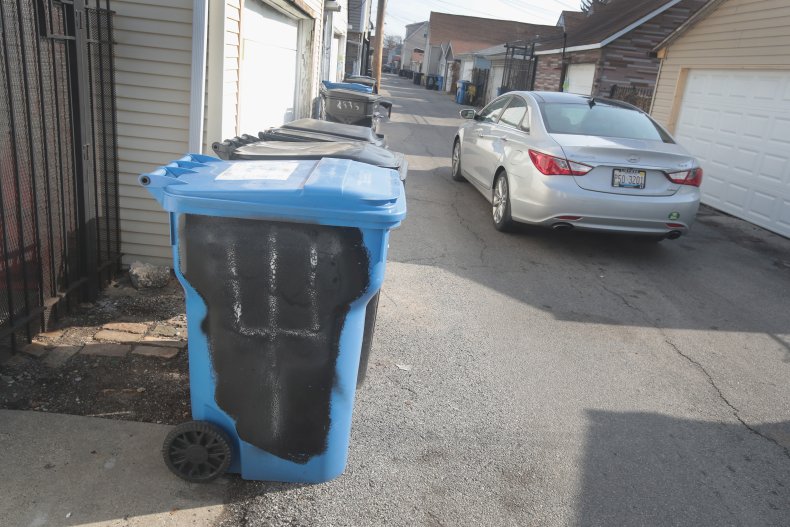 The mysterious case is just one of several recent violent crimes to be uncovered in The Sunshine State.
On December 2, single mom and Jacksonville resident Lashelle Jacobs said she was attacked by an unknown man and woman who barged into her home, knocked her out and then threatened to stab her if she cried out while they gave her a forced haircut. While the assailants didn't take anything from her home, they did take the scissors they used to cut her hair.
Jacobs said the attack left her with a concussion, a ruptured eardrum and a tender injury on the back of her head. She also said she no longer feels safe in her own home. The Jacksonville Sheriff's Office is investigating but have no solid leads on the attackers' identities so far.
In a separate incident, the Miami-Dade Police Department are searching for men in connection with the double homicide of two truckers in the nearby city of Opa-locka.
The suspects allegedly tied up, tortured, shot and dumped the bodies of three men in the backyard of an abandoned house. The two murdered men were 50-year-old Osmar Oliva and 26-year-old Johan Gonzalez Quesada. A third unidentified man was also beaten and shot but survived the incident.