Florida Man 'Violently' Punches Gas Pumps, Car Wash Drive Thru and Trees After Argument With Girlfriend
A Florida man allegedly punched trees, drive thru car wash equipment and gas pumps after getting angry with his girlfriend, according to reports.
Hunter Thomas Bleich, 24, was arrested by police following the incident, the Miami Herald reported, noting that the scene allegedly took place at a Mobil gas station.
Collier County Sheriff's Office arrest records show Bleich was booked by officers on December 22 and charged with one count of disorderly conduct.
A Mobil gas station cashier who spoke to deputies for the affidavit alleged Bleich was "violently punching the gas pumps ... and the equipment inside the drive thru car wash," the Miami Herald reported.
The jail summary on the record of the Cape Coral man's arrest says he was bonded from Naples Jail Center in Florida and is due to appear in court on January 16.
The Miami Herald reported that a copy of the affidavit, seen by the newspaper, claimed Bleich began his alleged punching spree after an argument with his girlfriend following a Christmas party they both attended.
The 24 year old was sat on a curb beside his red Mazda with both doors of the car open, smoking a cigarette when police arrived on the scene, deputies said.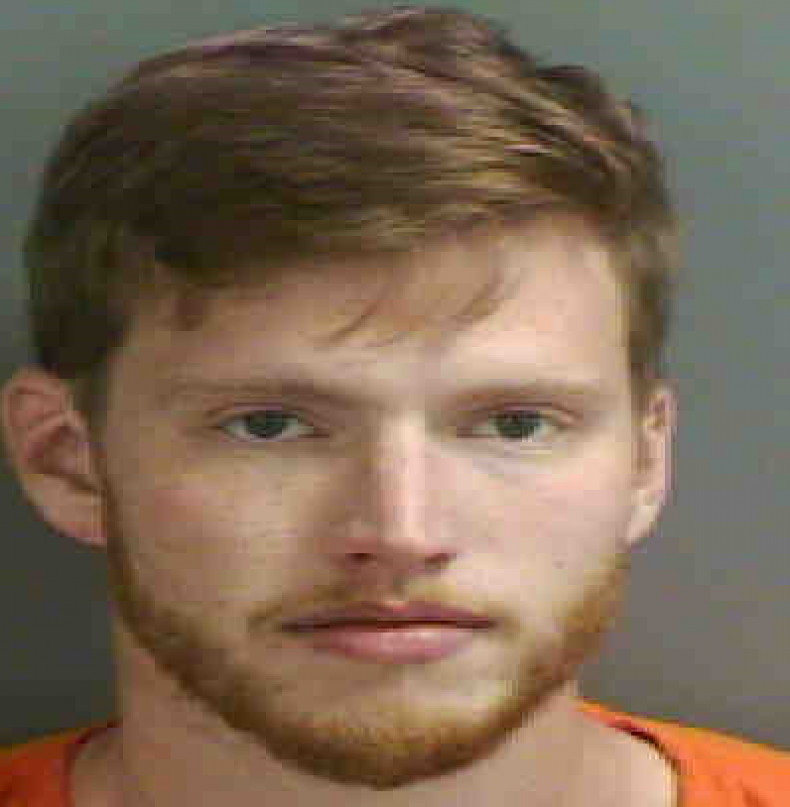 They further claimed that Bleich had explained he "lost control" after he was angered by the argument, the Miami Herald reported, adding that he was later restrained and handcuffed after raising his voice.
He reportedly began shouting when a deputy sheriff was speaking to his girlfriend, Destinee Fernandez, who cried and confirmed they had argued.
The 24-year-old man's alleged punching spree did not stop when he arrived at jail, with the affidavit seen by the Herald claiming he punched a concrete wall when handcuffs were removed.
Police said both Bleich and his girlfriend appeared to have been drinking, according to the Herald.
In a separate incident involving an argument between a Florida couple in December, a man was arrested for allegedly shoving his girlfriend to the floor during a row over impeachment.
Ernest Ford, 62, was arrested and charged with misdemeanor battery at his home in Villa Del Sol, Sarasota.
"The defendant grabbed the victim by her shoulders and pushed her to the ground. The victim obtained a scrape on her right knee," a police statement said.
Ford was later released from Manatee County Jail after posting a $1,000 bond.
The Collier County Sheriff's Office for comment.