A 57-year-old Florida man named Joseph O'Connor allegedly crashed into two police cars before yelling, "Just shoot me" to police officers.
Last Sunday before 2 p.m. local time in Lakeland, Florida, O'Connor allegedly drove his white Dodge pickup truck onto a person's yard, damaging their sprinkler system. The person then called the Polk County Sheriff's Office.
The deputy who responded to the call tried to talk to O'Connor, but O'Connor allegedly fled, WTVT reported. The deputy then pursued the suspect by car. They tried pulling O'Connor's vehicle over by using their siren and patrol lights. But when the officer began walking towards his car, he reportedly sped off.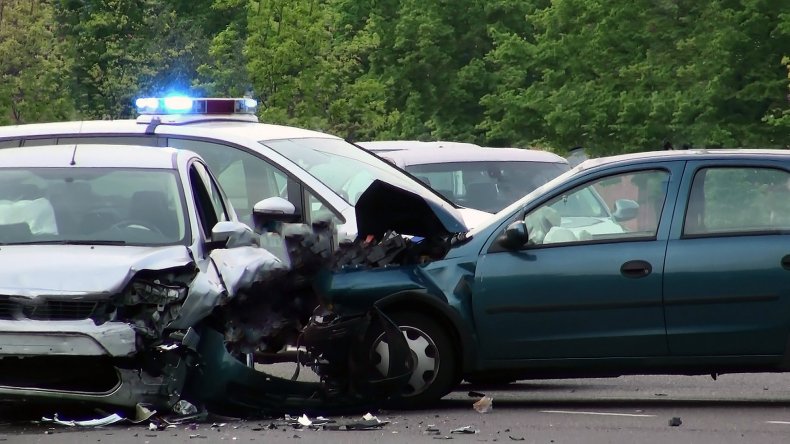 The deputy then decided not to continue chasing O'Connor since the neighborhood area was located near a country club golf course. A police chase could've endangered golf carts and slower vehicles driving on local streets, deputies said.
Instead, the deputy called in additional patrol cars as well as a helicopter. Eventually, two patrol cars positioned themselves in front of and behind O'Connor's vehicle to prevent his driving off. In response, O'Connor allegedly rammed his vehicle into the car in front of him. He then allegedly reversed his vehicle and hit the patrol car behind him.
"Get the f*ck out of here," O'Connor reportedly told the deputies "Just f*cking shoot me," he allegedly added while brandishing a hunting knife at the deputies while still seated within his vehicle. O'Connor then allegedly dropped the knife and crashed his vehicle into the patrol cars once more.
The deputies then used a Taser, pepper spray and beanbag rounds on him, eventually subduing him for arrest. He now faces charges for aggravated battery on a law enforcement officer, burglary of an occupied residence, fleeing to elude, resisting an officer with violence, criminal mischief, resisting a law enforcement officer without violence, trespassing with larceny and failure to obey a lawful order.
While police haven't yet commented on the motive behind O'Connor's alleged actions, his demand that cops shoot him could be evidence of "suicide by cop." The term refers to when people deliberately provoke police into lethally shooting them.
A recent incident of "suicide by cop" occurred in March when police lethally shot 34-year-old Los Angeles resident David Ordaz Jr. in front of his family home. The man's sister said he had wanted police to kill him.
A 2019 report by the Police Executive Research Forum (PERF) found that 10 to 29 percent of fatal officer-involved shootings within the U.S. from 2015 to 2018 involved "suicide by cop."
To reduce such incidents, PERF suggested increased training and calling upon officers trained in mental health crisis intervention. The group also suggested that officers use less-lethal munitions and not aim weapons at mentally distressed people. Lastly, the group suggested engaging agitated people in conversation rather than shouting commands which can escalate the situation.
If you have thoughts of suicide, confidential help is available for free at the National Suicide Prevention Lifeline. Call 1-800-273-8255. The line is available 24 hours every day.