Florida Man Says Wife Died of COVID-19 After Ignoring Health Guidance Because of Misinformation on Facebook
A Florida man is mourning his wife after the couple ignored public health guidance and believed misinformation shared online about the new coronavirus.
Brian Lee Hitchens and his wife Erin both contracted COVID-19 in May, leading to complications resulting in the wife's death earlier this month, the BBC reported on Monday. Hitchens said that he and his wife were confused by misinformation and conspiracy theories they read on Facebook, leading them to avoid taking precautions to curb their chances of getting sick.
Erin, 46, suffered from asthma, a pre-existing health condition that is believed to exacerbate the impact of the virus. She died of heart complications related to COVID-19.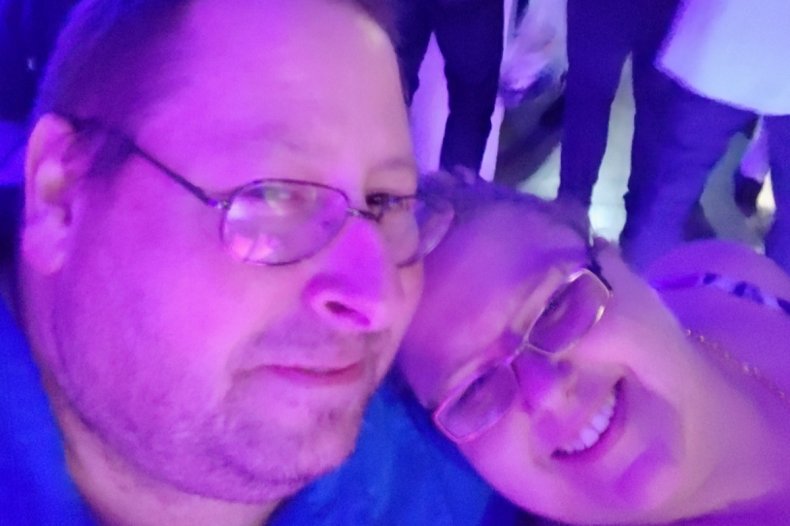 Speaking to the BBC, Brian Lee said that he "wished" they had "listened from the beginning" to public health guidance. "This is a real virus that affects people differently. I can't change the past. I can only live in today and make better choices for the future," he said.
"She's no longer suffering but in peace. I go through times missing her, but I know she's in a better place," the grieving husband added.
Newsweek reached out to Hitchens for further comment, but he did not respond by the time of publication.
In May, Hitchens wrote a long post on Facebook explaining how he and his wife had been confused about the pandemic. He told the BBC that they had at some point believed that it was being spread by 5G—a conspiracy theory that has been completely debunked—but that it was simply a hoax.
"Many people still think that the Coronavirus is a fake crisis which at one time I did too and not that I thought it wasn't a real virus going around but at one time I felt that it was blown out of proportion and it wasn't that serious [sic]," Hitchens wrote on Facebook on May 12. "We kept on watching the news and kept on hearing about the spreading of the Coronavirus and to be honest I didn't really think nothing of it I still thought it was being blown out of proportion until about 4 and 1/2 weeks ago when I started to feel sick... [sic]"
Facebook, Twitter and YouTube have ramped up their efforts to censor misinformation and remove posts that spread falsehoods about the pandemic. President Donald Trump, who has publicly touted unscientific and unproven treatments for COVID-19, retweeted a video in July promoting hydroxychloroquine, an anti-malarial drug that scientists overwhelmingly agree does not appear to be an effective treatment against the pandemic. When the video was taken down, the president strongly criticized social media platforms.
Florida continues to be one of the hardest-hit states from the coronavirus pandemic. As of Monday, the Southern state has the second-highest number of confirmed infections—after California—and the fifth highest number of deaths, according to The New York Times tracker. It has reported a total of 602,821 infections and 10,396 deaths since the start of the pandemic.