Florida Man Tries to Avoid Arrest by Hiding Underwater in a Pond, Gets Caught When He Comes up for Air
A Florida man tried to evade arrest by hiding from police underwater in a pond—but was captured when he came up for air.
Daniel Christopher Booth, 36, was working at the solar plant on Hogan Road near Wellborn, Florida, on Wednesday, the Suwannee County Sheriff's Office said in a news release on Facebook.
Booth had warrants for his arrest from Baker County for selling methamphetamine, the sheriff's office said, so a sheriff's deputy was sent to the plant to arrest him.
But when the deputy arrived, Booth ran away and tried to hide from K9 teams in a pond—but his action movie antics didn't quite go to plan.
"When Deputy Wadford arrived at the solar plant, Mr. Booth decided that he didn't want to go to jail and tried make his escape and ran away," the sheriff's office said.
"Now we can only assume that Mr. Booth has seen one too many action movies and thought he could hide from the K9 teams from Suwannee CI and Mayo CI by hiding under the water in a pond," the sheriff's office added alongside a facepalm emoji.
"He didn't take into account he's not a fish and had to come up for air and was quickly captured."
The sheriff's office also posted a picture of Booth's capture on their Facebook page, showing him handcuffed and shirtless and being led by a sheriff's deputy away from the pond moments after he was captured.
Making light of the situation, they added hashtags to the bottom of their post including #actionmoviesarenotreallife #NotRambo and #BreathingIsNotOptional.
Booth, from MacClenny, Florida, was taken to Suwannee County Jail "soaking wet" and was also booked on additional charges relating to his "not so great escape," according to the sheriff's office.
He was charged with resisting arrest without violence, the Suwannee Democrat reported. The Suwannee County Sheriff's Office has been contacted for additional comment.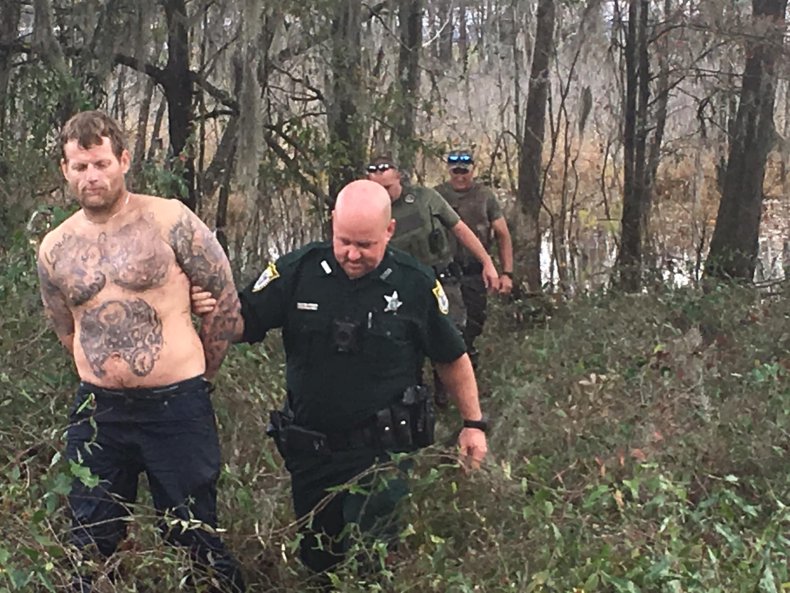 The incident comes weeks after another Florida man tried to avoid arrest after he was found rolling naked in a muddy ditch and making bird noises. Police were called to a home in High Springs, Florida, last month after reports that Donald Watts, 38, was high on methamphetamine and acting erratically.
Deputies later found Watts in a ditch, completely nude, and when they approached him, Watts attempted to escape them by hiding under the porch of a mobile home.
He left his hiding place after a brief standoff and punched one of the deputies several times before running off. Deputies eventually tracked Watts to nearby woods and he was taken into custody, but not before he bit a police dog.