Florida Mayor Says Not Wearing a Mask Is 'Same Thing' as Smoking Around People
Discussing his city's decision to mandate wearing face coverings in public, Miami Beach Mayor Dan Gelber compared not wearing a mask to smokers passing on secondhand smoke to their loved ones and strangers.
Gelber, a Democrat and former federal prosecutor, told CNN it was "ridiculous" for people to suggest that a mask-wearing requirement was infringing on their personal freedoms. "Secondhand smoke is the same thing. It's not your freedom, it's the freedom of a loved one or somebody you don't know from getting sick and perhaps deathly sick," he said.
The mayor also said his city was working to hand out tens of thousands of masks to promote the mandate. Individuals who violate the order will be fined $50, but Gelber noted that the priority is compliance and enforcement, not punishment.
"It shouldn't be this hard to get people to wear masks," he said, lamenting that approaches from local, state and federal governments differ. Gelber further compared a mask requirement to requiring Americans to wear seat belts in the car.
In additional comments made to Newsweek, Gelber reiterated that "there is no constitutional right to endanger other people, which is why we can regulate smoking." He noted that in the same way "seat belt laws inspired compliance, a statewide mask mandate will immediately result in more folks following the law, even if some refuse."
But Gelber's position is at odds with that of Florida Governor Ron DeSantis, a Republican. While DeSantis has urged Floridians to wear masks in public, he has said he will not implement a statewide mandate.
"We're not going to do that statewide. We wanted to have a collaborating effort with the locals from the beginning," DeSantis said on Monday. "Different areas have handled this differently, based on their facts and circumstances, and even today you see, obviously, discrepancies throughout the state."
DeSantis' perspective is similar to that of Republican Senator Rick Scott, who was previously the state's governor. Although Scott has said wearing a mask is important to curb the spread of the virus, "I just don't think that it's the government's role to be doing these things."
Florida GOP Senator Marco Rubio garnered national attention last week when he strongly urged the public to wear masks. "Everyone should just wear a damn mask, like you guys are, like I am right now," Rubio told reporters last week.
The Trump administration has also encouraged Americans to wear masks, but President Donald Trump has been seen as dismissive of its importance. Initially, when the U.S. Centers for Disease Control and Prevention updated its guidance in April to encourage Americans to wear masks, Trump said, "I'm choosing not to do it."
The president was later photographed wearing a mask at Ford plant in Michigan in late May. But on Wednesday, the president shared a perspective similar to that of Florida's governor.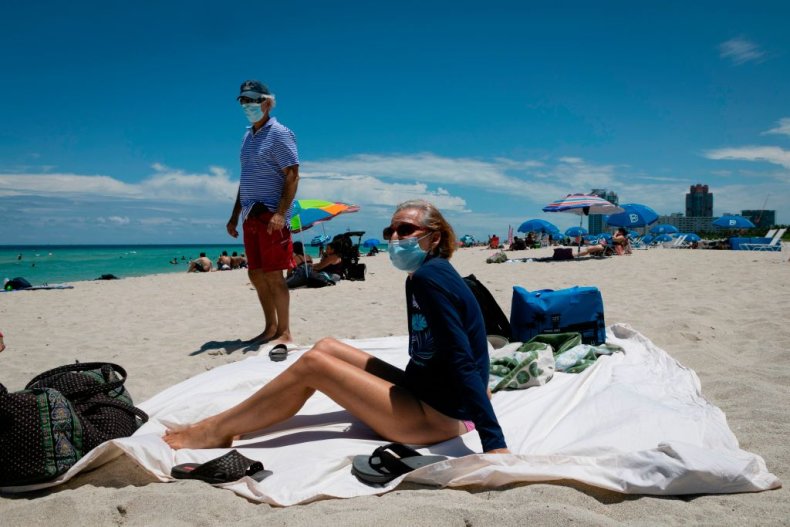 "I'm all for masks, I think masks are good," Trump told Fox Business. However, he added, "I don't know if you need mandatory [masks]."
Meanwhile, Florida is one of several states that have seen a significant spike in new virus cases over the past couple of weeks. The state had its highest single-day increase in new cases on June 27, reporting 9,585 infections that day. Overall, the state has confirmed nearly 159,000 cases and more than 3,500 deaths.
Nationwide, the U.S. hit a new single-day record increase in cases on Tuesday, reporting more than 48,000 new infections. The U.S. also remains the country with the highest number of infections and deaths, representing about a quarter of the global totals. As of Wednesday morning, the country had confirmed more than 2.6 million cases and over 127,000 deaths.