Florida Police Parody Banana Artwork by Creating Doughnut Version—Starting Price $200,000
Police in Florida have parodied the banana duct-taped to a wall that recently sold for $120,000 by making their own version—using a doughnut and offering it to the highest bidder.
The Tampa Bay Police Department shared a picture of the "one of a kind" piece on their Facebook page on Monday and said it had an asking price of $200,000.
The piece—titled Sgt. Donut—was created by Chief Brian Dugan, according to the post, and consists of a doughnut covered in chocolate and sprinkles that is duct-taped to a wall.
"Tampa's finest piece of art work is on display at TPD," the post said. "Who will be our highest bidder? It's time to open up those pockets." The police department has been contacted for additional comment.
The police department's post appears to be mocking Maurizio Cattelan's Comedian artwork, which caused a stir when it was displayed at Art Basel Miami last week.
The work made headlines after it sold for $120,000—and again when an artist ripped the banana off the wall and ate it, and then once more when a man vandalized the wall where it had been displayed.
Meanwhile, Billy and Beatrice Cox, who bought one of the editions of the piece for $120,000 have said they are aware of the "blatant absurdity" of the piece.
The couple told Page Six: "We are acutely aware of the blatant absurdity of the fact that Comedian is an otherwise inexpensive and perishable piece of produce and a couple of inches of duct tape. We knew we were taking a risk, but ultimately we sense that Cattelan's banana will become an iconic historical object."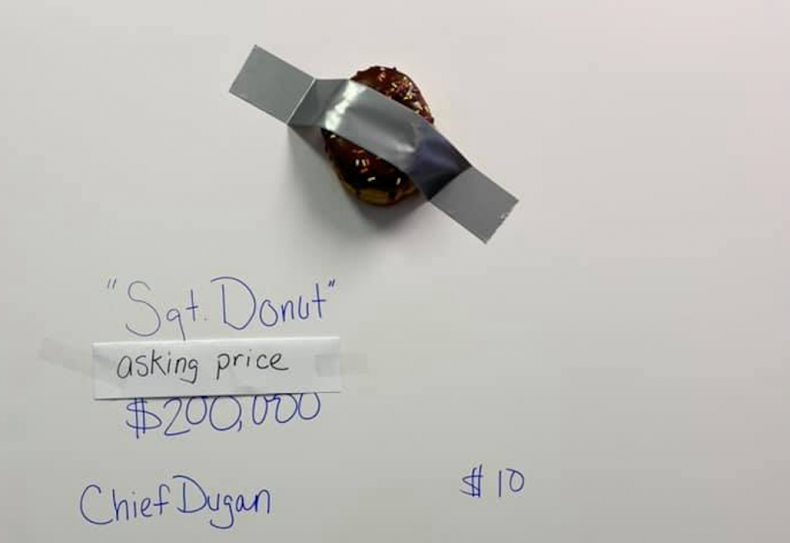 A spokesperson for the Perrotin gallery, which presented Comedian at Art Basel last week, previously told Newsweek that the banana can be replaced without impacting the artwork's value.
"Certificates of authenticity [COAs] are crucial in the buying and selling of conceptual art," gallery spokesperson Katherine Wisniewski said. "Comedian has a COA that contains exact instructions for installation and authenticates that the work is by Maurizio Cattelan. Without a COA, a piece of conceptual artwork is nothing more than its material representation."
It came after performance artist David Datuna ripped the ripe banana off the wall at the international art fair and ate it in view of shocked spectators on Saturday.
Datuna posted video clips of the moment on his social media accounts, saying it was a work of performance art he called Hungry Artist. "I love Maurizio Cattelan artwork and I really love this installation. It's very delicious," Datuna added in a caption.
On Sunday afternoon, shortly after Comedian was taken down as the end of Art Basel Miami approached, a man vandalized the wall where it had been displayed by writing "Epstien (sic) didn't kill himself" in red lipstick.
The man, identified as Roderick Webber, 46, was arrested on charges of criminal mischief after security guards called police to the scene just before 5 p.m. on Sunday, Miami Beach Police spokesman Ernesto Rodriguez told Newsweek.
Webber later told Newsweek that he had graffitied the wall because "art is no longer art—art is memes."
He added: "Stupid can only be fought with more stupid. In a world where the idea of a banana is worth $120,000, it is our moral obligation to mock, ridicule and crank the stupid up to a thousand."