Over 70 Arrested in Florida Prostitution Sting Ahead of Super Bowl LV
Undercover detectives in West Florida have arrested more than 70 people in a month-long human trafficking investigation, which took place in the run up to next month's Super Bowl game in Tampa, Hillsborough County Sheriff Chad Chronister said.
The sting, dubbed "Operation Interception," ran from December 7 to January 9. It saw undercover detectives post online adverts and female detectives pose as prostitutes, resulting in the arrest of 71 men who agreed to pay for sex, Chronister said in a press conference late on Monday.
"All of these men have one thing in common: they did not care if the women they were going to have sex with were being exploited, forced to sell their bodies against their will," the Sheriff said. He added that many sex workers in the area had suffered after being raped or becoming addicted to drugs.
The men arrested were aged between 20 and 62. Among them were active military members, a Christian schoolteacher, a banker, construction workers, and two registered sex offenders, the sheriff said.
Ronnie Johnson III, a 28-year-old man identified as a Hillsborough Country firefighter, was arrested, according to the Sheriff's office. Detectives said Johnson had not been arrested in the county before.
Joshua Ellis, 39, an Army Reserve member with no prior criminal record in the U.S., was also arrested. Markas Williams, 40, identified a member of the Air Force was also detained. He had previously been arrested in the country in 2000.
Chronister said the operation was an attempt to reduce demand for prostitution ahead of Super Bowl LV, which is scheduled to take place on February 7 in Tampa.
"Our goal is to intercept those involved in sexual exploitation before they're able to take advantage of the vulnerable individuals in our community and ultimately, hopefully, deter others," Chronister said.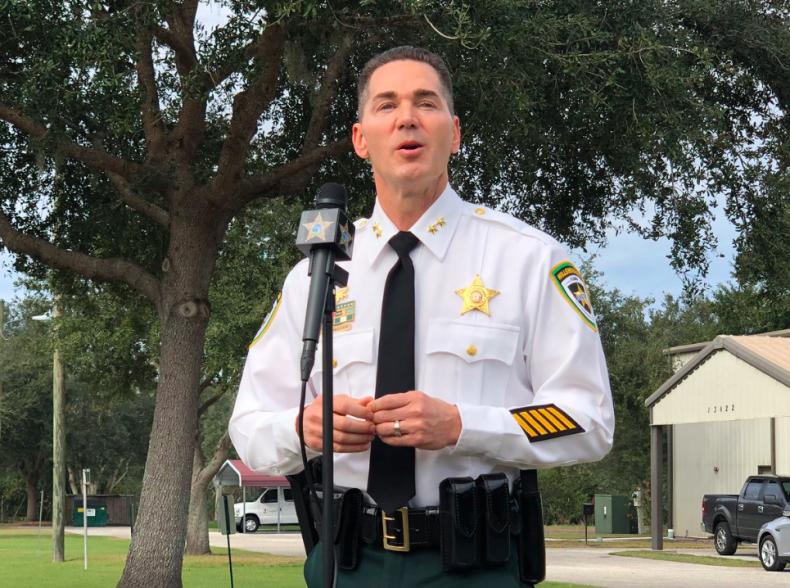 "We know from past experience with major sporting events there will be some who travel for the exclusive purpose of taking advantage of women and children."
Chronister added that covert operations would continue in the county to foil human traffickers ahead of the NFL game.
The sporting event, set to take place at the Raymond James Stadium in Tampa, will see Canadian R'n'B singer The Weeknd headline the halftime show.
Newsweek has reached out Hillsborough County for further comment on the sting operation.
The Monday announcement by the Sheriff coincided with National Human Trafficking Awareness Day in the United States.
An estimated 50,000 people are trafficked into the U.S. each year, most often from Mexico and the Philippines. Around 80 percent of the international trafficked victims are female and 70 percent are made to work in the sex industry, according to the State Department.
In 2019, the U.S. National Human Trafficking Hotline identified 22,326 victims of human trafficking, with 14,597 being trafficked for sex.
Last week, Hillsborough County declared January as human trafficking awareness month. Florida is sees the third most human trafficking a year in any U.S. state, according to National Human Trafficking Center.
Chronister also announced on Monday that a deputy sheriff in his office, who had just one more shift before he was set to retire, was killed in a car crash. Master Corporal Brian LaVigne was killed on duty after a suspect rammed into his vehicle near the Paddock Club Apartments in Brandon at around 3.42pm on Monday.