A new ride tide warning was issued for four counties in southwest Florida on Monday, the National Weather Service (NWS) announced.
The NWS issued a warning for "possible respiratory irritation" in the areas of Manatee, Sarasota, Charlotte and Lee counties, which will remain in effect until Monday night. Those who are exposed to red tide (Karenia brevis), a type of algae that can cause water discoloration, may experience coughing, sneezing and eye irritation, according to the weather service.
Several Florida beaches have been affected by the red tide, including Lido Key Beach, South Marco Beach, Seagate Beach, Venice Beach, Siesta Key and Lovers Key State Park, according to the Florida Fish and Wildlife Conservation Commission (FWC).
The National Ocean Service report released Monday showed high levels of red tide in southwest Florida, with the highest levels in Lee, Charlotte, Collier, Manatee, Pinellas and Sarasota counties.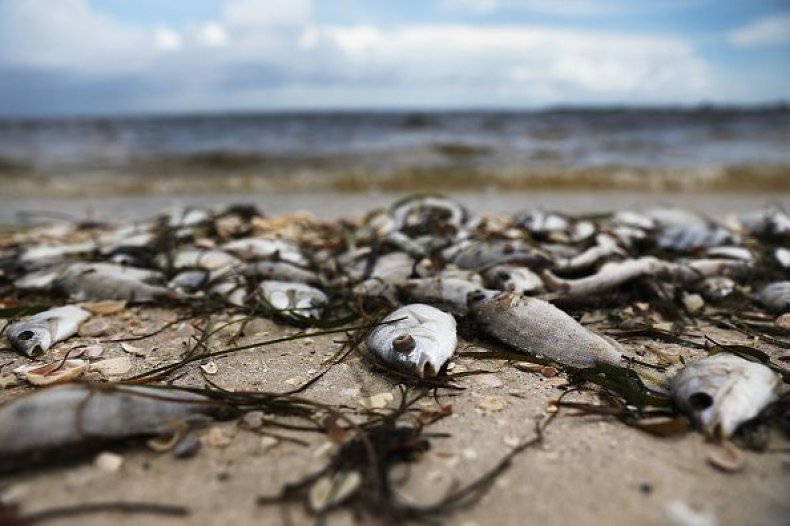 A normal red tide occurs about once a year due to naturally producing microscopic algae, according to the FWC. This red tide bloom, however, began in 2017. Scientists have said there will not be a decrease in algae until water temperatures cool in the fall or winter, according to National Geographic.
The FWC reported that this red tide has been killing fish and marine life, according to a statement the commission released on Friday.
"We continue to receive reports of fish kills in Southwest Florida," said the FWC said. "Over the past week, reports were received for multiple locations."
Fish that lived in the contaminated water may cause health risks if consumed. The Centers for Disease Control and Prevention stated that contaminated shellfish consumed by humans could cause neurotoxic shellfish poisoning, which can lead to nausea, vomiting and neurological side effects between 30 minutes to three hours after eating it.
A 12-year-old bottlenose dolphin by the name of Speck was the 11th dolphin to die in Sarasota Bay since Tuesday and would be the first dolphin to be killed from the algae bloom, WFLA reported. A spokesperson from the Mote Marine Laboratory & Aquarium told the news station that two more dead dolphins were found Sunday morning.
The eleven dolphins—seven males and four females—will undergo necropsies in City Island, Sarasota, to determine exactly what happened to them, WFLA reported.
Correction: A previous version of this story listed Palm Beach, Martin County, St. Lucie County, and Okeechobee County as areas affected by the Red Tide. These counties have not been impacted.​