Florida Reports 15,300 New Coronavirus Cases, Highest Single-Day Total in the Nation
Florida health officials identified 15,299 new cases of the novel coronavirus between Saturday and Sunday, marking another record increase in daily diagnoses after more than one month of rapidly increasing numbers.
The latest single-day jump in cases not only exceeded past records confirmed in Florida, but those confirmed by health departments in all other U.S. states since the pandemic began. New York, which was considered the epicenter of the national virus outbreak throughout March, April and May, held the nation's previous record. The New York State Department of Health confirmed more than 12,200 new infections on April 4, as virus patients overwhelmed hospitals and daily fatalities surpassed 500 people.
For almost two months, New York's April 4 figure remained substantially higher than single-day case reports confirmed by all other U.S. states. But with business reopening procedures well underway in a number of regions nationwide, health departments in Florida, California, Texas and Arizona began to report outbreak resurgences at the beginning of June. Spikes in those states were and continue to be more severe than those seen elsewhere, although outbreak trajectories have trended upward in at least 17 others over the past six weeks.
In Florida, the number of confirmed virus cases has nearly quadrupled since this time last month. On June 12, the Florida Department of Health (DOH) reported 70,971 people had tested positive for COVID-19 statewide since the start of the pandemic. By Sunday, the total had increased to 269,811 positive cases.
Some health officials have suggested that surging case counts are a byproduct of increased capacity for testing, as Florida ramped up its distribution of diagnostic assessments when industries began to reopen in May. However, Florida's test-positivity ratio, which measures the number of diagnostic tests confirming COVID-19 infection against the total number of tests administered, points to some degree of heightened transmission. The test-positive rate reached 11.2 percent last week, with higher single-day ratios reported by the Florida DOH since then.
Data published by the Florida DOH on Sunday showed 4,300 people had passed away after contracting the respiratory illness, while at least 18,271 were hospitalized for COVID-19 complications at some point during the outbreak.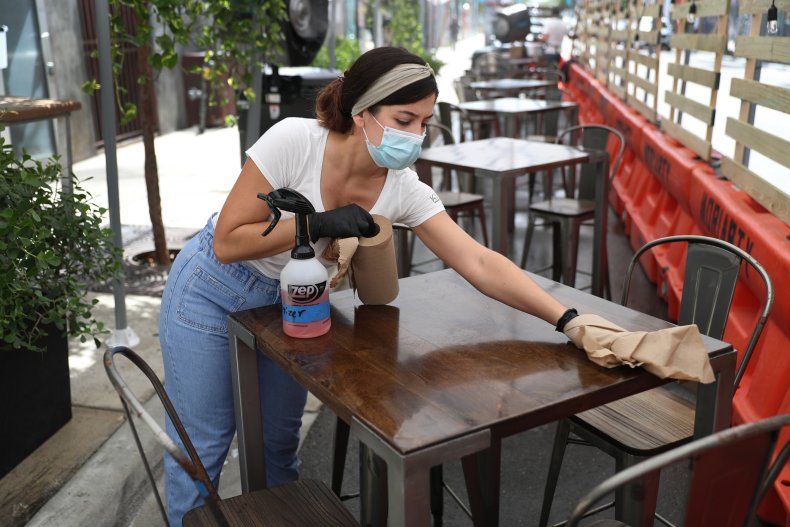 Florida has confirmed far fewer virus-related fatalities than New York during the peak of its transmission. Still, the incidence of new deaths reported daily has climbed alongside Florida's elevated diagnosis and hospitalization counts. On Thursday, the Florida DOH confirmed more than 100 new deaths among residents with confirmed COVID-19 infections, its highest daily increase to date.
Although local officials recently reissued business restrictions in hard-hit counties such as Miami-Dade, Florida Governor Ron DeSantis has shown reluctance to halt reopening strategies in spite of transmission risks.
Newsweek reached out to the Florida DOH and DeSantis' office for comments regarding the state's latest COVID-19 data, but did not receive replies in time for publication.