Hecklers Target Florida's DeSantis as COVID-19 Cases Top 10,000 Again
For the second time in a week, hecklers have interrupted a press conference given by Florida Gov. Ron DeSantis, angry at his response to the coronavirus that continues to spike in his state.
DeSantis was speaking to reporters on Monday at the OneBlood Headquarters in Orlando, encouraging people who had recovered from the disease to donate their plasma.
During his address, a group of masked protesters interrupted proceedings and called for his resignation, shouting, "shame on you" and "you are lying."
DeSantis waited for the hecklers to be escorted outside, where they continued their protest, pounding on windows and venting their anger via megaphone.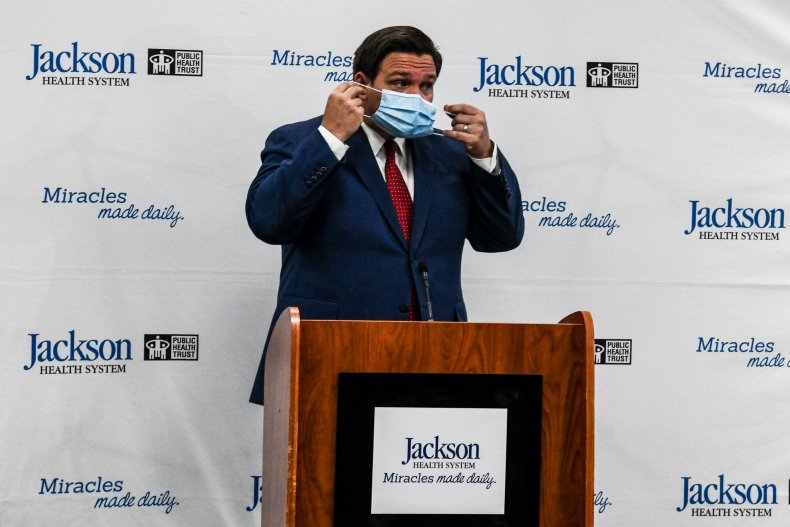 They also called for DeSantis to defund the police, a rallying cry across the country, spurring him to reply: "We will not be defunding the police, don't worry about that." OneBlood president and CEO George Scholl responded to the disorder, saying, "Well, I hope they never need convalescent plasma."
Looking flustered, DeSantis continued with his appeal for people going through a drive-through testing site to get an antibody test, adding: "It's important to do."
On Monday Florida reported 10,347 new cases and 90 deaths, bringing the death toll in the state to 5,091, out of 360,394 cases. It was the twelfth day since the Fourth of July that the number of cases has gone over 10,000.
Before a media briefing on July 13 in Miami, DeSantis faced a heckler who shouted at him, "you are an embarrassment" adding, "we are getting record-breaking cases every day and you are doing nothing."
He and other officials face a lawsuit by the state's largest teaching union, the Florida Education Association (FEA), protesting his order forcing schools to reopen quickly despite the infection rates. "Gov. DeSantis needs a reality check, and we are attempting to provide one," FEA President Fedrick Ingram in a statement.
When asked about the school order on Monday, DeSantis suggested that it may have been done without his approval, saying, "I didn't issue an executive order, that was the Department of Education," adding "you know, they have a board and they do, they do different things."
Politico reported the GOP is becoming concerned about the public perception of the governor whose state is crucial to the re-election of President Donald Trump. One lawmaker told the website: "It's not that he does not care, it's that he seems to have a hard time showing people that he does."
Newsweek has contacted DeSantis' office for comment. On Monday, Florida GOP Executive Director Helen Aguirre Ferré tweeted: "The left is good at making noise but not at saving lives.
"Gov. Ron DeSantis' message is that those who have recovered from COVID19 can save a life by donating plasma to those suffering from the virus. These agitators don't want you to know that lives are being saved."
The graphics below, provided by Statista, illustrate the spread of COVID-19 cases in the U.S.