School, Teacher Dispute Black Leaders Posters Being Removed From Classroom
A Florida school district has disputed some claims made by a teacher about posters of Black leaders being removed from his classroom.
According to a recent report from the Pensacola News Journal, Michael James, a teacher at the O.J. Semmes Elementary School, which is within the Escambia County School District, resigned from his position on Tuesday. While speaking with the newspaper, James alleged that posters he placed on a bulletin board in his classroom of Colin Powell, Martin Luther King Jr., former President Barack Obama and Harriet Tubman were removed by a district employee for being "age inappropriate."
James told the News Journal that he placed the posters in his classroom because many of the students at O.J. Semmes Elementary School are from Black communities. James said that the posters were removed by a district employee who was a behavior analyst.
"I was sitting down in one of the children's chairs cutting something out, and I turned around and saw her start taking something off the bulletin board," James told the newspaper. "She said something along the lines of it wasn't age appropriate. Something like that."
However, in a statement sent to Newsweek on Thursday, a spokesperson for the Escambia County School District disputed some of James' claims. The spokesperson explained that two district employees, a certified behavior analyst and a behavior coach, went to James' classroom on August 8 to inform him that his teaching assignment "was to be a very small unit (4-6 students) of Autism Spectrum Disorder (ASD) students."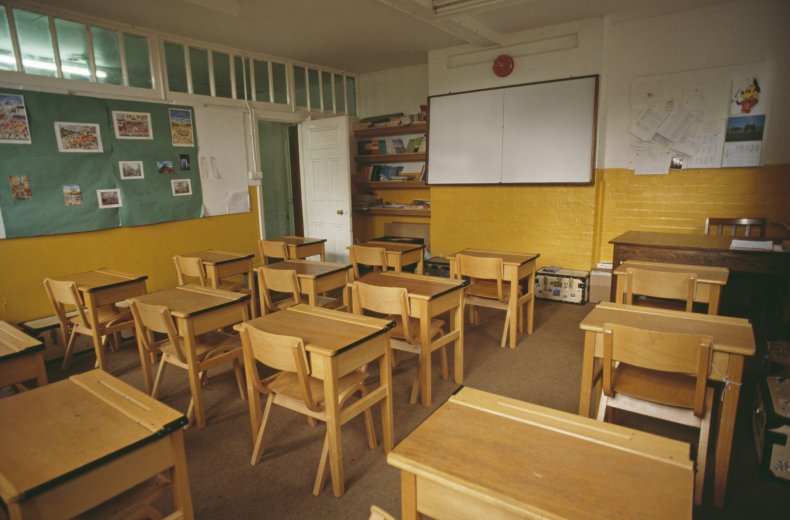 The district employees then asked James where he planned to place his desk, to which he informed them that it would be a table "directly in front of the bulletin board displaying the Pledge of Allegiance and the African-American luminaries," the spokesperson said.
"The Behavior Analyst informed Mr. James the bulletin board directly behind his teaching area needed to be dedicated to state-required curricular materials he would need to engage this specific group of students in their daily learning and development activities, as they were seated at his teaching table with him. To be clear, due to the nature of this specific population of students, it is critical the instructional materials be within their line of sight during instruction, for the purposes of student focus and retention," the spokesperson said.
According to the spokesperson, when the behavior analyst asked James about removing the posters, he said, "Yes, do whatever needs to be done."
"At no time, in the presence of our employees, did Mr. James object. The posters were left in the classroom, for Mr. James to use as he so chose," the spokesperson said, adding that the behavior analyst observed that the bulletin board was "awesome" but that the "language and reading levels on the posters were too complex for this particular group of students."
In the statement sent to Newsweek, the spokesperson said that the school district has tried to contact James since his resignation to allow him to voice his concerns; however, they have not heard back.
"Had Mr. James objected at that time, or had he raised his concerns with school administration, we believe this situation could have been resolved to the satisfaction of all parties. The instructional materials could have been displayed appropriately, and Mr. James's display could simultaneously have been honored," the spokesperson said.
In a Facebook post, Charlie Crist, one of Florida Governor Ron DeSantis' Democratic opponents in the state's gubernatorial race, responded to the teacher's resignation and said, "This is the sad reality of Ron DeSantis' Florida—his culture wars are infiltrating every corner of our state, including our classrooms."
Crist continued, "Florida deserves a governor that gives students the freedom to learn and educators the freedom to teach."
When reached for comment, DeSantis' office responded with a statement saying, "It is our understanding that the Superintendent has responded and is looking into this matter. We will await the determinations from the District on what specifically happened in this case."
The governor's office added: "Florida has high quality education standards to ensure students learn about African-American history. In fact, instruction in this subject is required under state law."