Ron DeSantis' 'Polarizing Nature' Could Mean Tight Governor Race: Pollsters
Ron DeSantis may face a sterner test to be re-elected in the midterms than expected, with the Florida governor's "polarizing nature" potentially putting off voters, according to pollsters.
A survey conducted by the Progress Florida and Florida Watch groups said that while DeSantis is still expected to be voted back into office in November, his lead is not as insurmountable as expected.
According to the poll, 48 percent of likely voters say they will support DeSantis in November, only five percentage points ahead of any potential Democratic candidate on 43 percent.
The Democratic nomination for Florida governor will be decided in the August 23 primary, with Agriculture Commissioner Nikki Fried and Rep. Charlie Crist seen as the two main front-runners in the race. The poll did not ask voters who they would back between DeSantis and any named potential Democratic candidate in the gubernatorial election.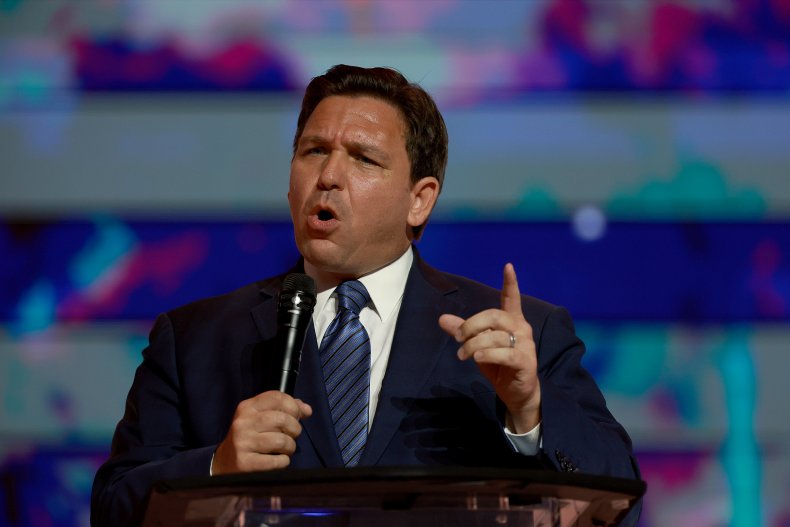 "Given his financial advantage, DeSantis remains a favorite to win re-election, but his polarizing nature could put a ceiling on his support," a polling memo detailing the results said.
The pollsters note that DeSantis is viewed favorably by 50 percent of voters and unfavorably by 48 percent of voters, including 40 percent who view the governor very unfavorably.
"Importantly, this data comes from a poll weighted to reflect what would be the most pro-Republican electorate in recent history: with registered Republicans making up 41 percent of the electorate and registered Democrats 37 percent," the pollster's memo adds. "For the last decade the Republican advantage has never been bigger than 2 points."
DeSantis has long been a firebrand politician, with his refusal to reintroduce coronavirus lockdowns in Florida and force vaccine mandates gaining him national media attention in 2020 and 2021.
DeSantis has also put himself and Florida at the center of a number of controversial issues, including the introduction of HB 1557, legislation critics have dubbed the "Don't Say Gay" bill, which bans the discussion of sexual orientation and gender identity in certain grades at Florida schools.
He also signed into law the Stop WOKE bill in April, which bans lessons that could make students feel "guilt, anguish, or other forms of psychological distress" because of historic wrongs due to their race, color, sex or national origin in K-12 classrooms.
In a statement to Newsweek, a spokesperson for DeSantis said: "The governor doesn't pay attention to polls. As a leader, he has always sought to make the right decisions for our state.
"Some of those decisions have been controversial, mostly due to sensationalist media coverage, but over time many Floridians realize that the governor did the right thing."
While the poll suggests some people may be put off by DeSantis' brand of governing, there has also been speculation that it will frame him as a future leader of the GOP.
DeSantis has long been considered the main front-runner for the GOP nomination in 2024, should Donald Trump decide not to run.
However, Trump is still by far the overall favorite to clinch the nomination should he announce a third presidential bid as expected.
A recent Conservative Political Action Conference straw poll found that 69 percent of voters would support Trump for the GOP nomination, with DeSantis second on 24 percent.