Donald Trump's Chances of Beating Ron DeSantis as CPAC Straw Poll Released
Donald Trump has long been a Republican favorite, with the former president remaining popular among GOP voters.
And while Florida Governor Ron DeSantis has often been touted as the person most likely to challenge Trump for the 2024 GOP presidential nomination, a Conservative Political Action Conference's (CPAC) straw poll suggests that Trump may have the edge.
About 69 percent of attendees chose Trump when asked who they preferred as the Republican nominee for president in 2024, according to results announced on the CPAC state ahead of Trump's speech on Saturday.
Florida Gov. Ron DeSantis came second, with about 24 percent, and Texas Sen. Ted Cruz was third with 2 percent.
However, DeSantis was the clear favorite in a field that does not include Trump. CPAC's poll found 65 percent choose DeSantis if that were the case, with Donald Trump Jr. coming second with 8 percent of the vote and Cruz in third place with 6 percent.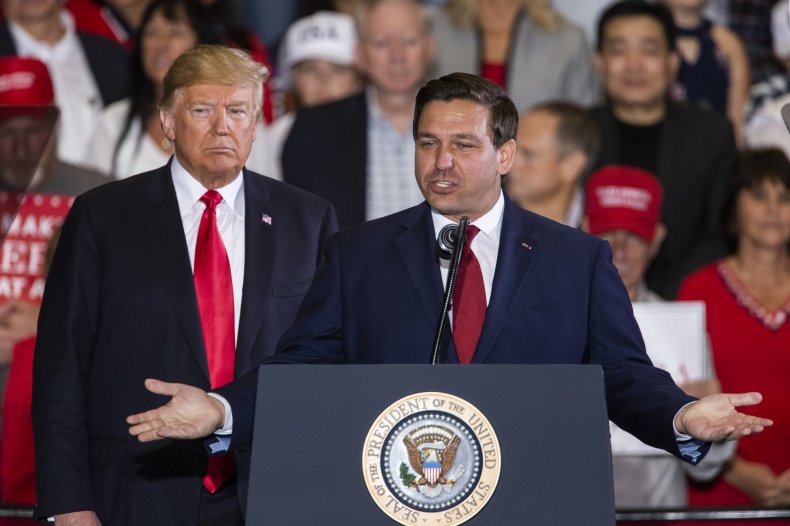 Trump has consistently come out on top in CPAC's informal straw polls since leaving office.
The latest survey saw him expand his lead from February's CPAC straw poll where Trump received 59 percent of the vote while DeSantis got 28 percent.
In a CPAC straw poll conducted about a month after he left office, 55 percent of respondents said they would back Trump in a hypothetical 2024 primary while 21 percent chose DeSantis.
However, other recent polls suggest DeSantis could beat Trump for the GOP nomination in 2024.
A survey by WDIV and Detroit News found DeSantis trails Trump by about three points among likely Republican voters in Michigan. That survey found Trump held a large lead among high school-educated voters, and DeSantis was way ahead with college-educated voters.
Meanwhile, a recent survey conducted by Blueprint Polling found more Florida Republicans back DeSantis as their party's nominee over Trump.
And a poll conducted by The New York Times/Siena College suggested Trump's grip on the party's base has started to weaken, with less than half (49 percent) of GOP voters backing him as their preferred choice.
Trump has long teased running for a second term in 2024.
And he told New York Magazine last month that he was mulling whether to announce his run before or after the November midterms. "Do I go before or after? That will be my big decision," he said.
Meanwhile, there's little doubt that DeSantis is positioning himself to run for the White House, Newsweek reported earlier this year.
"On the Republican Party circuit, whether it's in D.C .or the suburbs, DeSantis is the first name that comes up when people start talking about 2024," said Jim Dornan, a veteran GOP strategist who worked on Trump's 2015 exploratory campaign committee and is advising Republican candidates in Oregon, Maryland and California this year.
Newsweek has contacted Trump's spokeswoman and DeSantis' press secretary for comment.