Ron DeSantis Positioned Well for 2024 as Joe Biden's Approval Plummets
As President Joe Biden's approval rating continues to decline—even among Democratic voters—a potential path to the White House is opening up for Republican Governor Ron DeSantis of Florida.
On Monday, a new poll from the New York Times and Siena College found that Biden's approval rating was reaching an alarmingly low point, with only 33 percent of Americans saying they approved of the job he was doing as president—a figure even worse than last week's record low.
And although Biden was able to maintain a narrow lead over former President Donald Trump in a hypothetical 2024 rematch—44 percent to 41 percent—the Democrat might fare worse when pitted against DeSantis.
As concerns over Biden's age continue to rank at the top of the list among voters who want the party to find a younger alternative, DeSantis—who has risen to national prominence for his leadership in Florida—is presenting the GOP with just that.
Biden is already the oldest president in U.S. history at 79. At the time he took office, Trump was the oldest at 70. On the other hand, DeSantis is only turning 44 this year. Should he successfully win a presidency in 2024, he'd be the third-youngest American president behind Theodore Roosevelt and John F. Kennedy.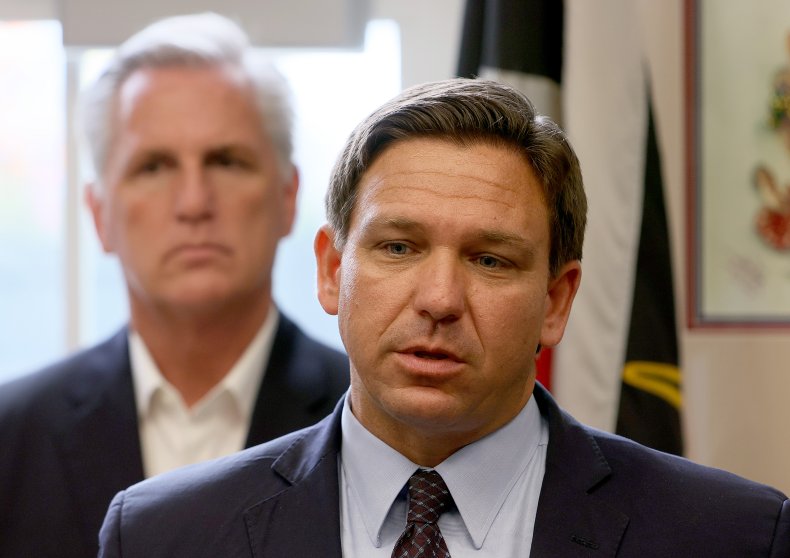 DeSantis is also seeing increasingly optimistic signs of support for a 2024 run.
A poll conducted last month by the University of New Hampshire (UNH) Survey Center found that Republican primary voters were more likely to back DeSantis than Trump in a head-to-head against Biden.
"It's likely to continue that way," Andrew Smith, pollster and director of the UNH Survey Center told Newsweek. "We're seeing that more Republicans are willing to vote for DeSantis than they are for Trump."
In 2020, Biden beat Trump by eight percentage points. The UNH poll showed the current president with a nearly identical lead in a possible 2024 rematch with Trump, but when stacked up against DeSantis, the governor edged out Biden by a 47 to 46 percent margin.
Although Monday's poll didn't ask respondents about a Biden versus DeSantis ballot, experts told Newsweek that Biden's slight advantage over Trump—despite his perilously low approval ratings—spells good news for DeSantis.
Republican strategist Alex Patton said the fact that Trump, a national figure, is even trailing Biden right now is "a huge, gigantic, flashing warning light screaming for attention."
For DeSantis, who is looking to become recognizable among voters outside of Florida, to be floated in the conversation against a former president who has hinted at running again "indicates a fundamental weakness of the Trump brand."
Smith explained that it is typical for a losing candidate to remain a party's frontrunner in the wake of an election. But as time passes, other candidates begin to appear as the former candidate fades into the background.
"DeSantis is the one person that is rising up right now, but I anticipate that Trump will continue to slide," Smith said. "Some of those Trump supporters who were there in the past and supported him, particularly in the presidential elections, will probably not support him anywhere near as much as another candidate."
Republican strategist Jay Townsend added that the current polling numbers make it much easier for other Republican 2024 hopefuls to raise money and build support, which would further weaken Trump's chances of a second term.
He also noted that the former president faces a particularly difficult obstacle when it comes to beating out GOP challengers like DeSantis: the ongoing hearings from the January 6 committee.
"The revelations which have come have already badly damaged the former president, and more is likely to be revealed before the committee wraps up its business," Townsend said.
As the American public is being asked to reconsider Trump in light of the information emerging from the House panel's investigation, DeSantis—who has rarely discussed the Capitol riot—has managed to distance himself from the efforts to overturn the 2020 election.
"From that perspective, all potential 2024 Republican challengers, DeSantis included, are aided by what should be a weakened Donald Trump," Michael Binder, a professor of political science at the University of North Florida, previously told Newsweek.
"DeSantis is the Trump without the chaos that many former and tacit Trump supporters claim to want," he said.