Trump Touts Beating DeSantis in 2024 Polls Amid 'Witch Hunt' Hearings
Former President Donald Trump is touting polls showing increased support for him as the Republican Party's 2024 presidential candidate, saying his numbers are rising amid continued negative attention on a national scale during the "witch hunt" January 6 congressional hearings.
On Truth Social, Trump referenced a tweet published July 2 that shows results from two separate polls of potential 2024 GOP candidates. One poll conducted on May 18 showed Trump with a 41 percent to 12 percent lead over potential GOP candidate, Florida Governor Ron DeSantis in a hypothetical matchup.
"With all the lies and the greatest Witch Hunt in U.S. History...my number went up," Trump said in his Friday Truth Social post. "MAKE AMERICA GREAT AGAIN!"
While Trump has hinted at running for president again in 2024 since leaving office last year, he has yet to announce his candidacy—though it's believed that he would do so after the November midterms. Recent reports have suggested that Trump could potentially jump into the cycle earlier than expected in order to divert attention from the January 6 hearings in the wake of the damning testimony of former White House aide Cassidy Hutchinson.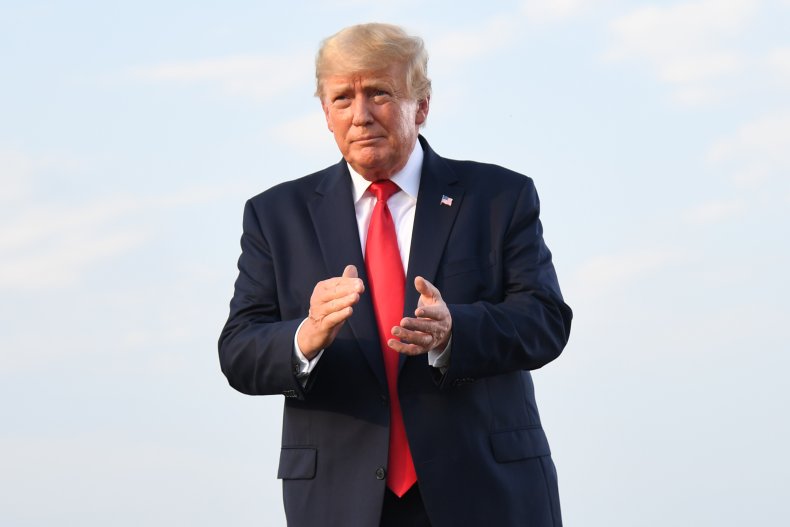 A June 28 poll showed Trump widening the gap with a 40-point lead.
The polls closely mirrors others recently released, including one from Emerson College that showed Trump defeating both DeSantis in the primaries as well as President Joe Biden in a presidential election rematch.
However, a University of New Hampshire (UNH) Survey Center released in June showed a much different picture.
In that survey, Trump and DeSantis were in a statistical dead heat rather than in a blowout. It also showed Biden defeating Trump for the second time due to a lack of increased support for the former Republican president. DeSantis was actually viewed by respondents as the better option to face off against Biden in 2024, the poll showed.
Another CAPS poll indicated that Vice President Kamala Harris would defeat DeSantis in a head-to-head matchup if both individuals represented their parties in 2024.
Trump and DeSantis have steered relatively clear of one another's prospects in the next presidential election cycle. In an interview with Newsmax last month, Trump said his relationship with the governor is cordial but took credit for DeSantis getting into that seat originally, saying, "I was very responsible for his success because I endorsed him [for Florida governor] and he went up like a rocket ship."
Some have wondered if DeSantis would ditch his gubernatorial position to potentially join a Trump 2024 ticket in a vice presidential capacity, although some legal scholars believe that could not come to fruition due to electoral college rules and both individuals being from the same state.
Russian state TV commentators recently said the country was considering whether to "reinstall" Trump as U.S. president again because they know his "geopolitical goals."
Newsweek reached out to Trump's office for comment.