Donald Trump appeared recently to keep open the possibility of Ron DeSantis being his running mate for 2024 amid speculation the Florida governor has his own ambitions to be president—but electoral college rules make it inadvisable for the pair to join forces.
In a June 30 interview on Newsmax, the former president was asked if he could "envision a world" where there would be a Trump-DeSantis ticket in the next election cycle.
In response, Trump did not dismiss the idea and instead played down any suggestions that there's a rift in the pair's relationship following continuing speculation DeSantis wants to challenge for the presidency, setting up a potential fight against his longtime ally for the GOP nomination.
"Well I get along with him. I was very responsible for his success because I endorsed him [for Florida governor] and he went up like a rocket ship," Trump said.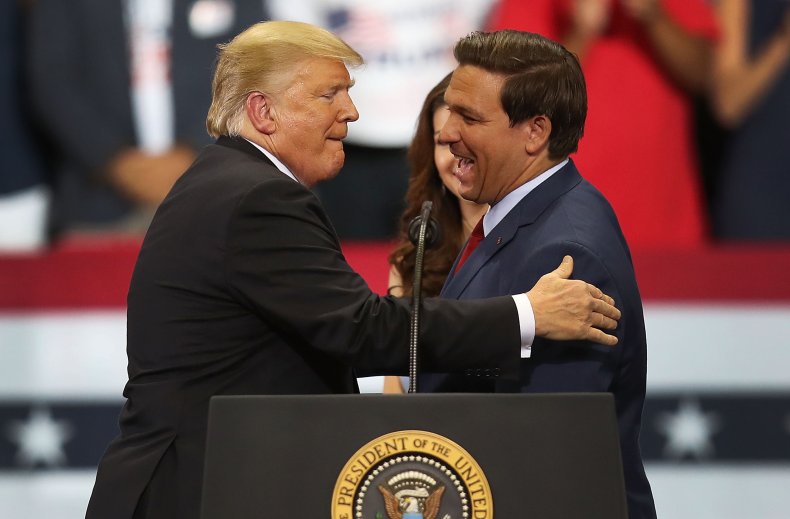 Trump went on to list other candidates who he claims benefited from earning an endorsement from him, such as Representative Mary Miller's victory over Representative Rodney Davis in Illinois' 15th district and state senator Darren Bailey winning the GOP primary for Illinois governor.
However, even if Trump is attempting to use the possibility of having DeSantis as a running mate to stop him vying for the GOP nomination in 2024 himself, there may be issues in having presidential and vice presidential candidates from the same state running on the same ticket.
As noted by Kevin Wagner, a constitutional scholar and political science professor at Florida Atlantic University, there is nothing in the Constitution that specifically stops two candidates from the same state running together on a presidential ticket.
Writing for The Palm Beach Post in January 2021, Wagner said the existence of such a law is something that "many people get wrong" and is based on a section of the 12th Amendment of the Constitution which states that electors meet in their respective states and vote by ballot for president and vice president, "one of whom, at least, shall not be an inhabitant of the same state with themselves."
The amendment was introduced in 1804. From 1789 to 1804, electoral college voters chose from two candidates, with whoever came in second becoming vice president.
These days candidates run together as a unified ticket, but the requirement that electors could not cast both ballots for a person from their own state was not removed.
The potential of a Trump/DeSantis ticket given both are residents of Florida, with Trump now back living in Palm Beach where the Mar-a-Lago resort is located, is actually more risky than illegal, especially given Florida's importance as a key swing state in any presidential election, with 29 electoral votes up for grabs.
"For the most part, it is not particularly important, and simply doesn't come up very much," Wagner wrote with regards to running mates being from the same state.
"It did briefly surface as an issue in 2000, when George W. Bush from Texas picked Dick Cheney, who had been living in Texas, to be his running mate. Four days before he was chosen by Bush, Cheney simply changed his residency to Wyoming, from where he had served in Congress.
"While the issue was raised in a lawsuit, the courts were generally not warm to the challenge."
As noted by Politifact, if both the president and vice president were from the same state under Barack Obama's, Bill Clinton's, George Bush Sr's, or Ronald Reagan's election victories, it would not have affected the overall results if the electoral college could not back the ticket in the respective states because of the size of their winning margin.
The amendment was also noted by longtime Trump ally Roger Stone in a post on the controversial "free speech" social network Gab.
"The rules of the Electoral College prohibit a Presidential Candidate and a Vice Presidential candidate being from the same state—in this case Florida—lest they forfeit that state's electoral vote. I'm quite certain President Trump knows that," Stone wrote.
Stone, who was pardoned by Trump after he was convicted of lying to Congress, has also publicly criticized DeSantis for being disloyal to the former president for apparently wanting to also run for the GOP presidential nomination.
In April, Stone shared a brief clip of him calling DeSantis a "piece of s**t" while in conversation with Trump.
While Trump did not reject outright the possibility he would choose DeSantis as a running mate, there is still a major question mark over whether the former president would want this.
In recent months, both Trump and DeSantis have had to deny there is a rift between the pair. In January, Axios reported that Trump was irate that DeSantis hadn't ruled himself out of running in 2024, with a source quoting Trump as saying the governor had "no personal charisma and has a dull personality."
The alleged remarks came after Trump appeared to make a thinly veiled attack on DeSantis during an interview with the One America News Network in which he criticized "gutless" politicians who won't confirm or deny whether they have received a COVID vaccine booster.
In response, Trump denied the reports of tension between him and DeSantis as "fake news." DeSantis' press secretary Christina Pushaw also dismissed the suggestions as "fabricated media narrative."
More recently, Trump dismissed DeSantis' chances of beating him in a hypothetical primary election, telling The New Yorker "I don't know if Ron is running, and I don't ask him...It's his prerogative. I think I would win."
Elsewhere, there were suggestions DeSantis is attempting to distance himself from Trump amid the January 6 hearings and speculation the governor is gearing up to announce a run for the White House.
According to Politico, DeSantis is not seeking a highly sought-after Trump endorsement as the Florida governor looks to win reelection in November's midterm.
While Trump and DeSantis are considered the two main frontrunners for the GOP nomination in 2024, the former president is by far the favourite to clinch it should they both run.
According to a collection of national surveys since November 2021, compiled by Polling USA, as of June 16, Trump's average polling stood at 55.3 percent, with DeSantis a distant second at 19.3 percent.
Trump has been contacted for comment.